Auto Title Loans California
Like in every other state, residents of California often face financial hardships for which there are no simple solutions. For many of these people, traditional bank loans are not an option since they don't have a high credit score.
That's where 5 Star Car Title Loans comes into the picture. We are a professional company with years of experience specializing in title loans in California.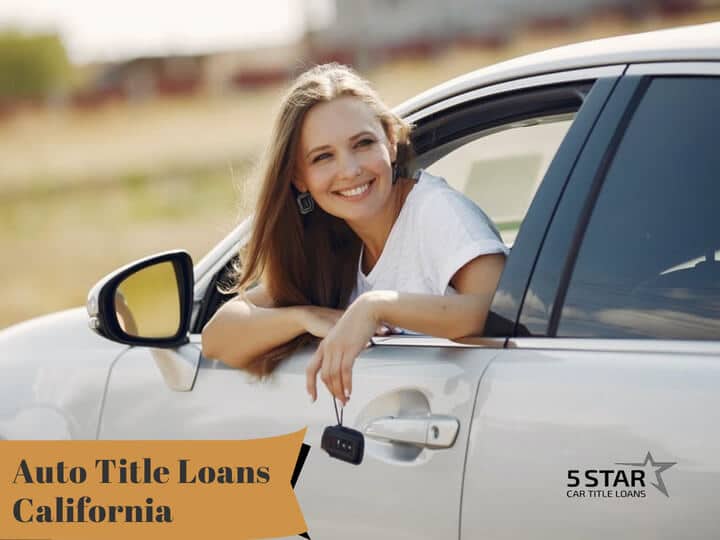 Our loans were made to help customers get back on their feet without having to go through the hassle and paperwork of a traditional bank loan
How do Car Title Loans work in California?
Title loans in California have a simple and straightforward process but it's important to understand how they work. These are loans in which a person's vehicle is used as collateral, similar to pawning an item.
However, in title loans you get to keep your car while repaying the loan, making this a convenient option for many who can't afford to lose their vehicle.
In California, the minimum amount for a title loan is $2510 and you can use the money you borrow for whatever you may need.
The lender is placed as a lienholder on your title, essentially making them the legal owner, while you remain the registered owner. When the loan is paid in full, the lienholder is taken off and you get your title back.
What are the Requirements for Approval for a Title Loan?
Now that you understand how title loans work, it's important to know what requirements are needed for an auto title loan in California with 5 Star Loans:
Proof of ability to repay
In order to receive any title loan in California, you will need to show that you are able to pay it back. Luckily, there are many ways to do this including providing regular pay stubs, bank statements, or disability payments.
This one seems obvious to many but is still important to mention. Particularly, the title needs to be clean and free of any liens and registered under the borrower's name.
Another easy and expected requirement. You can provide any state-issued identification card, license, or international passport. Your state ID does not have to be from California in order to get approved for a loan here!
You will be asked to provide details about yourself such as your address, date of birth, SSN, and email. You will also need to provide some general information about your car like year, make, model, license plate number, and VIN.
We require that you provide five personal and professional references. Only their name, phone number, address, and relation to you will be required.
For loans above $5,000, our company requires full-coverage insurance to be shown. This is recommended for all other loans as well.
As you can see, the list of requirements for a California title loan is simple and straightforward, making it accessible to those who are often turned away from traditional lenders.
Notably, 5 Star Car Title Loans doesn't require a perfect credit score or a bank account for being approved with us. Instead, we base our decision on your ability to repay the loan and the value of your car
Car Title Loans Online California – 3 Easy Steps
We've worked hard to make the title loan process as simple as can be so any California resident who is in need of financial assistance can receive it.
Our simple 3-step process allows consumers to get the maximum loan amount they are looking for easily and quickly. Our top goal is to provide you with great and personalized customer service throughout this process. To learn more about how you can get your title loan today, read below.
The first step in our California title loans is to complete our short online application. This allows you to be pre-approved for a loan and only takes minutes to complete. You will start out by choosing how much cash you would like to borrow and continue to provide some basic car information and personal details so we can contact you.
After we've received all of the application requirements and you've been pre-approved, we will check and verify some final details about your vehicle and title so you can be fully approved. These details are important since they help determine your loan amount, which ranges anywhere from $2510 to $20000 for car title loans in California.
Once your application has been finalized and fully approved, our loan experts will contact you to provide you with the amount and terms of your loan. After accepting these, you will be able to get your loan funds. We have several options for the disbursement of your money, which you can learn more about here.
Car Title Loans CA- Major Cities
Title loans can be a great solution for many residents across California. Financial difficulties can catch anyone at any moment and during those times you want to have a trusted source to turn to. Our company aims to do exactly that across all of California by setting up loan branches in many major cities and implementing an online process which makes getting a loan convenient. You can find a 5 Star Car Title Loans in any of the following cities across California:
As you can see, we have plenty of locations across the state, making our loans accessible for anyone in need of financial assistance. Visit our California locations page to learn more about the cities we work in.
Auto Title Loans Tips
We realize that choosing to take out any loan is not an easy decision. It's important to be as knowledgeable as possible about the process and what each title loan company is offering you. It's important for us to help you understand the title loan process so we've gathered some useful tips that we hope will help:
Understanding the Loan Terms
When shopping around for a loan, make sure to get a full picture of the terms that are being offered to you. Ask about the length of the loan, payment options, and interest rates.
Certain lenders will charge you extra fees which can be avoided when choosing the right loan. For example, early prepayment penalties mean that you will be charged for paying off the loan early. Choose a company which doesn't charge these and other avoidable fees.
Talking to different lenders and getting several loan offers can allow you to choose the loan which is best for your needs. Ask all lenders about the loan terms, payment options, and payoff policies.
With any title loan in California, you should be able to keep your car for your own personal use. While it's not common to be asked to have your car taken for the duration of the loan, make sure you choose a lender that allows you to keep driving your vehicle.
For more suggestions on how title loans work and what to keep in mind for the loan process, visit our page here. As with any big financial decision, always make sure to understand what you're signing on when getting a title loan
Frequently Asked Questions
Below you will find some of the most commonly asked questions about auto title loans in California. We hope these will help clarify how these loans work so you can make the decision that is best for your financial needs. For further questions please visit our title loans FAQ's page.
Q: How much money can I borrow?
A: Loans in California range from $2,510 to $20,000. The exact amount you can borrow depends upon loan approval.
Q: How can I apply for a title loan?
A: 5 Star Car Title Loans offers an easy online application to get you started. You can also give us a call and one of our representatives will walk you through the application.
Q: How long does it take to get a title loan?
A: The exact time varies, but we aim to get the entire process done in around five hours, from application to funding.
Q: Do I need good credit to get a title loan?
A: You do not need to have good or perfect credit to get a title loan with our company. We do a comprehensive check on your ability to repay the loan before approving any funds. We do our best to provide loans to anyone in need, regardless of credit score.
Resources for Title Loans California
It's possible that you still have questions about title loans and related topics. In case our frequently asked questions above did not answer all you want to know, we've rounded our top resources for understanding these types of loans better:
5 Star Car Title Loans aims to provide the best possible loans. That's why we have a simple application process which can be done fully online, without having to visit any branch or leave the comfort of your home. Our top priority is to provide excellent customer service from application to payoff. We offer a range of loan amounts so you can find the loan that fits your unique needs. We do whatever is possible to get you the cash you need quickly and easily and continue providing great personalized services for the duration of your loan.
If you think getting a title loan in CA may be a good option for you, give us a call today!