Can I Sell My Car with a Title Loan on It?
Selling a car with a title loan can be done, but it must be done correctly, and this involves paying off the loan before the car is sold.
A title loan essentially places a lien on your vehicle, meaning that you typically can't give the vehicle away before paying off the loan. There are ways you can sell a car with a title loan on it anyway as you'll discover below.
How Can I Start Selling a Car with a Title Loan?
There are a few ways you can do to sell a car with a title loan:
Put Your Car with a Title Loan on Sale and Use the Proceeds of the Sale to Pay Off What's Left of The Loan:
Doing this might be difficult because it will require some trust from your buyer. When your purchaser gives you the money for the car, you can use these funds to pay off whatever's left on the loan.
Once you get the money and pay off the remainder of the loan, you must file the correct paperwork with both the lender and the Department of Motor Vehicles (DMV) to show that the loan has been paid off.
The process and the paperwork behind it will make it so that the vehicle's title is put back in your name, but that takes time. Usually, you'll wind up having to wait a couple of weeks before the process is done.
Putting your car with a title loan on sale doesn't stop there. Once it's all over, you'll have to transfer the title of your vehicle over to the buyer. More patience will be required for this step as well. All the while, your purchaser has given you money and they're stuck waiting for a car that they still haven't received.
As mentioned, trust is a big factor here. You'll need to work hard to assure the buyer that this is not a scam and that you're not simply taking their money and looking to run off with it.
Time is necessary to complete the transfer and successfully sell a car with a title loan. You'll need to convey this to them and let them know that everything is being processed and that they'll get the car if they have patience. If you're able to do this, the selling process should go smoothly.
Trust is a big factor when scraping a car with a car title loan
Pay Off the Remainder Of the Loan as You Wait For Your Money on The Sale:
If the buyer is concerned about the waiting period or doesn't want to pay upfront, try to secure a deal with them so that they pay for the car as soon as the loan is paid off, which is common.
If you have enough in the bank to pay off your loan in full, it may be advisable to do so. Your bank account will look a little bare soon after, but it won't take long to recover. As soon as the title loan is fully paid, and the sale is initiated, you'll get money from the buyer and you're right back to where you were before.

When talking about trading with a dealer, speak with your lender and inquire about prepayment penalties and processing times for sending the title. Ask these questions ahead of time so you can get a head start on making the trade.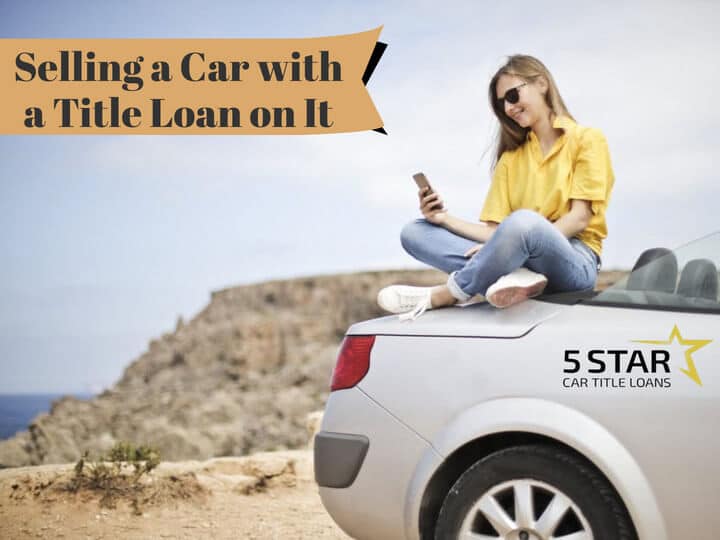 Eager to Sell a Car with a Title Loan? Refinance Might Help
Do you want to start selling a car with a title loan, but can't afford the terms you have with another lender? Give 5 Star Car Title Loans a call and we might be able to help you get a better deal on your current title loan. This way you'll be able to finish paying it faster, and therefore sell your car faster.
If you've decided that you want to sell your car with a title loan, just send us your initial application and we'll contact you to talk about the required documentation you'll need to submit. Tell us if you will be refinancing too.
Here are the documents you should bring with you:
Current title loan contract

License plate a VIN number

Any records that can show an ability to repay your loan

Identification showing your current address
After we've processed the required documents you've submitted to help you put the car with a title loan on sale, we'll give you your monthly payment quote and let you sign a new contract. We'll pay your previous lender to get your car title lien released and place our own.
If you're thinking about getting a title loan or need more information about selling a car with a title loan, feel free to give us a call or apply online!
We operate around California, and we have been working for years to get people like you the money they need. Putting up your vehicle's collateral can be a tough decision, so let us coax you through the process.