How to Get a Bad Credit Loan? Here's Everything You Should Know
You may feel that getting access to good financial products is impossible if your credit score is below 650. Nevertheless, there are some lenders that offer lending services to such candidates, such as refinancing high-interest debt or consolidating monthly debt payments, or helping you get cash for emergency expenses such as medical bills and auto repairs.
But how does it works? To find the answer if it is really possible to get a personal loan for bad credit, keep reading.
A Bad Credit Loan: When Should You Take One Out?
If you find yourself in any of the following situations, bad credit loans should only be considered:
Due to your low credit rating, many lenders have rejected your loan application.
Payments on your credit card have defaulted.
Your current debts cannot be managed any other way.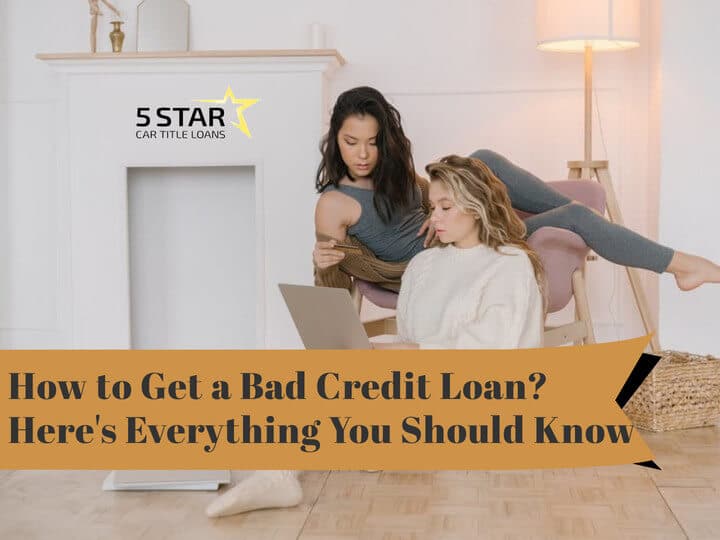 In a nutshell, yes! A bad credit loan is possible and you can borrow up to $50K if you have the right guidance and the right personal loan provider by your side
Your Credit Score is Anything Below 650?
By now, you do know that if your credit score is anything below 650, then you have a bad credit score and when you apply for a loan with poor credit, you call it a bad credit loan.
Several things need to be considered before applying for a loan with bad credit, including the amount you can borrow, how quickly the funds will be repaid, the amount of interest you will pay, and how quickly you will receive funding. You can get funded in as soon as one to two business days with the best providers of bad credit loans.
It all boils down to choosing the right lender. It is important to ask yourself some questions about bad credit loans before you begin your search for the perfect lender. And if you are somebody who is in desperate need of an emergency loan, then this article is just for you!
As you read ahead, you'll get the answer to the following question:
When you should get a bad credit loan
What is the easiest loan to get with bad credit?
What Interest Rate Can You Expect If you Have Bad Credit?
Steps to get a personal loan with bad credit
Is it possible to pre-qualify without affecting the credit score?
And some bonus questions!
Check Your Credit Score Range:
If you have bad credit, what interest rate should you expect?
Though it entirely depends on the lender you choose, still you should know a few things like Subprime borrowers are those with FICO scores below 650. Your credit is considered "very poor" if your FICO score is below 550.
For loan approval and pricing, lenders set their own criteria (including credit score thresholds). A person with bad credit has a hard time determining what APR they will be offered on a personal loan. There are generally 4-5 per cent rates on personal loans. Rates on the higher end of that scale may be offered if your credit rating is poor.
What is the easiest loan to get with bad credit?
You would want to know which loan you can apply for with bad credit? Here's your answer:
Secured Loans
In case your credit score is below average, you can apply for a secured loan. A loan backed by an asset, like a house, car, or other valuables, is known as a secured loan. Your collateral can be repossessed by the lender if you fail to pay the debt.
Generally, secured loans have lower interest rates, better terms, and access to more money since they are secured by an asset you own.
Unsecured Loans
An unsecured loan is another loan with bad credit. It is nothing more than a promise that a borrower makes to the lender that he will repay the loan within the decided time. An unsecured loan is of no risk to the borrower but they are high risk for the lenders.
That's why you can expect higher interest rates and little flexibility on the loan terms. The amount that can be borrowed is also limited. However, if you fail to repay the unsecured loan, a lender or bank can take you out to the bank.
Auto Title Loans
Another loan that falls under a bad credit loan is an auto title loan. This is a short-period loan that you get against your car, motorbike, or truck. Most auto title loans require you to repay the debt within 30 days and if you fail to pay, the lender can repossess your vehicle.
Payday Loan
Payday loans are short-term loan and it is also known as cash advance loan. It allows borrowers to borrow money for a short period of time, such as a week or month. To receive this loan, borrowers need to write a check for the amount they want to take a loan along with the lender's fee. In return, the lender will provide them loan amount either in cash or as an electronic deposit.
A lender usually holds a postdated check until your next payday. If a borrower fails to repay a loan within the due date, the debt will continue to build up. Annual interest rates for Payday Loans are very high. They are the most expensive loan and should be a last resort when all other doors are closed.
Get Approved for a Bad Credit Loan Easily: Follow These Steps
Personal loans for people with bad credit aren't impossible to obtain, but the most affordable loans require some research. If you don't have strong credit, here are a few steps you can follow:
Make sure you know your credit score. A free credit report is available each year from each of the credit reporting agencies, though AnnualCreditReport.com is currently offering weekly reports through April 20, 2022. However, your credit score does not appear on your credit report. Some financial institutions offer it for free or can sell it to you.
Do not take out a loan that you cannot afford to repay. Assess your home budget before taking out an additional loan.
You might be able to get a personal loan from your existing bank or credit union if your accounts are in good standing. If you have bad credit, you can research personal loans online, but make sure to read the fine print and independent reviews before you take out a loan.
Prequalification is an advantage. Many online lenders allow you to prequalify, or to determine whether you qualify before applying for a loan.
Consider secured loans. You may be able to get a secured personal loan if you have a below-average credit rating. A home or car must be used as collateral for these loans, but they have typically lower APRs.
If necessary, include a co-signer. If you fall behind in your payments, your co-signer may be required to repay the loan. You may be able to qualify for a loan with a co-signer who has good credit, and it may also lead to lower interest rates. You will need to research lenders that allow co-signers, since not all do.
Document your finances. Your pay stubs, tax documents, and employment information may be required when applying for a loan.
It is likely you will be subjected to a credit check. Prequalification with many lenders does not require a hard credit check, but the actual application will result in a credit inquiry, which can temporarily harm your credit.
Doing your research before applying for a personal loan with bad credit is one of the best ways for you to protect your financial health.
What Are Your Options for Bad Credit Emergency Loans?
Bad credit can make it difficult to get an emergency loan. Even so, there are likely to be multiple lenders who are willing to work with you (even at a higher interest rate). There are two primary loan sources you may consider if you're looking for personal loans with bad credit.
Go online: Getting a personal loan online with bad credit is easy thanks to lending networks that assist you in connecting with lenders. In many cases, you can submit one initial form and compare offers from several lenders at the same time.
Visit lenders: Loans directly from financial institutions for people with bad credit: Direct personal loans are provided directly by the financial institution that approves you. Online banks and direct lenders can be found in addition to local banks and credit unions. In general, bad-credit borrowers should only apply with direct lenders who are willing to work with them.
How to Know Which Bad Credit Loan is Best for You?
There are certain factors that you need to compare in order to find the most affordable and suitable bad credit loan for yourself. Things you need to consider are-
1.Rates
A loan's APR (Annual Percentage Rates) is like interest rates only with a slight difference that is it includes lender's fees such as an origination fee. An affordable personal loan should have an APR below 36 per cent.
2. Repayment Terms
You will get lower monthly payments with longer repayment loans but in a long term, you'll be paying more in total interest. Hence, look for a repayment term that keeps your monthly payments affordable and also allows you to pay off the debt quickly.
3. Approval Time
Bad credit personal loans can be approved within a day you're approved or it could take a week to receive the amount in your account. Confirm the approval time during your approval process.
4. Credit Building Feature
Consider getting personal loans that will help you build your credit score. Some lenders may help you learn about some ways to build or improve your credit score.
How Do You Know If You Will Qualify for a Personal Loan with Bad credit?
If you have bad credit, you'll probably need to meet certain criteria in order to qualify for a personal loan. If you'd like a bad credit loan, these are some of the most important factors:
You have resolved your credit issues:
You haven't yet repaired your problems: Lenders are more willing to overlook bad credit scores if you have a current credit history that demonstrates the problem has been resolved. In most cases, this means you can't have any current delinquent debt, that all judgments (such as tax liens) are paid, and that any bankruptcies are discharged. It is crucial that you can repay the new loan, regardless of your old issues.
Your income shows that you can repay
Your income is sufficient to comfortably repay the debt: Most lenders will want to make sure you can repay the loan comfortably before giving you a new one. Their calculation will be based on your debt-to-income ratio. You should also check your budget before continuing to see if you can comfortably make the monthly payments.
The loan amount can improve your financial situation
In addition to helping improve your overall financial situation, loans can also improve your credit rating. Consolidating existing debt into a single fixed-rate loan that has a lower interest rate could enable you to settle your balance more quickly. Also, your interest charges will be lower. Another option is to get a personal loan if you do not qualify for one yourself.
A co-applicant or co-signer may be required by some lenders. In this case, your credit will be used to qualify, which is a good thing. Rather, make sure that you repay the loan on time or you run the risk of ruining your relationship; in addition to your own credit, your co-borrower's credit will also be affected if you default on the loan.
How to Pre-qualify Without Affecting the Credit Score?
You should research personal loans before you apply. In order to avoid giving your score a major hit, follow these steps when you're ready to apply.
Compare prices before making a decision
Before you apply for a loan, check credit scores to see whether you qualify so that you can avoid hard inquiries. You can fill out a prequalification form with many lenders. To view multiple offers at once, you can use a lending platform (such as Upstart or LendingTree).
Make a decision about the best offer
Make sure you choose the loan with the best interest rate and monthly payment. Look at the total cost of the loan over the entire term and decide whether the cost is worth it.
Apply formally
You will also need supporting documents such as bank statements and paystubs.
Await approval of the final version
The process may take a few minutes, an hour, or even up to ten days. You can speed up the approval process by submitting the documents right away during normal business hours.
Receive your funds
You will need to provide your bank account information once your loan has been approved, so the funds can be deposited into your account. Your lender may also be able to issue you a paper check, or if you have a consolidation loan, you may be able to have funds directly deposited into your creditors' accounts.
To find the best interest rate and payment terms, it can be helpful to compare several personal loan offers as you search for a loan. Even Financial asks 16 questions to determine the best offers for you, including your annual income, date of birth, and your Social Security number. There is no cost or impact on your credit score.
Tips for Choosing the Right Personal Loans for Bad Credit Loans
Compare personal loans while applying for bad credit loans by considering these tips:
Compare the highest and lowest interest rates:
Bad credit is likely to result in a rate at the top of the range because interest rates are largely determined by your minimum credit score. Hence, when comparing personal loans for people with bad credit, make sure to look at the maximum interest rate.
Make sure you are prequalified with a provider.
There are several companies that can prequalify you for a personal loan. To learn about possible loan limits, rates, and repayment options, you can submit details like your income and housing situation. In addition, you will only be required to perform a soft credit check, which will not harm your credit score, so the best rates can be found safely.
Verify if any additional fees apply.
The origination fee, late payment fee, and prepayment penalty are non-existent with some personal loan providers. Some of these companies may charge all of these fees or some of them. Check out the fee structure beyond the potential interest rate when you're comparing bad credit personal loans.
Analyze the lender's customer support options.
Once you have found a lender, there is one more thing you should look into before you sign the loan agreement. If you encounter payment problems or financial hardship during the repayment period, customer support can make all the difference. Read reviews of the lender's customer service resources to determine if it's a good match.
The Best Way to Avoid Scams when Applying for an Emergency Loan
When you apply for bad credit loans, you must know that bad credit lending is rife with scams. Most predatory lenders entice borrowers with the promise of quick cash, only to charge them extremely high fees and interest rates. Those with low incomes or minimum credit scores can end up in debt as a result. The following tips can help you avoid being scammed by predatory lenders.
1. Don't deal with lenders who don't ask for your credit history
The lender should still ask about your credit history and income sources even if they are accepting bad credit. The fact that a lender is willing to accept anyone is a negative sign; it could mean the lender is more interested in extorting fees than making good on the promise to lend.
2. Make sure the company is licensed and has positive reviews
Federal Trade Commission certification is necessary if you work with a lender. You can get this information from state regulators and attorneys general. Also, look up the lender's letter grade with the Better Business Bureau (BBB), which rates companies according to consumer complaints. A BBB page will tell you if a potential lender has been sued by a state attorney general, for example.
3. Paying cash upfront is not a good idea
Usually, origination fees, application fees, or appraisal fees are deducted from the loan amount. A lender who charges you cash upfront is a major red flag.
4. Don't be swayed by hard sales tactics
You are unlikely to hear from reputable lenders over the phone or at your door. A sale or advertisement that sounds like a scam is probably a scam. A lender should not try to pressure you into signing a contract or applying.
5. Make sure the lender is legit by looking for these signs
If your lender has a website, it should start with "HTTP" and show a padlock symbol, as well as have a physical address. Online lenders may not have a storefront where you can walk into, but they should still have an address that signifies an office with employees.
The Other Negative Impact of Bad Credit You Should Know:
When you have a minimum credit score, you can experience many negative effects, particularly in credit-related activities. Here are some of the major impacts that having a poor credit score can have on your financial and personal life.
1. Borrowing in the future becomes difficult
Before you apply for a loan or credit card, any lender will check your FICO score and credit history. With a bad credit score, you are unlikely to get approved for funds no matter how desperately you need them. If you have made past mistakes, you might not be able to obtain credit in the future.
Your future borrowing potential may be adversely impacted by as little as one negative issue. The lender wants assurances that you will be able to repay the loan. When applying for a loan, check your credit score and take steps to repair your credit score if it has fallen significantly.
2. Loan terms are unfavourable
There is no denying that people with poor credit scores have a very difficult time getting a loan. With bad credit, obtaining an unsecured loan may be harder, but secured loans are available from certain lenders. These loans may not come with favourable terms, however. As a result of your low credit score, the interest rate would be higher since you are not a reliable customer. Creditors charge you higher interest rates for loans because of the risks associated with your credit profile. As a risky borrower, you might not be able to secure a higher loan amount even if you get approved for the loan.
3. Barriers to job opportunities
While employers do not often check one's credit score in India, certain job opportunities such as banking services or jobs that involve finance will require a good credit score. You can think of your credit score as a reflection of your financial responsibility. So, employers rely on you with official responsibilities if you maintain a certain level of financial discipline. When this happens, your credit score becomes the yardstick by which you are judged.
4. Impending strains on personal and social lives
You can have a very difficult time living a healthy social and personal life if you have a great deal of debt. A happy life depends mostly on money. In your personal relationship, bad credit can create unnecessary stress. If borrowing becomes nearly impossible, you may find yourself in a difficult position if you have an urgent financial emergency. If you plan to apply for a big-ticket loan with a co-applicant, you may not be able to get your preferred terms. You may need a larger down payment and a higher interest rate.
5. It Can Be Difficult to Start a New Business
To start a business, you would need funds. It can be quite challenging to get a loan from a bank, NBFC, or online lender when you have bad credit. Lenders would be hesitant to process your business loan application since you have a negative credit history.
If you wish to avail of a business loan, you must clear your outstanding payments or any other negative issues. By pledging your collateral, you can still get a secured loan despite poor credit. You may not be able to repay the loan if the terms are unfavourable.
6. It is possible that creditors will take legal action against you
You might be notified if you repeatedly default on an unsecured loan or credit card bill. Continuing to ignore it and not paying back, the creditor might send you a legal notice against you. A lawsuit, even though you have a lot of time, could complicate the matter and prevent you from getting credit in the future. In order to prevent the situation from becoming out of control, it is preferable to negotiate with the creditor before it gets out of control.
7. Assets/properties may be lost
A secured loan is one in which a property or asset becomes the security for the lender, such as a gold loan, home loan, plot loan, etc. When you default on your repayments continuously, the lender is allowed to take the collateral. By selling the asset at auction, the lender will attempt to recover its losses. When your credit score is bad, your property is at risk, so you should either extend the term or negotiate better terms with your lender.
Is there an Alternative to Bad Credit Loans?
Before you take out a bad credit loan, you can consider limited alternatives. Here are some of them:
Having your current financial provider tailor a loan to your circumstances. In this case, your current financial provider may be able to assist you rather than looking for a loan from a new provider.Overdrafts are available on current accounts at 0% interest rates for a certain amount. Overdraft fees can be expensive if you overstep your limit. Do not cross your overdraft limit.
Those experiencing financial difficulty can turn to credit unions that are community-based as an alternative to banks. Credit union members can apply for the loan. Credit unions are supporting organizations whose main aim is to serve their members.
Those with a bad credit history have access to credit cards as well. These cards are specially designed for people with bad credit histories. Their credit limits may be lower, and their interest rates may be higher. Failure to apply for a credit card can also damage it further.As long as possible, use your own savings. Rather than paying high-interest rates for loans, it would be better to have used your savings.If you can't pay your rent, the government offers interest-free budgeting loans. But these loans will only be given to those in need of cash immediately.
You can borrow money from family and friends. It will be much easier to work out a mutually beneficial deal with them than with any financial company. A feasible interest rate can be worked out with them. It is important to be clear about how you plan to repay the loan because there is a possibility the relationship could be adversely affected.
Commit to a specific repayment period. Don't get sucked into the loan shark business, whatever the problem may be. Get in touch with your existing lender and negotiate a payment plan that will prevent you from defaulting your payments and save you from a bad credit history. Lenders will always help and advise you according to your current financial situation.
How to Improve Your Credit Score
A poor credit score does not indicate irresponsibility on your part. An unexpected medical bill puts you in a tight financial situation. Taking strategic steps towards clearing your bad credit can help you get back on track. Get to know the factors that affect your credit score first. An incorrect credit report or non-repayment might be to blame.
Approach the lender after discovering the negative issue to figure out how to resolve it. Ask the lender for better repayment terms if there is a problem clearing the dues. Credit bureaus receive information about your credit activities as soon as the creditor receives your payment. This will result in a change to your credit score. You may also wish to seek credit improvement services offered by trustworthy and reliable credit repair companies if clearing the negative issues is proving difficult for you.
Key Takeaways:
Getting a loan with bad credit is possible. If you have gone through each word in the article you can easily get a bad credit loan, here's what you need to remember:
1. Credit scores are crucial
Credit scores indicate an individual's credit history with respect to bank and loan accounts, repayment track record, and overall debt load. In order to assess a borrower's creditworthiness, a lender uses this metric. An average credit score is between 300 and 900, a fair credit score is between 550 and 700, and a good credit score is between 700 and 900.
An improved credit score can help you get a loan faster. Many people struggle to maintain a good credit score, but did you know you can still get a loan even if you have a low score? It's possible. You should try to maintain a good credit score and healthy credit profile as a best practice, but if you can't, you can choose from these six options if your FICO score is poor.
2. Search for credible lenders
Credit scores are used by lenders as a cut-off to assess loan applications, and such cut-offs vary from lender to lender. While some lenders may set a high cut-off, others may approve loans to those with lower credit scores but at a higher interest rate.
In order to find lenders who offer loans to people with low FICO scores, applicants with lower credit scores are advised to broaden their search. Therefore, consumers can visit online financial marketplaces that provide loan offers from different lenders based on factors like credit score, monthly income, job profile, location, etc.
3. Be honest with your lender
Coronavirus has directly or indirectly caused financial hardships for many in recent months. It is still worth trying to discuss directly with your banker or relationship manager, with whom you have had a good relationship and long-term relationship.
This will give you a better chance of getting the loan you need. In a similar fashion, if at a later stage, you improve your financial position due to a raise in salary, a better job offer or increased profits, make sure to show the banker proof. You are more likely to get the loan approved if you do so.
4. Secured and collateralized is the way to go
In the case of a secured loan, where an asset is set aside in case you cannot pay back the loan, the lending institution faces less credit risk. Lenders can afford to give less importance to your FICO score when approving your application when you present adequate collateral that is liquid.
Gold loans, loans against property, and loans against securities can all be converted into mortgage-backed loans. Keep in mind that the lender may keep one of these assets as collateral for the repayment of the loan.
5. Get a guarantor or joint loan
A loan can be applied for in collaboration with someone with a good FICO score, such as a spouse or family member. Due to the fact that the joint loanee acts as a co-applicant, it increases the odds of the loan being approved.
As a result, the lender is subject to less credit risk since both the co-applicant/guarantor and the primary borrower become responsible for repayment in case of default. You should, however, make sure your co-applicant is aware of such an eventuality.
6. Choose NBFCs/P2P lenders
The banks may downgrade your FICO score if they carry out strict credit report examinations. The NBFCs, on the other hand, have more relaxed credit policies. They do, however, charge higher interest rates than banks.
Another option is to borrow from Peer-to-Peer (P2P) lending platforms. Paperless disbursements, flexibility regarding loan tenure, and competitive interest rates are some of the advantages offered by such platforms.
7. Don't lend too much
A small personal loan can help you build your credit rating if you don't have a good credit score. You can repay this loan regularly to build your credit rating. Also through this process, your creditworthiness will be gradually strengthened, and at that point, you can apply for a bigger loan from your bank or any other financial institution.
Final Note:
The lending institution or bank must conduct various checks before granting a loan to a customer in order to ensure that the loan will be repaid, along with any interest due. It is your credit score that affects the bank's decision to lend you money. A bank gets the credit score and credit report from one of the credit bureaus in the country to determine the credit profile of the borrower. Across lenders, different criteria are used to assess risk. Others only rely on their credit score for risk assessment. So, be very cautious when it comes to choosing the lender.
What Are the Laws Regarding Title Loans in Florida?
Florida title loan laws and regulations make title loans in Miami and throughout the state safer and with better protection for borrowers and lenders. For example, Florida auto title loans require clearly written contracts between the lender and borrower. These written title loan agreements provide guidance on loan stipulations and assurance that both parties understand the requirements.
Without such an agreement, borrowers risk losing their vehicles due to misunderstood loan conditions or unexpected changes that were not part of the original verbal agreement.
How Do I Get a 5 Star Loan in Florida?
Now that you know the main pros and cons of getting a bad credit loan, you can begin considering whether it is the right option for your personal finances.
US residents can apply online for a bad credit loan from 5 Star Loans. Our friendly team members will provide everything you should know about bad credit loans options. Simply fill our online application or call our toll-free number 24/7.