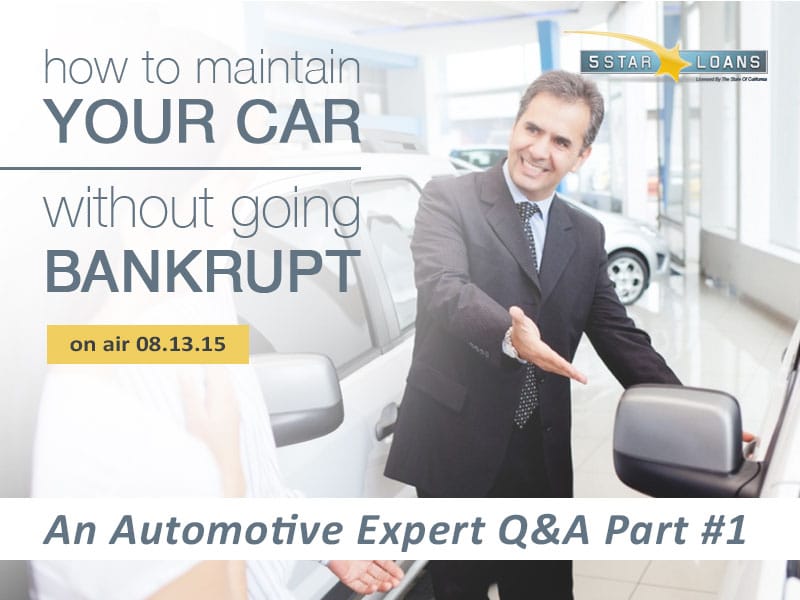 An Inside Look at Car Costs, Part One
The cost of getting from Point A to Point B is a lot higher than simply a gallon of gas. Cars require maintenance, care, and regular checkups. When you take into account insurance, washes, and the occasional cost of repairs, your vehicle takes more from your wallet than you may have bargained for. We talked with three business owners in the field to bring you insider tips and tricks to keeping your car running smoothly and affordably. Here's what they suggest:
What is the true cost of maintaining a car?
$1,625 / Year
$135.5 / Month
$5.2 / Day
$0.11 / Mile
– Bryan Fuller, Benzinsider.com
Depends very much from car to car. If you buy a second hand car or a new one. If you get a second hand car then the cost of maintaining could be higher because it is logically that the parts of the car are older and will get dead more often than a new car.
For me, maintaining a car means to check every part of the car is working well. If I see something wrong with the car then I quickly take action to repair it by service or by myself, depending on the problem.
The true cost for maintaining a car could start from $200 per month.
– Marcus Web, BMWCoop.com
What would you recommend to do by yourself instead of going to a repair shop?
These days, cars, trucks and crossovers are so complex that without having a garage full of state-of-the-art diagnostic gear you will have a hard time doing many of the maintenance chores that were commonplace in decades past.
The good news is that many things simply don't need to be done as often. Tune-ups are required far less frequently, as are specific maintenance tasks, such as replacing spark plugs. You may be able to change the air filter and, if you're willing to get a bit dirty, change the oil and filter.
The reality is that there are plenty of places that will do this for you affordably, quickly … and cleanly. AND they have safe places to dispose of the used oil, rather than dumping it in the sewer, the garbage or down a drain. That said, there are some minor maintenance issues that owners should be taking responsibility for that they often neglect.
– Paul A. Einstein, TheDetroitBureau.com
This depends on the age of your car. If you have an older car without electronic fuel injection and an electronic engine management system, I would recommend as much DIY maintenance you can comfortable do within your skill set / experience.
With newer cars it is difficult to conduct DIY maintenance because you need specialized equipment to access your engine management system. Also if your car is in warranty you can void your warranty if you do not use authorized workshops.
For news cars I would only conduct DIY maintenance for the routine maintenance specified in your cars User's Manual.
– Bryan Fuller
What would you say are the basics of car care?
Check tires every several months to ensure they are properly inflated – doing so before you drive, as that heats them up and raises the apparent inflation.
A tire that's under inflated will wear faster, reduce fuel economy and increase the risk of failure.
Make sure, especially in hot summer months, you have proper levels of water in your radiator. And improve your vision by replacing worn wipers (including those in the rear on utes and wagons). Have you checked lately to be sure all your bulbs are working? A malfunctioning taillight is a recipe for a collision.
In some cases, you need to just watch out for problems that a mechanic will need to fix, notably making sure that various fanbelts haven't started to fray and that hoses are tight and showing no wear.
– Paul A. Einstein
Cleaning, oil, windscreen washer and radiator fluid top ups, tire replacement, windscreen wiper replacement, and gas additives.
Essentially all the wear items on your car. Remember cleaning the exterior of your car is not just for aesthetics. Your car's paint system protects the car from corrosion and maintains your car's value!
– Bryan Fuller
Anything you think that can be accomplished by yourself. Let's consider that your parking sensor of a 2004 BMW 3 Series (e.g.) is dead. Now what to do? Check the youtube and search for DIY for parking sensors removal and you will be ready to do it for yourself and save some good money that you would paid to the car service.
I am sure that almost car problems can be repaired by yourself if you have a tool kit at home and you will save a lot of money that could be spend on other things.
– Marcus Web
Give us your 3 most important gas saving tips.
One of the most effective ways to improve mileage is one that many people neglect:
make sure your tires are properly inflated. By some estimates, severely underinflated tires can rob as much as 10% of your fuel economy.
Smooth driving is another key: smooth starts when the light turns green and smooth braking when you have to stop.
Another trick: when you get into a baking hot car on a summer day, open the windows for a couple minutes rather than putting the A/C on full blast. But DO shut the windows when you get moving at highway speeds.
Today's cars actually get better mileage with A/C than with windows open at higher speeds because of their aerodynamics.
– Paul A. Einstein
Stop speeding! High RPM at high speeds consumes much more gas than maintaining the speed limit.
Use your accelerator smoothly with your gear selection, try to build up to a speed and let your car naturally slow down without your brake if you have the distance available. You will save money on fuel and on disc brake replacement.
Some fuel additives have been proven to make your fuel injection system more efficient by removing deposits.
– Bryan Fuller
Be calm when you drive the car. Don't abuse of your acceleration and brake pedals. Use the engine breaking as much as you can.
– Marcus Web
What is your car maintenance check list?
Tire Change (Every 2 years)
Full Service (Yearly)
Interim Service (Every 6 months)
Tire Pressure (Monthly)
Windscreen Fluid Top Up (Every 2 weeks)
Car Clean—by hand (Weekly)
Gas Additive (Every 4th Fill)
– Bryan Fuller
I own two BMW cars and what I check for their maintenance are: brake pads, brake discs, fluid of braking system, oil level, engine water and things like that. Every 10k miles I make the full revision which means I am changing all filters, engine's oil, and checking the things I mentioned above and change them if needed.
– Marcus Web
So there you have it. Keep up with day to day maintenance and keep an eye on the small things to ensure they don't pile up. Driving calmly can save on gas and prevent wear and tear on your car. Don't be afraid to DIY basic repairs to save some big bucks. Follow these tips to keep your car costs low.