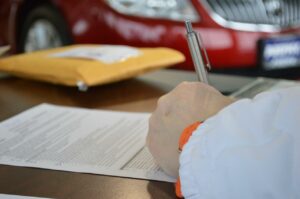 Most of us require additional funding at some point in our lives, and while most of us dislike the idea of borrowing money, some have realized just how helpful online installment loans are. This is especially true if you're in urgent need of funds or you need to finance a really big purchase, medical bills, and home or vehicle repair.
Personal installment loans are frequently regarded as one of the most affordable and financially reasonable lending options, especially for borrowers with a poor credit score who need extra cash. Since poor credit lenders aren't typically approved for loans by traditional financial institutions, personal loans are usually the best way to obtain cash quickly.
This article will explain everything you should know about installment loans online, including what they are, what types of online loans exist, and how the loan application process works. So, without further ado, let's dive right in.
What are Installment Loans Online?
Generally speaking, an installment loan is any loan that implies borrowing a lump sum and paying back in smaller increments over time — usually monthly installments or loan payments. They are usually a better option for covering various types of expenses since they have lower interest rates than credit cards and much more favorable loan terms than payday loans.
Installment loans are typically used to cover financial needs and emergencies, such as employment termination, debt consolidation, vehicle repair, medical bills, and moving expenses. There are different types of installment loans — which we'll cover in the later section of this guide — but nearly all work as typical personal loans in which lenders borrow money from loan companies and pay it back in fixed monthly installments.
It's worth mentioning that some companies offer loans to borrowers with poor credit scores, which usually come with certain requirements and restrictions, such as more strict repayment terms, higher interest rates, and perhaps additional fees or penalties. On the other hand, making timely payments and repaying the online installment loan in time may improve the borrower's credit score.
How Online Installment Loans Work?
As stated above, online installment loans are akin to other types of personal loans, with the added benefit of online applications and the approval process. While traditional institutions usually require you to visit a branch office and submit an application with required documentation, online installment loans allow lenders to submit an application online and for preliminary approval.
The borrower is still expected to provide the necessary documentation for review and approval, but only in the case in which a lender pre-approves the application. This way, borrowers are spared the headaches and time loss associated with application submission at local branch offices.
However, there are some other notable advantages when it comes to online installment loans; some lenders, depending on the type of loan, don't perform a credit check, which allows lenders with bad credit to apply and possibly even get approved for a loan. However, even then, the lender may reserve the right to perform a credit check with the credit bureau if they deem it necessary.
Types of Installment Loans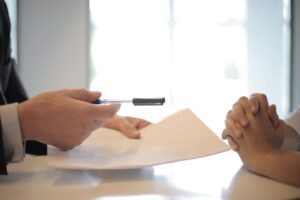 There are several types of installment loans, and they're mostly split into two categories: secured and unsecured loans. Choosing the right type usually depends on your financial and credit situation. Below is the breakdown of both categories.
Secured Loans
Secured loans are just that, loans that are backed up by collateral, such as valuable possessions and assets, like real estate or vehicles. Since they're backed by the collateral, which is required to obtain the loan, secured personal loans pose very little risk to direct lenders.
However, the same can't be said for consumers and borrowers because lenders have the right to repossess the collateral assets if borrowers miss their monthly payments and default on their loans. Additionally, loan amounts can be large since the lenders must match the collateral value the borrower offers.
As such, they're usually based on credit history (not always) and other financial considerations and generally offer favorable interest rates. Here are the most common types of secured loans:
Mortgages

— Typically used to finance the purchase of a home or other real estate, in which the financed property acts as collateral.

Home Equity Lines of Credit

— Also known as HELOC, these loans are secured by the borrower's equity in their home.

Home Equity Loans

— similar to HELOCs, but the borrower receives a lump sum of cash based on the equity in their home.

Car Title Loans

— Auto loans are secured by your vehicle; the lender holds the title to the vehicle to protect its interest in the collateral. Borrowers still get to drive their car, as long as they make regular monthly payments.
Unsecured Loans
Unsecured loans are personal loans that don't require any collateral; they usually require just a signature. Common types of unsecured loans include personal loans, student loans, credit cards, and cash advances. There are usually more accessible since they feature a less rigorous application process on top of a same- or next-business-day nearly instant funding, at the cost of less favorable loan agreement terms, such as high-interest rates.
Lenders may request to see your credit report and usually have more rigorous credit score requirements. On top of that, missed payments will be sent to collections, and the borrower's credit score will decrease. Here are the most common types of unsecured loans:
Payday Loan

— Short-term loan option, also known as a cash advance, is a type of loan that doesn't require any collateral or other securities and provides a very quick cash solution. However, you must repay them, along with significant interest rates, before the end of your following pay period.

Unsecured Credit Cards

— Unlike debit cards, which must be loaded with funds before use, credit cards allow users to pay for goods and services, in which case the amount will be charged to their lines of credit. And while they allow users to postpone payments, these financial solutions are usually associated with high-interest rates and monthly repayment periods.
What to Consider When Applying for an Installment Loan Online?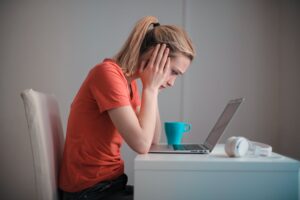 Source: Pexels
Getting a more competitive interest rate generally allows borrowers to make more affordable monthly payments, which should be a priority when getting an installment loan. Online and traditional lenders usually factor in many different aspects during the loan application review, calculating the risk per credit applicant and granting specific interest rates and APR based on their assessment.
This means that you might want to improve your credit score before applying for an installment loan, which will effectively lower your interest rates and APRs. Make sure to check your credit report and address potential inconsistencies that could adversely impact your credit score. It's also important to determine your monthly budget when applying for a loan.
Most lenders will require proof of income during the unsecured loan process to determine whether you can comfortably afford to pay monthly installments. Secured loans are much less stringent when it comes to this. Still, it's also good to consider the loan period and how long you'd make the installments, considering interest rates. Longer repayment periods come with lower monthly payments but may cost you more in interest over time.
How to Apply for an Installment Loan
Getting an online installment loan is similar to other loan types: you apply for the loan, the lender reviews your application, and based on their assessment, your loan is either approved or declined.
Application
Before applying for any type of loan, either a secured or unsecured one, it always pays to know your credit score. You can find your FICO score using a free online service or by checking in without your credit card provider.
Most online installment loan lenders, such as 5-Star Car Title Loans, allow you to pre-apply online by filling out an application form or by calling them via phone at (888) 309 0994. The pre-application process takes only a few minutes to complete, and you'll need to know things such as your FICO score. You'll also be required to provide basic information about yourself, like your name and phone number.
Provide the Necessary Documentation
To further check your eligibility for obtaining the loan, you'll need to provide the lender with any or all of the following documents:
Government-issued ID

— Lenders require a state-issued ID, driver's license, passport, or any other state-issued document that can be used for identification purposes. This may include your social security number as well.

Proof of Residence

— Depending on the state law, you might have to provide proof of residence. Any document with your name — which has to match the name on your ID — should suffice.

Proof of Income

— Some lenders will require proof of income, signaling your ability to repay the loan. Bank statements, pay stubs, tax returns, bank statements, and pension documents are all valid proof of income.

Qualifying Title to the Vehicle

— a car title is only required for obtaining a car title loan since the vehicle is used as collateral. However, you can't apply if the vehicle isn't in your name. The same rules apply to motorbike titles. Besides titles, lenders may also require photos of the car.
The necessary documentation has to be delivered to a branch office at the request of the lending company's agent for further review. Once all the documents are reviewed and the loan has been approved, the lender will make a loan offer based on the assessed information.
Get Your Loan
If you find the loan amount and loan terms satisfactory, signing the contract is quick and pretty straightforward. You'll also need to provide the lender with your banking information, such as checking account and routing numbers. Most online lenders will deposit the funds into the provided bank account within 24 hours (weekends and holidays not included). All you need to do now is pay back your installment loan through monthly payments.
Benefits of Online Installment Loans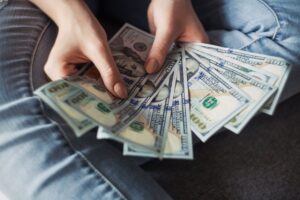 Source: Pexels
Online installment loans, whether secured or unsecured, feature several benefits over loans provided by a traditional lender.
Quick Process and Approval

— Online installment loans usually have a shorter approval time, and once the request is approved, borrowers may withdraw the loan amount almost immediately or on the next business day.

Easy Access to Cash

— Online installment loans provide borrowers with quick access to funds, significantly improving their quality of life or simply covering a late payment of two.

Credit Score Benefits

— Installment loans can be used for debt consolidation, which reduces your average interest rate, having a significant impact on your credit score

No Penalties

— most modern lenders don't charge an origination fee or a prepayment penalty if you want to repay your loan ahead of time.
What Can I Use an Online Installment Loan For?
The primary purpose of online installment loans is to provide financial services to customers who can't or won't get a loan from traditional banks and credit unions. With that said, lenders aren't usually concerned with the purpose behind your loan, and you can use the money for anything you see fit, including but not limited to:
Debt Consolidation

— consolidating your debt means paying off all your existing debts, either partially or in full, across different financial institutions so that the entire owned sum will be with the same lender.

Medical Bills

— while most hospitals allow patients to pay their medical bills in installments, it's good to know that you can finance those bills from other sources.

Student Debt

— you can catch up with late payments on your student debt or refinance the debt entirely.

Home or Car Repairs

— an online loan for bad credit can be used for planned or unforeseen car and home repairs.

Vacation

—take a lump sum for your vacation, and pay it back in installments.

Moving Expenses

— cover the cost of moving your stuff to a new living location, or make renting safe deposits.
Summary
Online installment loans are a fantastic financing solution when you require quick cash to finance all your financial needs and emergencies or simply consolidate debt and work on improving your credit score.
If you're interested in getting an installment loan online, visit 5-Star Car Title Loans, or call us at (888) 309 0994. The company specializes in car title loans and installment loans online and will do its best to meet your needs and even help you on your journey towards financial well-being.