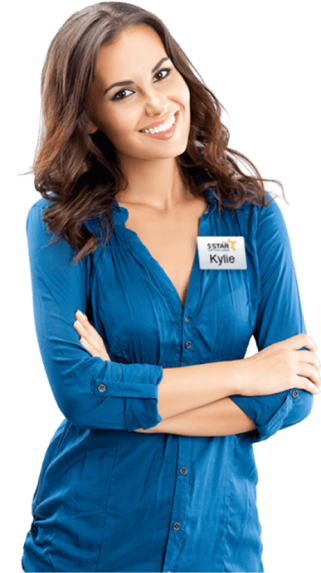 Customer Centered Service

Providing excellent customer service and a positive loan experience is 5 Star Title Loans top goal and we work tirelessly to make this happen for each and every customer.

Loans for Low Credit Score

We don't like turning away customers simply for having a bad credit score. We will work hard to get you a loan regardless of your bad credit.

Easy Application Process

We understand the urgency when getting a loan, so we offer simple options for applying. You can choose to apply either by phone or online.
Products

Car Title Loans

Payday Loans

Bad Credit Loans

Personal Loans

Online Title Loans

RV Title Loans

Process

Apply by phone or online

Complete all necessary requirements

Visit our local if needed

Get your money

Requirements

Car details

Personal details

Car title

Identification

References

Benefits

Keep driving your car

No prepayment penalties

No hidden fees

Quick funding

Personable service
5 Star Car Title Loans in Dale City, VA
Living in America for a long time teaches you one thing for sure: any bill or expense can come from anywhere, anytime. Anniversary parties, Home renovations, sudden trips, and many more.
And even though the fun is great, the stress on the pocket is too.
While traditional bank loans might be the first thing people think of to get some financial help. The extended paperwork, the difficult application process, credit checks, and days of waiting make it very hard for people to get a quick personal loan for themselves.
Though that's not all there is for people to borrow money from; if your expenses can't seem to be in your control, you can take the benefit of several easy and fast short-term installment loan options to get extra cash on short notice.
5 Star Car Title Loans offer quick and effortless title loans where residents of Dale City can apply from their residences and get funded within 24 hours.2 Read how these loans work and how you can get an auto title loan to fund yourself.
Car Title Loans in Dale City: What are They and How They Can Help?
Auto title loans are alternate secured loans that allow borrowers to use their vehicle title and get fast cash funding to deal with their sudden unanticipated expenses.1
In title loans, your car's title is used as collateral on which the lenders put a lien.1By putting a lien, the lender gets temporary ownership rights over your car's title and you get the cash.
The great thing about title loans is that, unlike other collateral lending options, your car stays with you. Once the entire title loan money is repaid by the applicant, the lien is removed and he gets back a clean and clear vehicle title to their name.1
How To Be Approved For a Car Title Loan in Dale City, Virginia?
One of the main usefulness of applying for an online title loan in Dale City, Virginia is that there is no long list of requirements to fulfill to just be eligible for the loan. Below are some basic conditions that can help you to get an auto title loan easily and quickly.
particulars To Apply For Dale City title loans
The candidate should be a legal adult i.e must be 18 years old or above.

He/She must have a government-issued id with them.

Candidates ought to present a qualifying car title registered in their name.

They should have a dependable income source to afford and repay the loan.
Getting Vehicle Title Loans in Canton, Ohio
The 5 Star Car Title Loans team concentrates and works hard so that our users can experience an easy, simple, and streamlined loan application process.
You will find applying for a title loan with us is quite effortless and doesn't involve a hectic application process. All you need to do is follow the 3 steps that have mentioned below:
3 Simple Steps To Apply For Dale City Residents To Get Title Loans
Step 1: Apply Online
Before you start collecting your documents and clicking pictures of your car, you first need to know whether you are eligible for a title loan or not.
You can do that either by calling the 5-Star team at (888) 309 0994 or by filling out a simple online application form on our website. Applicants are only needed to introduce some basic details regarding you and your car and they'll know their eligibility status within 5 minutes.2
Step 2: Send The Documents
Once you are pre-approved for the auto title loan, you can move on to the next step in the title loan process and get more details about essential loan terms including minimum loan amounts, Annual Percentage Rate, repayment plans, etc.
After the loan term discussion with our team is done, they will ask for a few loan documents such as proof of address, proof of income, etc will be asked for by the lenders.1
Dale City residents can easily upload their documents online or email them to our team and get approved for a title loan.
Step 3: Get Fast Money Within 24 Hours!2
Once the documents are affirmed and you will be required to express written consent agreeing with title loan terms. For that, we will send you a loan contract which you must read carefully, sign, and send it back as soon as you can.
After the application is processed, you can expect to get a direct deposit in your bank account within the same business day.2
In addition, 5 Star Car Title Loans offer multiple payment methods so that customers can get their money without facing any troubles. Some of them include:
Mailed Checks

Wire Transfers

Nearby Participating Money Transfer location

Direct Deposit
What's Required to be Approved for Title Loans in Dale City, Virginia?
When you are looking to get funded from a pink slip loan, you'll be needed to have certain loan documents that can help to speed up the request and verify the credentials.1 In accordance with title loan laws of the state, here is the list of all the documents you'll need:
Necessary Documents To Qualify For Title Loans
A Clean And Lien-free Vehicle's Title
Auto title loans are primarily collateral loans in which the loan agents use the car title of the person to place a lien on it and provide them with some fast cash.1
Therefore, if you want to make sure that you get funded from a title loan, keep in mind that the title you are presenting must be clean, lien-free, and registered in your name.
Proof Of Income 
Title loan companies also want to know and confirm whether you can afford to pay back the title loan or not. Having a dependable and trustworthy income source is a strong indicator that you can afford the loan and will timely repay the loan installments.
Income sources can be proved by showing bank statements, payslips, tax returns, compensation letters, etc. to apply and qualify for a car title loan in Dale City, VA.
Proof Of Residence in Dale City, VA
While applying for a Dale City title loan, valid proof confirming your address in the city must be provided by you. You can use the receipts of your credit card bill, income tax statements, or rental agreements as proof of address.
Latest Pictures Of Your Vehicle
Generally in a pink slip loan, the final approval and loan amount varies based on the car value. Thus, many loan agents require applicants to go through a vehicle inspection.
5 Star Car Title Loans customers can click multiple-angle photos of their car (including VIN and odometer reading) and upload them on our website to skip the in-person inspection and mitigate the risk of visiting places.
Government Issued Photo Id
For an automobile title loan, Dale City residents also need to confirm their identity by providing some valid records. For that, applicants can present their driver's license and in case they don't have that, the passport may also work as a proof of identity.
A couple of References
Some of the title loan agents need more assurance and can also ask to confirm your loan affordability by references.1 The references can be both personal and professional and can also be from outside of Dale City.
How Much Cash Can I Get With Car Title Loans in Dale City?
Terms such as loan amount, and interest rates are quite flexible and depend on various factors. The 3 major factors that many car title loan lenders consider while calculating your amount for title loans in Virginia includes:1
Your Ability To Pay Back The Loan
The ability to repay is confirmed by providing proof of income. You have to indicate that you have a stable source of earnings and you can afford to pay back the title loan amount. Having a higher source of regular income can help you greatly.
Your Car's Equity Value
Car equity is the difference between your car's resale value and what you owe on the loan. And when you get a title loan, the lender temporarily obtains some equity in your car, and in exchange for that equity, the cash is given. Hence, if you looking to get more cash make sure you have a good amount of equity in your car.
Your Car's Market Value
Among the basic factors that greatly impact the loan amounts is the condition of your car. The car's market value is calculated on the brand, the model, the mileage, and the condition of your car.1
With 5 Star Car Title Loans, customers may get access to up to 75% of the car's value.1
Frequently Asked Questions:
How long does it take to get money from a title loan?
In normal cases, individuals can apply for a car equity loan in less than 5 minutes if they have all the required documents available to them. They can expect to get their title loan request approved within one day and can acquire the money in less than 24 hours.2
Is it necessary to have a job to apply for online title loans?
No!1
Generally, eligibi