Title Loans in Elyria, Ohio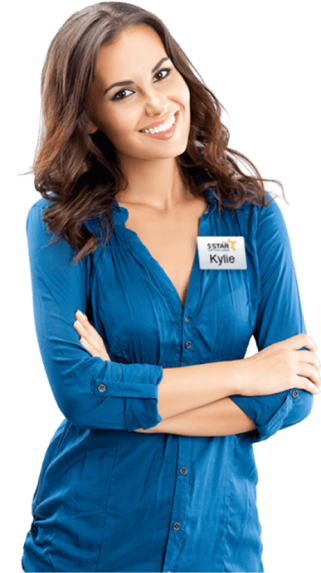 Customer Centered Service

Providing excellent customer service and a positive loan experience is 5 Star Title Loans top goal and we work tirelessly to make this happen for each and every customer.

Loans for Low Credit Score

We don't like turning away customers simply for having a bad credit score. We will work hard to get you a loan regardless of your bad credit.

Easy Application Process

We understand the urgency when getting a loan, so we offer simple options for applying. You can choose to apply either by phone or online.
Products

Car Title Loans

Payday Loans

Bad Credit Loans

Personal Loans

Online Title Loans

RV Title Loans

Process

Apply by phone or online

Complete all necessary requirements

Visit our local if needed

Get your money

Requirements

Car details

Personal details

Car title

Identification

References

Benefits

Keep driving your car

No prepayment penalties

No hidden fees

Quick funding

Personable service
5 Star Car Title Loans in Elyria, Ohio
With rising inflation and unexpected bills, managing our monthly expenses is easier said than done. Every month there are either big events or some sort of mishap that eats out all our savings and burns a hole in our pocket.
During those hard times, we look for options that can help to cover those bills but the outstretched process of traditional bank loans takes too much time and energy and requires a perfect credit history which most of us don't have.
However, there are some easy short-term cash loans where people can apply and get fast money to address their immediate cash needs without going through much trouble.
With 5 Star Car Title Loans, residents can apply for cash title loans from the comfort of their homes and get funds within the same business day.
Let's learn further and understand how you can get an online title loan in Elyria, OH.
What Are Car Title Loans and How They Can Help?
Title loans are specially designed short-term financing options with relaxed eligibility criteria where people can apply using their car title and get access to quick cash within 24 hours.2
In Elyria title loans, the lender places a lien on the borrower's car title to secure the loan and provide them with the money they need.1
Title loans are famous for various other names including auto title loans, pink slip loans, automobile equity loans, title pawns, etc. These personal loans are more preferred over other loans as you don't need to submit your car to get the money.
Situations Where A Car Title Loan Can Help In Elyria, OH
Although in other secured loans (such as service student loans), there are certain restrictions on the usage of loan amounts, title loans work differently.
Primarily intended to help with sudden cash needs of a person, cash title loans can be used for virtually every personal and household need of an Ohio resident.1
Here are some of the most common expenses locals pay for by using their funds from Elyria car title loans:
Travel Costs

Home Repairs

Rents and Other Monthly Bills

Funeral Expenses

Legal Expenses

Pet Emergencies
Requirements For Car Title Loans in Elyria, Ohio
The 5 Star team has focused on creating a simple and streamlined application process where you won't have to submit a bundle of documents, just get yourself some extra cash.
Apart from having a clean and lien-free title to your name, you'll only need these handfuls of documents for applying and getting approved for the title pawn.1
Documents You Must Have While Applying For Cash Title Loans In Elyria, OH
Proof Of Income
As opposed to traditional loans, title loan lenders base your eligibility on your ability to pay back the loan. If you wish to qualify for a loan faster, make sure you show a strong repaying ability.
Applicants can use their payslips, bank statements, compensation letters, etc. to apply for a title pawn.
Proof Of Residence in Elyria, OH
If you are applying for an auto title loan in the city, you'll need to present a proper documented proof of your address residing in the same.
Typically, you can show your previous month's utility bills, rental agreements or property tax slips as proof of your address.
Latest Photos of Qualifying Vehicle
Your car is the main asset of the loan and is used to determine a lot of the loan terms and other factors. That is why many lenders will need you to go through a vehicle inspection while applying for a loan.
With 5 Star Car Title Loans, customers can directly send mail their car pictures from their home and save the time consumed in-person vehicle inspection.
Ohio Or Government-Issued Photo ID
Locals of Elyria, Ohio will be required to present a valid photo Id issued either by the state of Ohio or the US government for identity verification. Usually, applicants can use their driver's license or passport as acceptable identity proof.
References
Applicants who looking to finance themselves in the city may also be required to provide some references from some lenders.
These references can either be personal or professional and many cases can also be outside of Elyria too.
Getting Car Title Loans in Elyria, Ohio
One of the main reasons why many customers prefer title loans over other lending options is that these personal loans have a simple and easy application process where anyone can apply and get approved in 3 easy steps.1
Steps To Apply For Title Loans In Elyria, Ohio
Step 1: Check Your Loan Eligibility
You can either go to our website or call the 5 Star team to get their help and know whether you are eligible for a title loan or not.
To determine your eligibility, you'll be required to share some basic info including your name, address, vehicle details, income, etc.
Step 2: Apply Online and Submit The Required Documents
Once our team goes through your information, you'll receive a call about your conditional approval and to discuss all the terms of the loan.
Our team will discuss with you know the minimum loan amount you can get, interest rate, annual percentage rate, repayment schedule, etc.1
After you agree with all the terms and conditions, you can submit the above-mentioned documents to go to the next step and get your loan application processed.
If you are applying with 5 Star Car Title Loans, you won't have to worry about going anywhere and uploading your documents directly on your web portal.
Step 3: Sign The Agreement 
After the document verification, our executive will draft a loan contract mentioning everything we have discussed so far and send it to you.
To ensure that the whole loan process is smooth and stress-free, we encourage our customers to read and understand everything in the contract and ask all their doubts before signing the form.
Get Direct Deposit In Your Bank Account! 
Once you send in the signed contract and express written consent, we'll initiate your funding request and you can expect to get your title loan proceeds within the same business day.2
If you get any other queries about title loans, you can contact our experienced team and get in-depth knowledge about the regulations of Ohio title loan laws.
How Much Cash Can I Get With A Car Title Loan In Elyria?
As car title loans are primarily collateral loans, the final loan amount depends on various factors and varies from lender to lender.
Most lenders use 3 major factors including a person's repaying ability, his car equity, and the car's market value to calculate the amount of cash he can get.1
As all these factors are different for each person, the minimum loan amount is different.1 Here are some factors that most title loan lenders consider while determining your car's market value.
Brand of the Car

Make and Model of The Vehicle

Style of The Vehicle

Vehicle Year

Condition and Age of the Vehicle

Ownership
At 5 Star Car Title Loans, we work hard so that our customers can get an adequate amount for their needs and help them to avail around 75% of their vehicle value.1
Can I Get A Car Title Loan With Poor Credit History?
Unlike other loans, a car title loan doesn't have a significant impact on your credit score.1 In fact, many lenders do not need perfect credit to apply for a title loan.
Avail Quick Loan With Bad Credit
In auto equity loans, the credit score is not the topmost deciding factor.1 Even if you don't have a perfect credit history, you can still apply and get approved for a vehicle title loan.
Major factors on which your title loan eligibility depends:1
Amount of equity you have in your car

Ability to repay the amount

Car's Market Value
Even though some companies might run regular credit checks, your final eligibility is decided on the above factors and it gets easy for people to get a title loan even with bad credit.1
Repaying Title Loans In Elyria, Ohio
In addition to keeping the whole loan process smooth and fast, we also worked on creating a seamless repayment process where consumers don't have to face any hassles or inconveniences to pay back their title loans.
Unlike payday loans, vehicle title loans don't require you to repay all your loan amount by the next month and in a big single payment. Here with 5 Star Car Title Loans, customers can choose their repayment schedules and pay back the pending amount in smaller installments.
We also support multiple payment methods so that people don't have to go through unnecessary hassles while paying their monthly installments. Below are some of the most preferred options:
By Mailing Check

Online Payment Applications

Money Gram Wire Transfer

Credit/Debit Cards
Frequently Asked Questions
Are There Any Pre-payment penalties?
None, whatsoever!1
We at 5 Star Car Title Loans believe in providing transparent and user-friendly customer services where we try to understand our customer needs and strives to provide them with the same. 
Part of it includes not charging any sort of prepayment penalties or hidden fees so that they can take off their debts as soon as possible.
How long does it take to get money from a title loan?
Generally, customers can know their eligibility and apply fo