5 Star Car Title Loans Google Reviews:
I had a blast taking a car title loan from them. The whole process was perfect and was fantastic!Thanks guys keep it up!!👍
JOO Silgardo
12:20 09 Feb 21
The manager there displayed excellent customer service and great service answering my questions. I called them for the motorcycle loans since not many companies give those out. It was easy enough no complaints.
Jeanice Rickman
06:24 02 Feb 21
I've taken a title loan in the past so I knew what I was getting into. The process was simple and quick. Appreciated their straight forward and honest attitude!😎
Kertzmann Prieto
07:49 07 Jan 21
The workers here are friendly and proficient. They were able to help me get a title loan without a vehicle present which saved me a ton of hassles and time. Wonderful loan service.
Ralph Hunt
11:57 23 Dec 20
I will refer all my friends and family in need of car title loans in Oakland! These guys provide awesome service and actually care about customer relationship.
Here in Oakland, getting auto title loans is confusing for the most part. That is why I refer to 5 Star Car Title Loans for discovering affordable and reasonable loan deals.
The representatives happily explained and showed what is best for me. I would come back if ever needed another instant loan. I would recommend this business to others.
Howell Sha
08:50 30 Aug 20
I was able to start a small business in Oakland after 5 Star Loans approved my loan. My business is faring well, so I'm confident I can pay them on time.
Maria Crow
06:57 04 Jul 20
Repairs on my home are something that need to be done periodically, and it seems like I never have enough money for them. I was smart this time and got title loans online forthe money.
There are no words to say how thankful I am to the loan people for getting my cash for title loan done so fast.
Belle R. Garcia
12:22 17 Feb 20
I just want to thanks Kiara for helping get my loan in a fastest and easiest way. She is awesome and explained each and every things that needs to be done for a speedy processing of my loan. Thank you very much again Kiara I really appreciate all your help and effort and if I know someone looking for a loan I will absolutely refer them to call Kiara at Montana Capital.
Jimmy Monreal
05:05 14 Nov 18
Devin Blair
00:20 14 Nov 18
About This Location
Primeras Insurance Agency provides registration services for 5 Star Car Title Loans customers. The store is located at 3439 International Blvd, near the intersection with 35th Ave. If you live in Oakland and in need of registration services, stop by Primeras Insurance Agency that works with 5 Star Car Title Loans in Oakland. Primeras Insurance Agency provides our clients with unmatched customer service. 5 Star Car Title Loans does not issue loans at this location.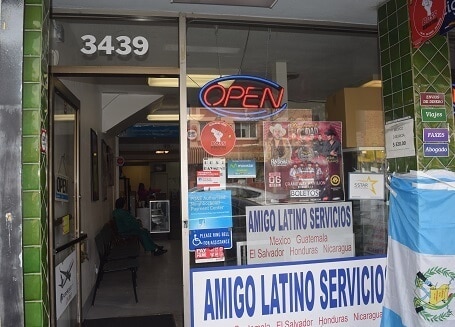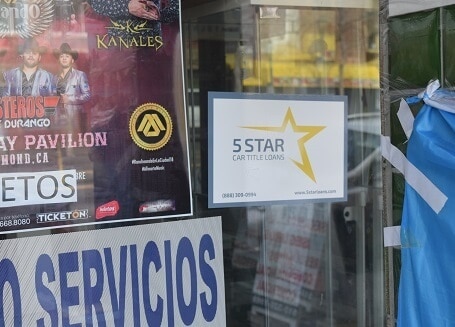 5 Star Car Title Loans in Oakland
If you're wondering where you can get a little extra money in your pocket, look no further! Send us your application for online car title loans and we'll see how we can help you with a quick loan to use for purchases, bills or anything else!
What Are Auto Title Loans Exactly?
Auto title loans are fast private loans that you can apply for by sending an online application to 5 Star Car Title Loans in Oakland. As all title loans use an asset for security, car title loans use the value of your car. The great thing is that you don't have to give up your car if approved for auto title loans, as only the value of your auto is needed. You can repay auto title loans in regular monthly payments.
Where Can I Find Auto Title Loans Near Me?
We have a list of offices where you can get auto title loans in California. For the California location near you, contact us at 5 Star Car Title Loans in Oakland. We will give you a list of all California title loans locations.
Is a Trip to the DMV Necessary When Applying for California Title Loans?
You probably won't need to make a trip to the office of the DMV, because we can normally do that for our title loan customers. After sending your online application to 5 Star Car Title Loans in Oakland, bring us your car title. We'll need it to take care of the DMV for you.
How Can I Get Online Loans for Bad Credit?
To request online loans for bad credit, you only need to fill out an online application with your details and information about your car. Send that to us at 5 Star Car Title Loans in Oakland so that we can find out how much your car is worth. With no credit check loans, we need to know the value of your automobile. What kind of car you own, ability to pay us back and fitting into our credit criteria is more important to us than your credit status, so send us your request today.
What's the Most Amount of Money I Can Receive with No Credit Check Loans?
While no credit check loans begin at a minimum of $2,600, they can go as high as $20,000. The amount of bad credit loans is according to your car's value as well as your ability to pay back the no credit check loan. In some cases, we will require a credit check, but not always.