Online Title Loans in Lompoc, CA
Getting online car title loans in Lompoc, CA just got a whole lot easier! With our new services, you can apply for cash title loans on your mobile phone. You can send in your information quickly and within a short time you'll have a free estimate! No hassle online title loans!
5 Star Car Title Loans is now offering a more convenient way to get your money with online title loans in Lompoc, CA.
Car Title Loans Online Application Process
Pre-Qualify – Fill out our quick online form and instantly see if you pre-qualify

Additional Info – Use our mobile app to upload vehicle photos, driver's license and car title

Loan Offer & Terms – One of our loan specialists will contact you with your loan offer
Online Car Title Loans - How it Works:
A. Submit the following info to see how much cash can you get:
Your name
Phone number
Vehicle information
Address
Date of birth
Social Security Number
B. Once pre-approved, our user-friendly mobile app will allow you to upload:
Photos of your vehicle
Driver license
Car title
C. Get an online title loans offer and terms
Upon receipt of the above described items, one of our loan specialists will be contacting you with your loan offer and terms.
D. Complete the loan process and get your money
To complete the title loan process, all* you'd need to do is stop by any FedEx store and ship the title to us. Our loan agent will print out a FedEx label for your convenience.
Once the title was dropped, we will simply direct deposit the funds into your debit or prepaid card.
*In some case you will be required to stop by one of our GPS Centers so we can install (free of charge) a tracking device onto your vehicle.
Online Title Loans in 4 Easy Steps
Enter Your Car's Details: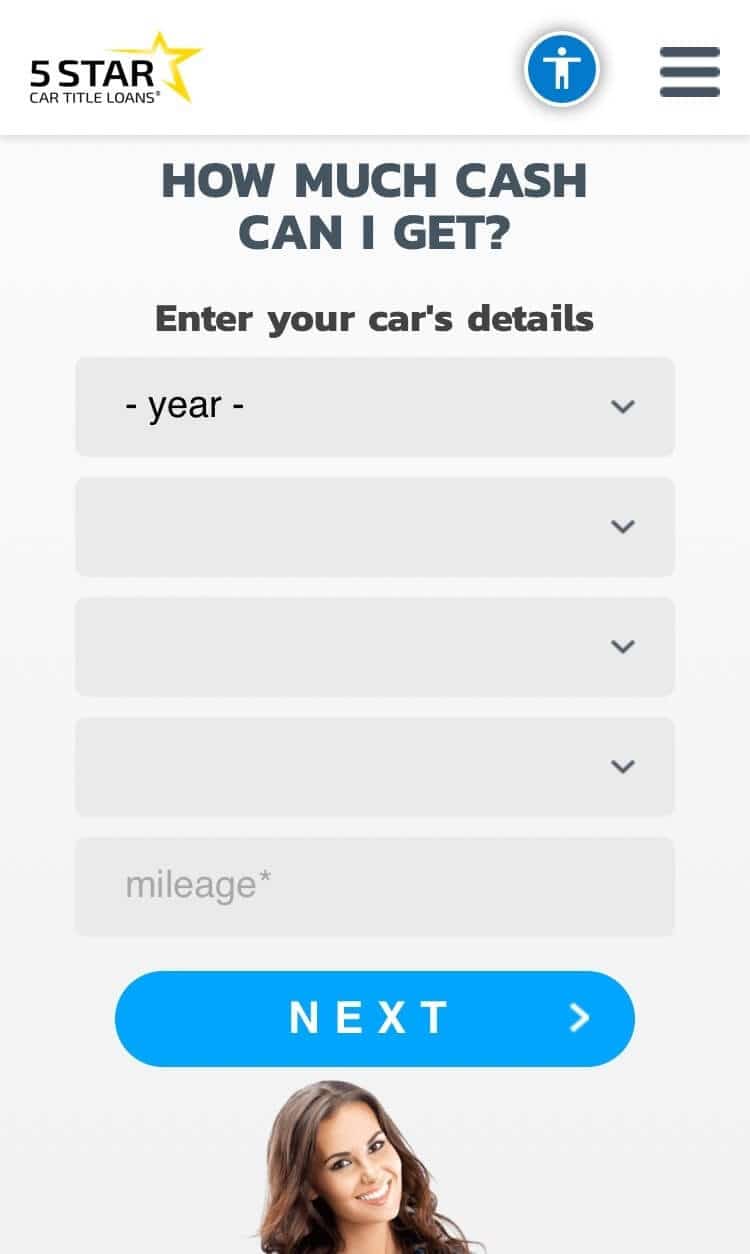 Your Personal Information: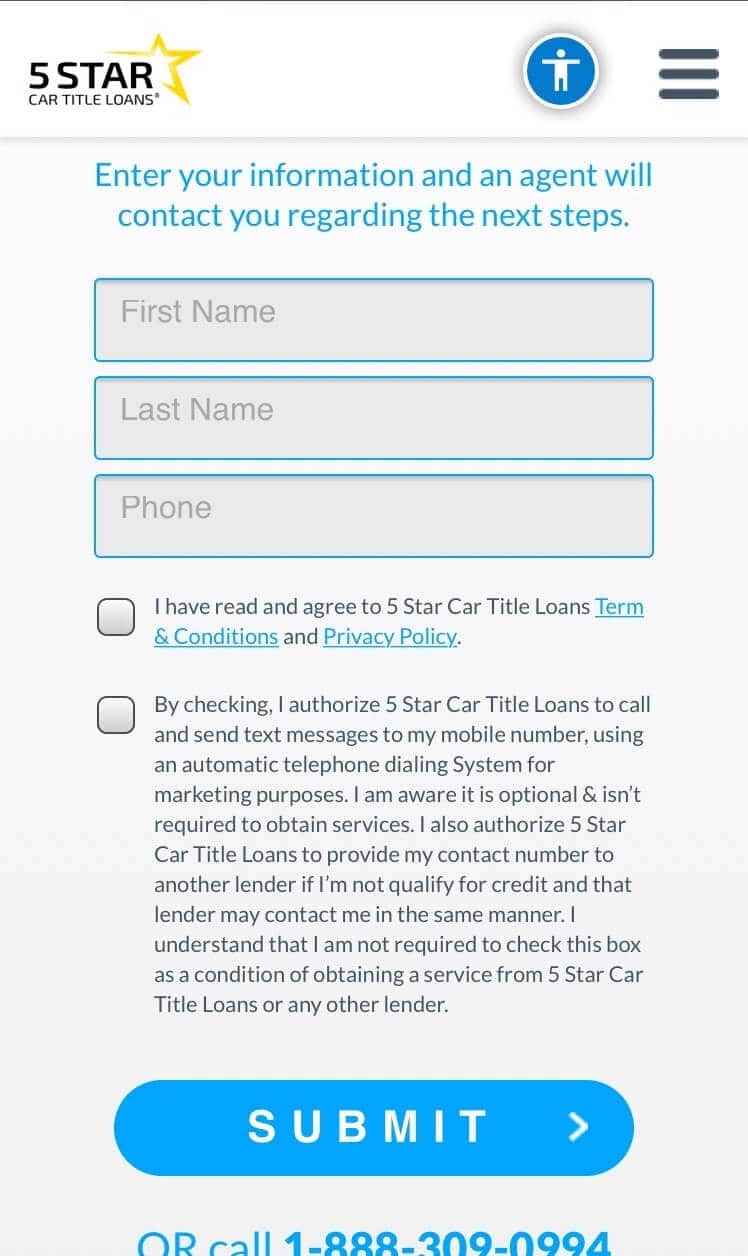 Address, Date of Birth and SSN: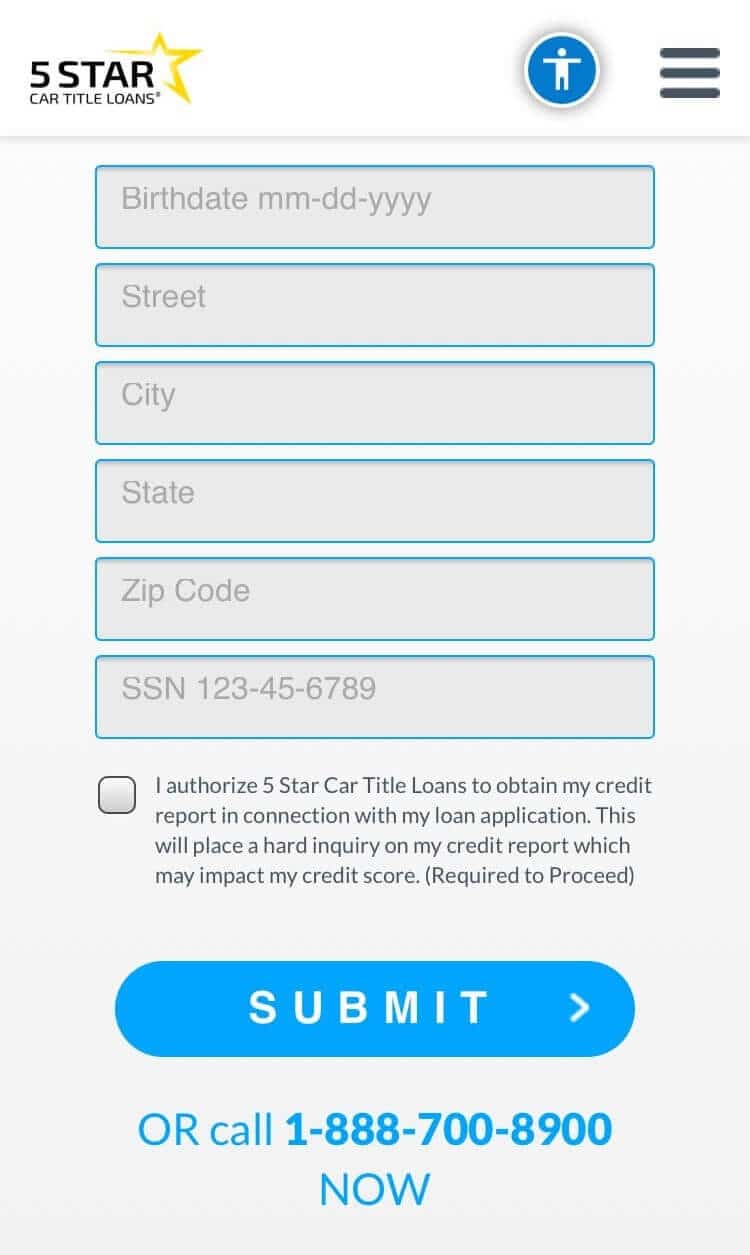 Upload Photos of Your Vehicle: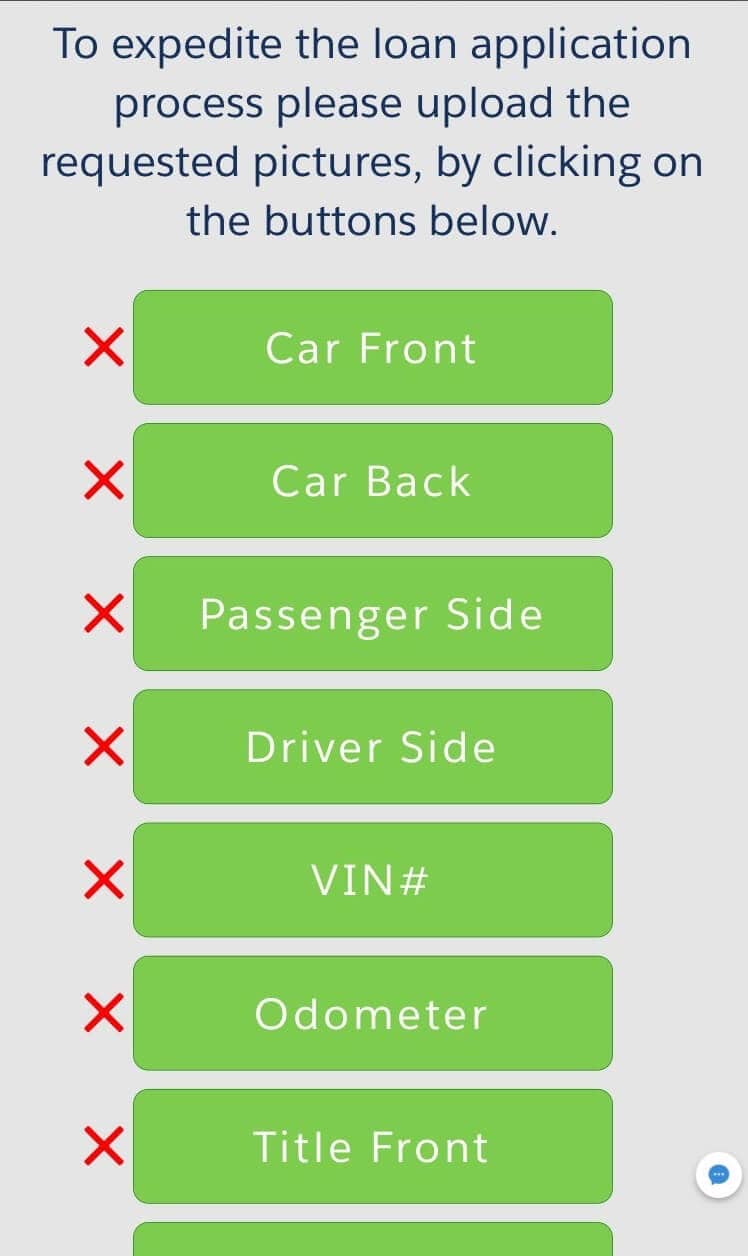 Getting an Online Title Loan in Lompoc, CA Streamlines the Process:
Compare rates and pre-qualify online
Apply using our website instead of visiting our branch
Get a fast approval decision
Get a free estimate – compare a variety of offers!
Get a direct deposit of funds* to your debit card or a prepaid card


*You can also walk into any MoneyGram location inside a Walmart Center close to you and pick up Cash at the MoneyGram kiosk
Products Details
Any Credit History Accepted

Title Loans Ranging From 25% to 120% of Car's Value

No Extra Fees or Penalties for Prepayment

Annual Percentage Rate (APR) From 60% Up to 175%

Keep Driving Your Vehicle!
All You Need to Know About Online Title Loans in Lompoc, CA
It's true that everyone gets into a tight financial spot at some time or another, but don't despair. Here is what you need to know to get title loans in Lompoc, CA. So read on!
Many Loan Types at 5 Star Car Title Loans
At 5 Star Car Title Loans, we don't give quick cash loans only on the basis of the car you own. We are a full service lender providing quick services for all of our customers. Whatever your needs are now for instant cash loans online, let us help.
Here are the different loan types we can offer:
Motorcycle title loans
Car title loans
Personal loans
Unsecured loans
Boat title loans
ATV title loans
Pawn loans
Whatever vehicle type you own, let us know about it! Let's find a way to get you an instant cash advance online using the vehicle that you own!
The Best Car TItle Loans Services in Lompoc, CA
We know that if you need fast cash online, you will want to know all the services that we have to offer. Don't settle for less – insist on the best car title loans. When you apply to 5 Star Car Title Loans, this is what you can expect:
Easy online application process
Keep your car and continue to drive
All personal information is kept in confidence
Access to customer access 6 days each week
Multiple office locations in CA
Quick funding via Repay (direct deposit), MoneyGram (cash) or Company Check
Take your choice of payment options
Also available if needed:
Help in transferring your car title to your name
Help with registering titles that are out of state
Step by step help throughout the application process
Tips When Applying for an Easy Cash Loan Online
It's very easy to apply for your easy cash loan online, and it only takes a few minutes to complete. You'll see how convenient it is when you complete the form and then send your inquiry for an easy cash loan online. With our new, online service you don't need to wait on the phone or stand in line to receive the best customer service.
You might even be able to prequalify for easy online loans for bad credit. To find out, send in your application form today.
Finding Easy Online Loans for Bad Credit
You may have run into credit issues in the past, but that's no reason you can't get easy online loans for bad credit now. Go ahead and shop around and see who will accept your application, and then compare rates, prices and terms. At 5 Star Car Title Loans, we aren't only looking at your credit status. When we evaluate your application for bad credit title loans, we're also checking your car's value, your ability to repay your loan and how you meet our credit credentials.
Take These 4 Easy Steps to Apply for Instant Cash Loans Online
It's incredibly easy to get started with instant cash loans online. Follow through with these steps and you'll suddenly find yourself at the end of the application and approval process with extra cash in your pocket!
Complete an application for car title loans
Submit it to the lender and wait for the reply
Sign the contract for a car title loan
Turn in your car title and collect your money
It may sound too easy to be true, but those are the 4 steps. If more information or details are needed, you will be contacted.
How to Determine Your Car's Value
The current selling price of your car can be found in Kelly Blue Book. However, there are specific things that we look for when determining your car's value for title loans in Lompoc, CA. Here are the main points:
Your car's equity
Condition of your car
Number of miles driven
Previous accident reports
Dents or Scrapes
Send us the information on your car and we will make our evaluation to come up with your title loan amount.
Finishing the Car TItle Loan Payments and Retrieving your Car Title Title
One of the terms of car title loans when you accept the offer and sign the contract is that you must turn in your car title. It's a pretty good deal really, because you can still keep your car and drive it. But when you finish paying back the auto title loan, you're going to want your title back. That isn't a problem, because when we see that you have met the contractual obligations, we will make sure to send it back to you. You'll get a title free and clear of any liens.
Are You Still Wondering How Auto Title Loans Online Work?
We prepared a complete guide covering "How Do Car Title Loans Work" so that you will have all the important info in one place. You can learn how to apply for auto title loans online and what to expect. If you've never applied for title loans, you will soon understand everything. Pay special attention to the section on Frequently Asked Questions, because you will find many of the answers you're looking for there.
Frequently Asked Questions Concerning Auto Title Loans in Lompoc, CA
1. Are there specific documents or papers I need to show you when I apply?
To be approved for title loans, we will need documentation such as:
Photo ID
Pictures of your auto
Valid car title
We'll also want to see proof of your ability to pay.
2. I need the money fast! How long does it take to get fast cash online?
First you need to apply for fast cash online. Then when we approve your application and you sign the contract, your cash can usually be ready in 4 or 5 hours.
3. When I sign the contract for vehicle title loans, will there be hidden fees?
Never! When you sign the agreement, you will know exactly how much your vehicle title loan will cost. It's all written in the contract.
Still have questions about how auto title loans work? Give us a call and one of our customer representatives will explain the process in full
[yasr_overall_rating size="small"]
[yasr_visitor_votes size="medium"]