Online Title Loans in Monterey, CA
Avoid hassles and save time when applying for online car title loans in Monterey! Use our new online services to apply using your mobile phone or wherever you have internet. You can apply, receive an offer and even sign the contract all online! There's no reason to wait to submit your application when you can apply now!
5 Star Car Title Loans is now offering a more convenient way to get your money with online title loans in Monterey, CA. For a fast reply on quick cash loans online, apply now!
Car Title Loans Online Application Process
Pre-Qualify – Fill out our quick online form and instantly see if you pre-qualify

Additional Info – Use our mobile app to upload vehicle photos, driver's license and car title

Loan Offer & Terms – One of our loan specialists will contact you with your loan offer
Online Car Title Loans - How it Works:
A. Submit the following info to see how much cash can you get:
Your name
Phone number
Vehicle information
Address
Date of birth
Social Security Number
B. Once pre-approved, our user-friendly mobile app will allow you to upload:
Photos of your vehicle
Driver license
Car title
C. Get an online title loans offer and terms
Upon receipt of the above described items, one of our loan specialists will be contacting you with your loan offer and terms.
D. Complete the loan process and get your money
To complete the title loan process, all* you'd need to do is stop by any FedEx store and ship the title to us. Our loan agent will print out a FedEx label for your convenience.
Once the title was dropped, we will simply direct deposit the funds into your debit or prepaid card.
*In some case you will be required to stop by one of our GPS Centers so we can install (free of charge) a tracking device onto your vehicle.
Online Title Loans in 4 Easy Steps
Enter Your Car's Details: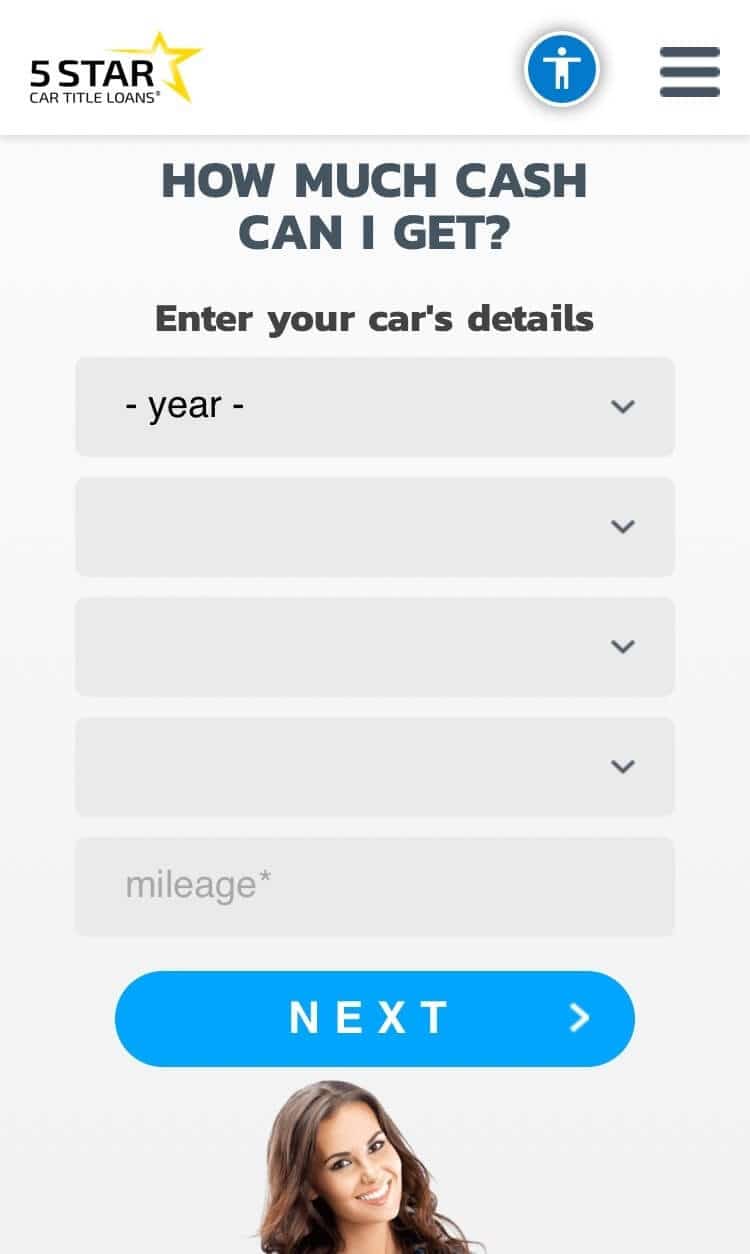 Your Personal Information: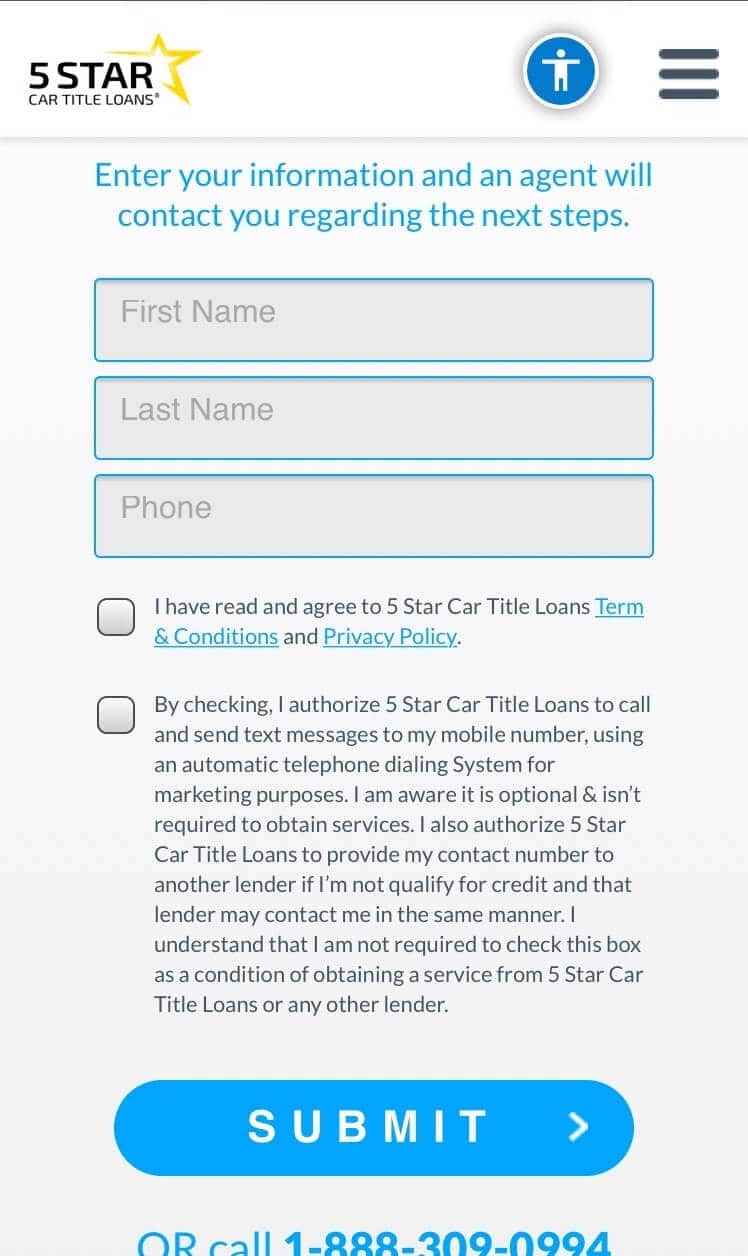 Address, Date of Birth and SSN: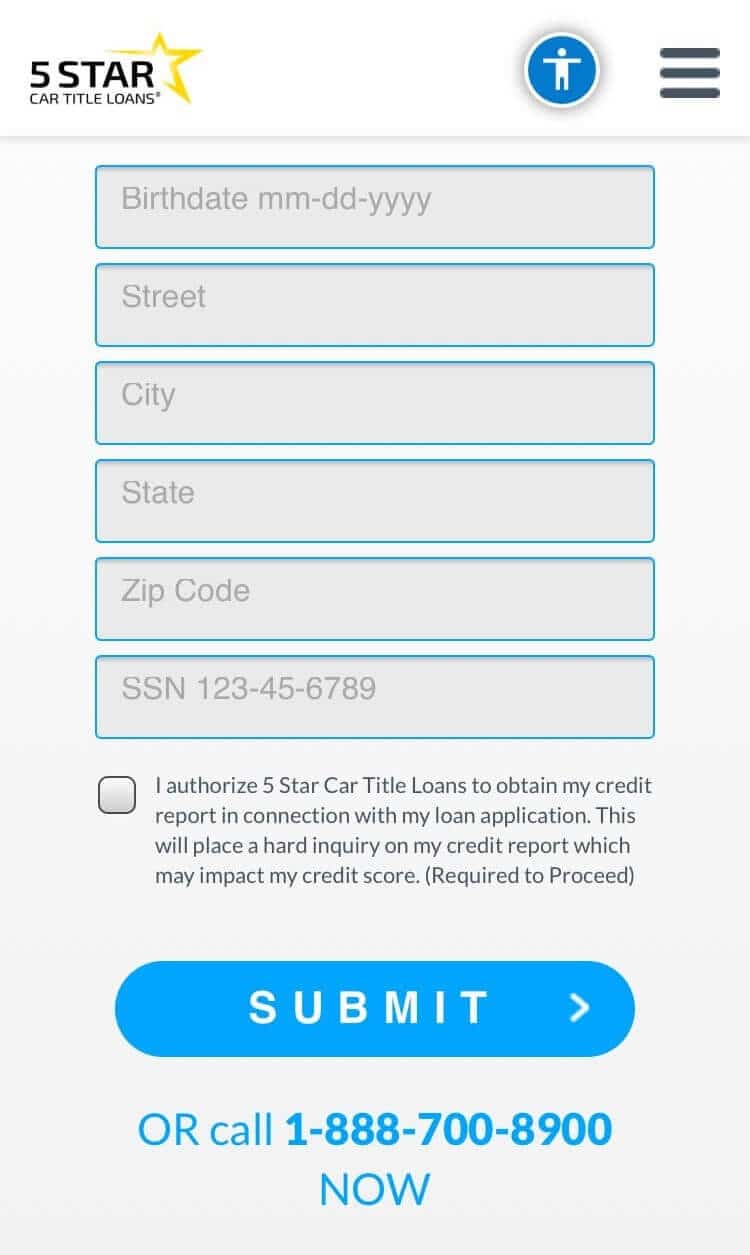 Upload Photos of Your Vehicle: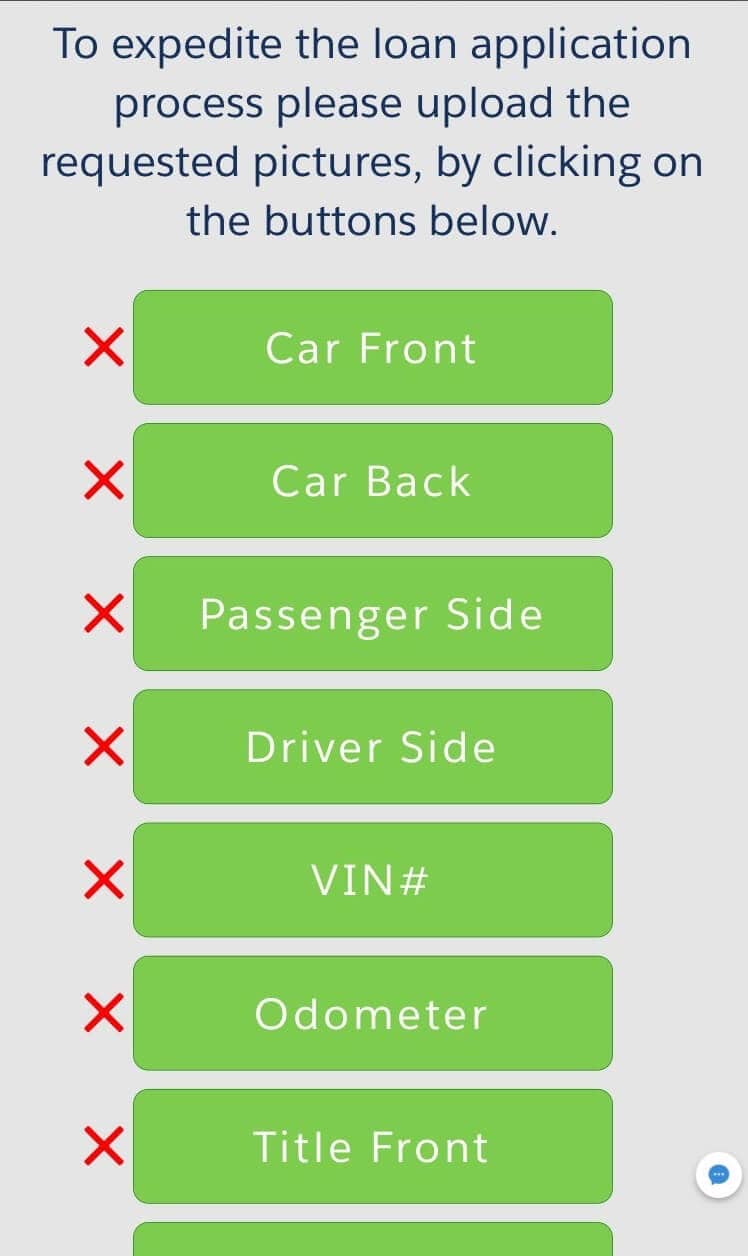 Getting an Online Title Loan in Monterey, CA Streamlines the Process:
Compare rates and pre-qualify online
Apply using our website instead of visiting our branch
Get a fast approval decision
Get a free estimate – compare a variety of offers!
Get a direct deposit of funds* to your debit card or a prepaid card


*You can also walk into any MoneyGram location inside a Walmart Center close to you and pick up Cash at the MoneyGram kiosk
Products Details
Any Credit History Accepted

Title Loans Ranging From 25% to 120% of Car's Value

No Extra Fees or Penalties for Prepayment

Annual Percentage Rate (APR) From 60% Up to 175%

Keep Driving Your Vehicle!
What Is an Online Title Loan in Monterey?
An online title loan in Monterey is a sort of personal loan that uses the value of your car, motorcycle or other vehicle as collateral. The amount of the title loan is calculated according to your vehicle's value and condition as well as your ability to repay your loan. Only the value of the vehicle is used, so you can keep the car with you. To use its value for a title loan, the name of the lender will be written onto the title until the money has been returned. When the contract has been fulfilled, your title is returned to you.
What Are the Requirements for Car Title Loans Completely Online?
To be considered for car title loans completely online, there are a few documents you will need to present. By knowing them beforehand, you can prepare ahead of time for easy loans online approval.
Have these items ready:
ID – government issued
Proof that you can repay the loan
Photos of your car
Vehicle title that is free of liens
Your personal contact information
Those are the basics, although you could be asked to provide other documentation, such as proof of where you live. Send in your application and the loan representative will let you know if anything else is needed.
What Are the Best Car Title Loans in Monterey?
There are many advantages of getting the best car title loans in Monterey. While this lists only a few, it's a good way to understand what makes the best title loans so great.
Best Title Loans Benefits:
Apply anytime – it's true. Since the best title loans are online, you can apply anytime you have an internet connection. Use your computer, your tablet or a mobile phone to send in your application.
Quick and easy process – everything you need to do from A to Z can be taken care of online. Send in your application, receive an estimate or a contract, sign the contract and return it. Everything online for the fastest service.
Online estimates – no obligation. Send in your application to 5 Star Car Title Loans and receive a loan estimate or if you can be pre-approved. You can find out if you are pre-approved before ever spending any money.
Easy comparisons – send in only one application and then open up estimates from several lenders to do some comparison shopping. This is an easy way to compare services, products and prices.
Consolidate debt – one way that many borrowers use their easy cash loan online is to pay off all of their other credit card charges. For instance, if you use the money to pay off those bills, you'll be left with only one monthly payment, which is easier to manage.
Options for Paying Back Your Auto Title Loans in Monterey
After your loan is approved and you have signed on the dotted line, you'll wonder how you can make the payments each month. Everyone has their own preferences for payment, so we're giving you four methods to choose from:
Pay by credit/debit card over the phone – just give us a call and we'll accept your payment over the phone.
Cash payments – you can go into your neighborhood 7 Eleven to hand in your money each month.
Cashier's check – send it to us in the mail.
Online payments – To pay online, you will need an account. If you don't have one, we can help you set one up. Give us a call.
Why to Choose 5 Star Car Title Loans for Your Instant Cash Loan
You might not realize all the perks of applying to 5 Star Car Title Loans for your instant loan. Here are 6 of the services you get when you send us your application:
We keep your personal details confidential and secure.
The simple application process is done online.
Customer service available 6 days a week.
Keep your car and keep driving.
A choice of monthly payment options
Quick cash from Company Check, MoneyGram for cash or Repay for direct deposit.
We have multiple locations – apply at any one of them or send your form in online!
Frequently Asked Questions
1. When is the first payment due on my instant cash advance online?
After you sign the contract for an instant cash advance online, your monthly payment will be due 30 days later. After that, you can continue to pay each month. If you decide to pay off your loan early, that's OK too. You will not be charged a prepay penalty for early payment.
3. Can I use my salvaged title for fast title loans?
In some instances, we can accept salvaged titles. To find out if we can use yours, call or come into one of our offices. The customer service agents can look at your application and give you more details.
4. How long does it take to get auto title loans online in Monterey?
First off, you should know that the length of time it takes can depend on how quickly you can get us the necessary documents. If you have everything prepared in advance, the time is very short.
Here are the 4 steps to processing your request:
Send in your application – about 5 minutes.
Evaluate your car's value and your ability to pay to be pre-approved
Send for loan underwriting and verifications – 60 minutes.
Installation of GPS tracking unit – when required
Those are the steps that we take. Once you sign the contract and the above list is complete, you should be able to get your money in about 3 – 5 hours*.
*Funding time is dependent upon the availability of 5 Star Car Title Loans offices and time necessary to complete your loan process.
4. What do I need to do to get my title back?
You don't need to worry about getting it back. As soon as you have paid off your title loan, our name will be removed from your title and it will be sent back to you.
5. How much money can I expect with an instant cash advance online?
Our minimum loans are $2,600. They vary upwards depending on your car's value, if you'll be able to repay the money easily and are basic credit criteria. To find out exactly how much you can qualify for, send us your application for an instant cash advance online.
[yasr_overall_rating size="small"]
[yasr_visitor_votes size="medium"]