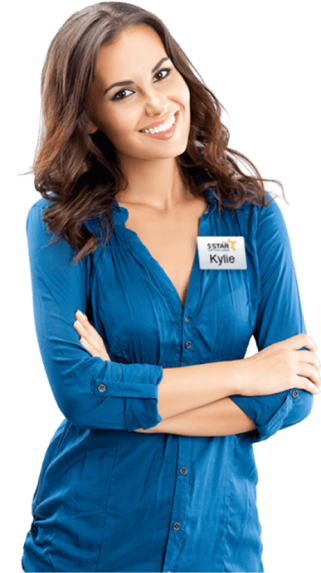 Customer Centered Service

Providing excellent customer service and a positive loan experience is 5 Star Title Loans top goal and we work tirelessly to make this happen for each and every customer.

Loans for Low Credit Score

We don't like turning away customers simply for having a bad credit score. We will work hard to get you a loan regardless of your bad credit.

Easy Application Process

We understand the urgency when getting a loan, so we offer simple options for applying. You can choose to apply either by phone or online.
Products

Car Title Loans

Payday Loans

Bad Credit Loans

Personal Loans

Online Title Loans

RV Title Loans

Process

Apply by phone or online

Complete all necessary requirements

Visit our local if needed

Get your money

Requirements

Car details

Personal details

Car title

Identification

References

Benefits

Keep driving your car

No prepayment penalties

No hidden fees

Quick funding

Personable service
5 Star Car Title Loans In Salem, VA
Have some impulsive buying or unexpected bills ruined your monthly budget? Did you try applying for bank loans but bad credit and long applications prevented you from getting funded? Don't worry, there's a way out!
As most of us have fixed and timetable pay, planning the month becomes really difficult. But, there are some short-term, easy, and fast loans that allow people to apply and get access to quick cash without going through many troubles.
5 Star Car Title Loans is one of the organizations that assist people of Salem, VA to apply for easy financing and avail of some extra money to minister to their immediate cash needs.
Let's understand how these short-term loans can help you further.
What Are Auto Title Loans and How They Can Help in Salem, VA?
When you opt to get your money from an auto title loan, the lender provides you with extra funds by claiming temporary ownership of your DMV-issued car title.1
Title loans are known by various other names including pink slip loans, car equity loans, vehicle title loans, title pawns, etc.
Car title loans are specifically designed to help people with their sudden personal and household needs and don't have any restrictions on where the money can be used.1 Below are some ways people use their loan proceeds of car title loans in Salem:
Medical Bills

Legal Expenses

Anniversaries

Car Repairs

Emergency Travel Costs

Rents
How Much Cash You Can Borrow With Title Loans in Salem?
Auto title loans are secured collateral lending options where you can use your vehicle title and car equity to provide you with the required funding. The primary and most important condition to be eligible for a Salem title loan is that you must have a lien-free car title registered to your name.1
Even though every lender's credit criteria varies, most do consider the following factors :
Your Ability To Repay
In addition to having a clean car title, lenders need to be guaranteed that the individual will be able to pay the borrowed loan amount on time.
Therefore, you will be required to show steady income proof to enhance your odds of getting a car title loan in Salem.
Your Vehicle's Equity
The actual loan amount you borrow is always different and depended on your needs.1 So whatever you borrow, you have to give the equal amount of equity you have in your car. So if you wish to get more money, you need to have a car with more positive equity in it.
Your Car's Market Value
Title loan lenders use some factors in which they check the current market value of your car and that value plays a major role on the basis of which the minimum loan amounts vary.1Here are some things they ask for while calculating the vehicle market value:
Current Condition of The Car
Year the car was purchased
Odometer reading
Make, Model, and Style of the Car
Modifications Done to the Vehicle
How Do Salem Title Loans Work?
Title pawns are understood for having an effortless and short application process where people can be approved without running through lengthy forms or waiting for a long time.2
Citizens of Virginia who have an automobile to their name can contact 5 Star Car Title Loans to check their eligibility and apply for a pink slip loan. But before you reach out to our team or any other lender, make sure that you satisfy the following conditions:
Conditions To Get Pre-approved For Title Loans in Salem, Virginia
They must have a clean and lien-free car title registered to their name.

During the time of application, individuals must be 18 years old or above.

Residents must have a Virginia-based or any other valid government-issued ID with them.

Prospects should have proper income proof to prove their repaying ability.
Steps To Get Online Title Loans In Salem, VA
5 Star Car Title Loans applicants can completer all the processes from their home and get a car title loan by following these few simple steps.
Fill Out An Application
The form is available on your website. Just click on the "Apply Now" button and fill out some basic details to know your title pawn eligibility.
The details include your monthly income, residential address, vehicle model, and contact details based on which we will determine the eligibility and reach out to you.
Send In the Request Documents
When the details are verified and the consumer qualifies for the loan, he'll receive a call during which we will discuss all the fundamental terms and conditions of the car title loan.1 Factors such as minimum loan amount, repayment terms, and interest rates will be discussed.
Make sure that you understand and agree with all the terms before sending in the documents. And in case you get any doubts, you can call at  (888) 309 0994 and ask our loan executives.
Sign The Contract and Receive Cash
We'll check your documents and draft a detailed loan agreement for you in which everything will be mentioned. You are required to read and send in a signed copy of the document as soon as you can.
The dedicated and skilled team of 5 Star Car Title Loans concentrates on processing your online application as fast as possible so that applicants can get their money within a very short time and in many cases within one business day.2
What Documents Are Needed To Get A Vehicle Title Loan In Salem?
In contrast with other lending institutions, most title loan companies only mandate you to present a handful of documents to seek and be approved for a pink slip loan.1
Here is the list of documents that can aid applicants to get vehicle title loans quickly and without any problems:
Car's Title
The title loan is secured by using the car title as collateral. Therefore, it is necessary that the individual applying for the title loan should present a clean and lien-free title registered in their name.
Proof Of Income
People with traditional 9-5 jobs can get a loan by submitting payslips and bank statements as proof of dependable income. Whereas the unemployed and retirees can use their award letters, compensation letters, and SSI and apply for an auto title loan in Virginia.
Proof Of Address
Individuals living in Salem, Virginia will need to provide particular documentary proof of their current residence in the city. The document can be a property tax receipt, a rental agreement, a credit card statement(or other kinds of a utility bill), and readily apply for title loans.
Proof Of Identity
To get a car equity loan in the state, a person needs to have a valid government or State issued ID card with them as proof of their identity as a citizen of the US. You can usually use your driver's license or passport as proof of your identification.
Pictures Of The Vehicle
Your car is the main asset and that's why many title loan lenders demand you to go through a vehicle examination where they inspect the vehicle's condition and its market value.1For that, they will want you to submit multiple-angle photographs of your vehicle with VIN included.
Can I Apply For An Auto Title Loans With Poor Credit?
Yes, you can!1
An auto title loan is a short-term personal loan with more open credit qualifications that allows people with a qualifying car title and who demonstrate a firm ability to repay the loan can qualify for a title pawn without stressing much about their financial credit.1
While many lenders do perform a routine credit check, it's possible for individuals with bad credit to apply and qualify for a title pawn without having a perfect credit score.1
Can I Apply For Car Title Loans Without a Job?
5 Star Car Title Loans knows that many of us face troubles at different time periods in our lives and in some of them there is not even a secure job to help us out.
i.e.An individual might have been recently injured and can be temporarily unemployed or the person can be retired from their services and their pension may not be sufficient to cover sudden bills.
That's why 5 Star Car Title Loans allows people to apply for a title loan by using their award letters, trust fund documents, worker's compensation letters, or SSIs to get extra funds to cover their bills.1
Other individuals who got from settle money, severance packages, or have enough savings can use their bank statements to apply and get a short-term title loan in Salem, VA.
Frequently Asked Questions
How are auto title loans paid back?
Car title loans are fast and effortless short-term loans that you can easily opt for a repayment scheme and pay back in multiple ways. Applicants can repay the loan amount in a single lump-sum payment or get a repayment schedule where they do monthly payments.1
They can make payments using their credit/ debit cards, money gram transfer, or send checks by mail and settle back the loan without any nuisances.
How long does it take to get money from a title loan?
In standard cases, if individuals have all the required documents available to them, they can apply for a pink slip loan in a matter of minutes.2 And if they provide the right and valid details, they can expect their loan request processed within the same day2 and can receive the loan money in less than 24 hours.2
Does paying off an auto title loan early hurt my financial credit?
No, it doesn't! Title loans were devised to have elastic and adjustable loan terms where people with bad credit can likewise apply and take advantage of the instant money. Since many title loan companies don't even report the loan happenings, these personal loans won't have a major impact on your credit score.1<