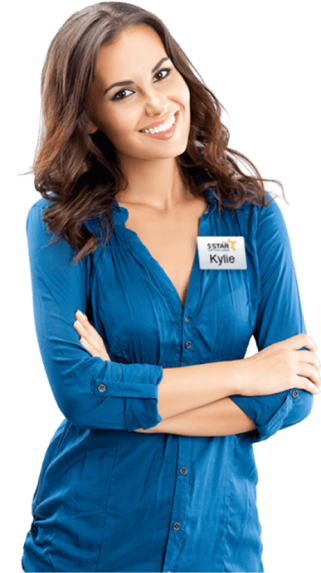 Customer Centered Service

Providing excellent customer service and a positive loan experience is 5 Star Title Loans top goal and we work tirelessly to make this happen for each and every customer.

Loans for Low Credit Score

We don't like turning away customers simply for having a bad credit score. We will work hard to get you a loan regardless of your bad credit.

Easy Application Process

We understand the urgency when getting a loan, so we offer simple options for applying. You can choose to apply either by phone or online.
Products

Car Title Loans

Payday Loans

Bad Credit Loans

Personal Loans

Online Title Loans

RV Title Loans

Process

Apply by phone or online

Complete all necessary requirements

Visit our local if needed

Get your money

Requirements

Car details

Personal details

Car title

Identification

References

Benefits

Keep driving your car

No prepayment penalties

No hidden fees

Quick funding

Personable service
5 Star Car Title Loans in Tulsa, OK
In life, you face many ups and downs; there are good days and then there are days which appear financially challenging. And at such times, you try to cash in his chips to curb the expenses.
However, you often have to borrow money to make up for the cash crunch. While it is exhausting to get money from banks and other financial institutes, car title loans come as a boon for the financially distressed.
We at 5 Star Car Title Loans in Tulsa, OK, offer title loans as a quick and easy solution to serve your immediate cash needs.2
What Are Car Title Loans And How Do They Work in Tulsa OK?
A title loan is a short term financing that is secured against your vehicle's title. Vehicle title means the ownership of the vehicle. The vehicle owner can get money by keeping the title of the vehicle as collateral.1
What are the other names for a title loan?
Title loans also go by the names such as pink slip loans, car title loans, auto title loans, and vehicle equity loans.
How does it work?
So, the title loan process starts with the borrower approaching a lender directly. The borrower has to ask for money in exchange for giving the legal rights to the vehicle's title. In short, the lender puts a lien on the title and gives the money. The borrower is allowed to keep driving the car even if he has not fully paid the loan. The lien stays until the loan is paid back.1
What Documents Do I Need to Qualify for Title Loans in Oklahoma?
With each state having its requirements, it becomes extremely important to have a look at the documents needed.1
In order to get a title loan in Tulsa, OH, you need to have the following documents:1
Bank Statements or pay stubs: You need to show a document that would suffice for your income. It can be your bank statements, pay stubs or any other documents showing income.1
Residency: Having proof of Oklahoma address is vital to getting a title loan. You can show your utility bills, rent/mortgage agreements, or recent credit card statements.1
Recent Photos of the Vehicle: you will be required to send in some photos of your vehicle containing odometer readings and the present state of the vehicle.1
A Government or Oklahoma-Issued ID 1
Qualifying vehicle title: The vehicle title must be in your name if you wish to get a title loan.1
How Fast Can I Get My Cash Through a Car Title Loan in Oklahoma?
We reckon the urgency of the situation. In tough times, you usually want to get emergency cash in a day or two. Therefore, we forge convenient options that move fast.2
5 Star Car Title Loans irons out every process and tries to keep it simple for the ease of customers. Following the same standard, we try to catalyze the process to meet the short term financing.1
So, if you qualify for a car title loan, have deposited all the necessary documents, have agreed to the terms and signed the agreement, you can get your money in one or two business days or even on the same day!2
Do I Need a Bank Account to Qualify for Auto Title Loans in Oklahoma?
Don't have an account? Not a problem! If you do not have a bank account or just wish to not use it to receive funds or repay the loan amount, we extend a variety of options. 5 Star Car Title Loans offer money via various methods, hence, not having a bank account is not a hurdle at all.1
So for Oklahoma residents who either do not have an account or wish to keep the account separate, here are the choices!1
Receive your funds
Upon approval of the title loans, one can opt for receiving a check in the mail, or simply picking up funds in the mail. This is another fast and convenient method that comes with a title loan.1
Payment of loan amount
Repaying a car title loan in Tulsa is as easy as getting one. 1We understand that no one wants to sit under heavy debt and therefore, you can repay the loan using: 4
Debit or credit card
Mobile Application
Customer login
What is the Complete Process of Getting a Car Title Loan in Tulsa, OK?
5 Star Car Title Loans in Tulsa, OK has segregated the loan process into three short and simple steps. For our customers' convenience, we have arranged a car title loan procedure that is easy to understand and consumes less time.2
Three easy steps:
Step 1: Apply online
You need to apply online through our official website wherein you will be asked to fill out an application form. In the application, you will be asked about your details such as your name, address, and income. On top of that, you will be required to provide car details (its make and model and odometer readings).1
Or you can simply call us and one of the loan agents will assess the case and convey if you prequalify for the loan.
Step 2: Eligibility check
After filling out the form, a loan agent will assess your case and reach out to you.1Sometimes, additional documents are required, so you will be asked to submit those. The sooner you submit the form, the faster your loan application will move.2
Step 3: Take your money!
In case your information checks out, you will be again contacted by our loan agent who will discuss the minimum loan amount, interest rate, APR, how much cash you can get and what the monthly payments will be. These details will then be incorporated in a loan agreement and upon signing it you may get money in one business day. 1
How to Get a Title Loan Without a Traditional Job?
5 Star Car Title Loans understands that there are a multitude of ways via which one earns living. It can be part-time jobs, freelance work, daily waging, etc. Therefore, our car title loans are not limited to those who have traditional 9 to 5 jobs. You can be having other forms of employment and you may still meet the eligibility criteria.1
So, in contemplation of a regular job, those working with the following employment arrangements can also get a car title loan in Tulsa:1
Worker's Compensation
Settlement Income
SSI or Disability Income
Retirement or Pension Income
Annuity Payments
Self-Employment
No matter what kind of job you do, as long as you can demonstrate your ability to repay, most likely, you may get a car title loan in Tulsa. 1
Do I Need to Have a Perfect Credit Score to Get a Car Title Loan in Tulsa?
While all the big financial institutes focus on your credit history, a car title loan lender may not even need that. 1 But it is not always the case. Even if a credit check is done, that will be a soft credit check that does not require you to have a perfect credit score; a bad credit score may also qualify for title loans.1
So, in simple terms: yes, you can get an auto title loan with a bad credit score.1
Since an auto title loan is largely determined by two main factors, the lenders seldom need a credit check.1
The two factors deciding title loans include:1
Ability to repay & income
Equity in the vehicle
You may get a title loan in Tulsa even with bad credit.1
What is the Closing Process of Title Loans in Tulsa, OK
The complete procedure of car title loans ends when the complete loan is repaid.1
The lender puts a lien on the title and both parties agree on the terms and conditions after which the borrower gets the money.1Once the money is received, the applicants then drive away in their vehicle but are required to make the monthly payments punctually.4
The first instalment has to be made after 30 days and the whole payment duration may extend up to 3 years.4
Once the whole loan amount is paid back, the lender removes the lien from the car title and a clean and clear car title is returned to the borrower. This becomes the last stage of car title loans.1
Advantages of Using 5 Star Car Title Loans
Title loans are helpful in a variety of ways which range from quick approvals2 to lenient eligibility criteria.1 But it is only the starting.
We endeavour to provide accessible services to the customers. You can unveil various advantages while choosing 5 Star Car Title Loans for getting Tulsa title loans.
The advantages include:
Quick cash
One of the top features of title loans includes getting cash the same day.2 This loan is especially beneficial to those who are in urgent need of money. With our quick and easy solutions, you can get money in a short duration and little formalities.2
Online process
The pandemic gifted us with the option of doing the majority of things online. The pandemic has gone but the methods stayed with us. We offer completely online services where you can fill out your form, submit your documents and even collect your money.1
Customer Support
We are not going to leave you in your stressful times. Consequently, our agents are available 24X7 for your support. When in doubt, just give us a call and we will assist you in every way possible.1
Keep your car
5 Star Car Title Loan does not ask you to deposit your vehicle or its keys; you are free to take the money and drive back in your vehicle. We understand that having a mode of transport has become more of a necessity than a luxury.1
Any credit can apply
Even if you have bad credit, you may qualify for a car title loan Tulsa.1While a credit check may be required, it won't have much impact on the process of title loans. So, candidates with not so perfect credit history may also get title loans.1
One-stop for Quick Cash Solutions
Title loans can come up as a big help while walking through tough financial times. If you are stuck in one of the monetary pitfalls, you can apply for a title loan today and get money at the earliest (or even on the same day).2
Contact 5 Star Car Title Loans for getting a title loan in Tulsa, OK.1