Long Term (personal) Loans for Bad Credit
Many people looking for long term loans for bad credit are worried that they will not find a loan with terms that suits their complex needs. But there's no need for such worry since there are several lenders out there who can help with loans for bad credit.
What are Long Term Loans?
Long term loans are personal loans which typically have a repayment period of five to seven years.
These installment loans are great for individuals looking to make a large purchase that cannot wait until the entire sum of money is available. It allows the borrower to make that necessary purchase and pay back the loan at a convenient pace over several years.
If you want to further understand the process of long term loans, their pros and cons, and how to know which loan terms are right for you, continue reading below.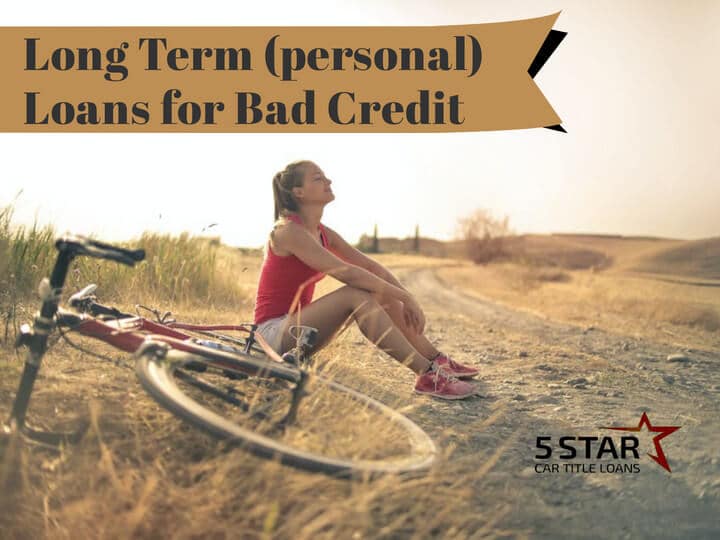 A long-term personal loan can often be a great solution for individuals looking to borrow large sums of money which are paid back over an extended period of time
Is a Long Term Loan the Right Option?
Borrow a Large Sum of Money
Long term loans are a wonderful solution for those looking to borrow a large sum of money. If approved and depending on each customer's credit history, these types of loans allow you to borrow up to $50,000 and repay it over several years.
Long term personal loans also allow for a lower monthly payment. Because the repayment terms are spread over several years, the monthly payments become lower giving you a peace of mind as you pay back what you borrowed.
Finally, with these loans there is a longer repayment period. Just as with the lower monthly payments, this loan term removes the pressure that is often accompanied with borrowing cash.
But there is an important trade-off we want you to know about long term loans. In the long run, these loans can cost you more in comparison with a short term loan. This is because interest is accrued monthly and so the longer the loan, the more interest is paid
The Real Cost of a Personal Loan
The actual cost of a personal loan will typically depend on the following:
This is a term for the actual amount you borrowed at the origination of the loan.
The interest is what you pay the lender for borrowing money from them. In other words, it is a percent of the principal amount which accrues over time and represents the cost of borrowing out money.
For example, if you borrow $100 at a 5% interest rate, you will end up paying back $105 which is composed of the $100 principal amount and the interest on that (5% of $100) which comes out to $5.
In general, a rule of thumb for personal loans is that the longer you take to pay it back, the more you will end up paying. This is because interest continues to accrue.
However, it's important to remember that short term loans often have higher monthly payments, so each customer needs to find the terms that work best for their needs.
Origination fees are common when taking out a loan and are used to cover any company costs related to giving out the money. They typically run from 3% to 5% of the loan, and they are usually deducted from the loan when you get the money so they have a small effect on the monthly repayment afterwards.
Important note: always check with your lender about extra fees which can cost you a lot in the long run. Specifically ask if they charge a prepayment penalty fee or a late payment fee.
A long-term personal loan is an ideal option for those who want to borrow large sums and make small monthly payments
Can You Guarantee I Will Get a Loan Even with Bad Credit?
Many consumers avoid even applying for loans because they have bad credit. While no one can guarantee a loan, it is very much possible to find lenders who have flexible credit requirements who are willing to provide loans for those with poor or even no credit at all. 5 star loans is one of those lenders. Try our online application and find if you're pre-qualified for long term (personal) loans for bad credit!
Helping Our Customers is a Top Priority
At 5 Star Car Title Loans helping our customers is a top priority and so we do our best to provide loans for anyone who needs them, regardless of the circumstances. This includes, for example, consumers who have bad credit. We care more about your ability to repay the loan than the credit score itself allowing you to have an ease of mind when you apply with us.
To learn more, give us a call or use our online application to check how much you can get with a title loan.
Types of Long Term Loans
There are different types of installment loans and you can choose your preferred loan based on your needs. Home and auto loans are meant for the purpose of buying a house or vehicle and personal installment loans can be used for anything you desire.
These long-term personal installment loans are often used to get rid of accrued debt from credit cards or several short-term loans. They are useful because they allow for small payments which are spread out. Many consumers prefer this option since it is more affordable for them in comparison with shorter loans that have very high monthly payments. Continue reading on why long-term loans can be beneficial for you.
How to Choose the Best Long-term Loans for Bad Credit
Interest rates are an important factor in any loan you decide to take out so make sure you understand what they mean and how they work. However, there are other important factors to consider when you have bad credit and are looking for a loan. Always consider the following items when choosing a long-term loan with bad credit:
Many lenders cap their loans at a maximum of $1,000 for people with bad credit so it's important to look for a lender who allows you to borrow the amount that will meet your specific needs.
With a low credit score often comes high interest rates. This is especially true if you're trying to get a loan without collateral. With that said, there are great lenders out there who still keep APRs competitive even for those with bad credit scores.
Most loans out there include charges for the origination of the loan, late payments, prepayment penalties, and others. But some lenders charge more for these than others. Make sure to choose a company that charges a reasonable amount for each and all of these common fees.
You want your loan to suit your needs, whether it's lower interest or a longer loan term. Make sure to choose a lender that doesn't have too many predetermined terms like a very long loan which has prepayment penalties.
Good lenders make sure you understand all loan terms before signing. Make sure to choose a lender that is forefront and transparent about the specifics such as APRs, terms, and fees.
The best lenders are the ones with the most extensive experience and reach. Try choosing a lender that operates in many states and is familiar with the different regulations.
As with any other industry, good lenders will have good customer reviews. Make sure to check online feedback other customers provide and also refer to the lender's status with the Better Business Bureau (BBB). While a BBB accreditation is not necessary, it is a plus. Give weight to details such as how long the company has been in business.
Why Long-term Loans are Considered More Desirable?
There are many reasons why people prefer to take out a long-term loan. Most importantly these loans allow customers to borrow larger amount while getting more time to pay it off with lower interest rates. These together make long-term loans very desirable when compared with its short-term counterpart.
5 Star Car Title Loans offers long-term personal loans for bad credit. You can give us a call or apply online to see how much you qualify for. Remember that these loans incur high interest and it is recommended to only borrow the minimum amount needed. For more information about 5 Star Car Title Loans and how we can help, contact us today!
Get started today and find out how much you pre-qualify for. Simply fill out our online application! This should only take a few minutes and will not affect your credit score in any way