Online Title Loans in Florida
How to Apply for an Online Title Loan
Online title loans, also known as auto title loans, can provide you with some quick cash for financial emergencies, such as medical treatments, rent payments, or critical repairs to personal property. If you're looking for online loans for bad credit in Florida, 5 Star Car Title Loans can offer you an online title loan in Florida. Everything you need to know about auto title loans in Florida is listed below.
How Does an Online Title Loan Work in Florida?
A car title loan, sometimes known as a "vehicle title loan," is a short-term loan that requires the borrower to submit their vehicle as security. A borrower must own their vehicle or owe very little to it in order to qualify for this type of secured loan. Lenders like 5 Star Car Title Loans aren't typically concerned with borrowers' credit history, allowing people with bad credit or no credit to get personal loans for bad credit in Florida and keep driving their cars1.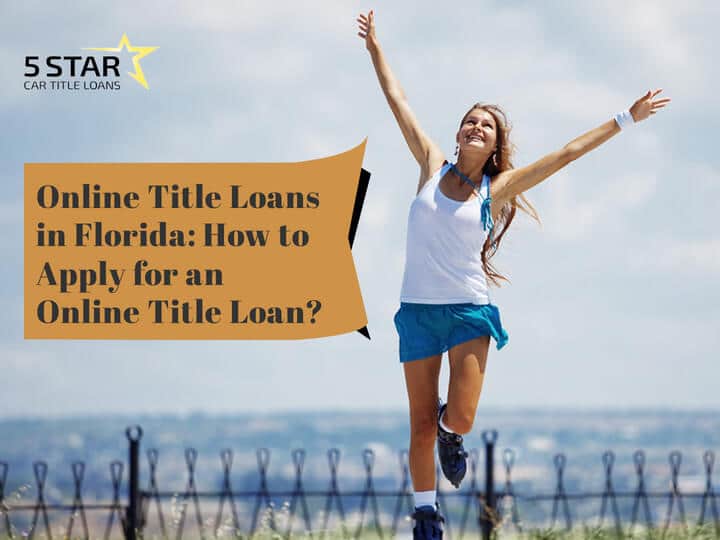 Online Title Loans in Florida: How to Apply for an Online Title Loan
The procedure of obtaining an auto loan normally takes about a few hours to complete2. Here are a few simple steps involved with getting a Florida title loan:
Step 1 — Apply for the Loan
The first step toward securing Florida title loans is filling out the loan application. The application process is usually very straightforward and only takes a few minutes to complete2. Most title loan companies allow you to fill out an online application or apply by calling the title loan lender's office. Filling out an online application is the fastest way to know whether you're pre-approved or not.
Time is usually of the essence when obtaining Florida online title loans; 5 Star Car Title Loans offers quick processing with very little paperwork, cutting down the entire loan process to less than five hours2. It's worth noting that these types of secured loans don't usually involve credit checks1 and are suitable for individuals with a poor credit score. However, 5 Star Car Title Loans may still request insight into your credit history.
Step 2 — Provide the Title to the Lender
Once you get approved, an agent will call you to discuss loan agreements, loan amount, and monthly payments. Depending on a number of different factors, like the lender, the vehicle's worth, your ability to repay the loan (which is the most important factor)4, and state laws, borrowers can get anywhere from $100 to $10,0001. The loan terms are approximately one month long, as these are mostly associated with exorbitant interest rates.
Despite granting title to the lender, you get to keep and use your car while making monthly payments as a borrower. Regardless of whether you get to keep the car, the title will have a lien on it, indicating that there is a loan or another owner. The title will be revoked once you return the amount as a title lender.
Step 3 — Get Your Loan
Once you've provided the title to the lender, along with all the required documents, and everything checks out, the loan can be picked up from any MoneyGram location in Florida or via a direct deposit to your bank account as soon as the next business day2.
What Are the Requirements for an Online Title Loan in Florida?
To check your eligibility and get approved for Florida title loans, you need to provide the lender with any or all of the following documents1:
Government-issued ID — A state-issued ID, social security card, driver's license, or a passport can be used for identification purposes.
Proof of Residence — To get personal loans for bad credit in Florida, you need to submit proof of your permanent residence. You can submit bank statements, utility bills, and lease agreements. The name must match the one on your ID and the car's title.
Proof of Income — Most lenders require proof of income, signaling your ability to repay the loan1. Bank statements, pay stubs, tax returns, bank statements, and pension documents are all valid proof of income.
Qualifying title to the vehicle — You must provide proof of ownership because a car title is utilized as security for an online car title loan. You cannot apply for a Florida title loan if the vehicle title isn't in your name; however, if you still owe a little of it, you might still be able to apply. The same rules apply to motorcycle titles.
Photos of the car — These provide lenders with photographic evidence of the vehicle's current condition1 and may suffice as an inspection. Make sure you send the photos from all angles and the vehicle identification number and odometer reading of your car.
References — Personal and professional
Online Title Loan FAQs
Here are some of the most frequently asked questions regarding pink slip loans:
How Much Cash Can Your Vehicle Get You in Florida?
You can expect to get anywhere from 50% to 75% of your vehicle's value, depending on the condition of your car and other determining factors1. In addition, there is no minimum loan amount, so title applicants can acquire anything from $100 to $10,0001 or more.
Can I Still Apply for Auto Title Loans in Florida With Bad Credit?
Since the borrower's credit history isn't the primary deciding criterion1 for approval, car title loans are a popular solution for those with bad credit. Instead, your ability to repay the loan4 and the value of your car are the major determining variables for obtaining Florida online title loans.
What Types of Income Qualify For an Online Title Loan in Florida?
Employed borrowers can submit the following documents:
Bank statements
Pay stubs
Tax returns
Employer contact information
Self-employed borrowers can submit:
Bank statements
Business financial documents
Income tax returns
Retired borrowers can qualify by submitting:
Pension documents
SSA
Retirement account statements.
What's the Approval Process Like for an Online Loan in Florida?
The approval process is pretty straightforward, provided that you've submitted all the required documentation and that you're eligible for a Florida car title loan.
As described above, you need to fill out, and submit an application with the lender. If the required criteria are met1, the borrowers must submit the required documents to the lender for final approval. Once the documents are received and reviewed by the lender, and all the required criteria are met, the lender issues a final title loan approval, after which the borrowers receive the loan.
Can I Qualify for a Car Title Loan in Florida if the Title Isn't in My Name?
Unfortunately, you must be the sole owner of the vehicle in order to qualify for a Florida car title loan. However, you can still owe very little on your car payments, and you might be able to qualify for a loan1.
How Fast Is the Approval Process for Car Title Loans in Florida?
The entire process usually takes less than five hours2, provided that you submitted all the required documents. Filling out an online application has proven to be the convenient method for customers, as it provides you with an immediate answer if you're pre-approved or not.
Apply for a Florida Title Loan Online Without the Hassle
If you find yourself in dire need of fast cash, 5 Star Car Title Loans can help you get the money and keep your car. You can reach us via telephone at (888) 309 0994 or via an online loan application page.