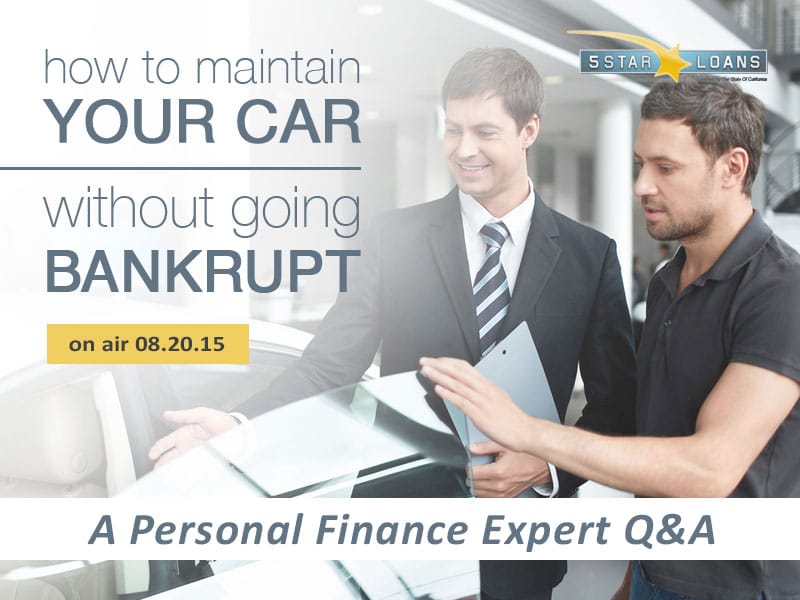 Owning a car may be a necessity in today's society, but a vehicle doesn't necessarily have to be expensive. Gas prices are high, maintenance is crucial, and insurance can take away a chunk of your paycheck. Luckily, there are numerous ways to reduce the amount of cash you put into your vehicle.
We sat down with three personal finance bloggers—Mario Bonifacio, John Schneider, and James Molet—to bring you money saving tips. Here's what the guys had to say:
Mario Bonifacio – Adventuresinfrugal.com
1. What is the true cost of maintaining a car?
When determining the true cost of maintaining a car, you need to look beyond what's simply on your repair bill. There's the cost of the time you could have spent at work or having quality time with friends when you're stuck on the side of the road with car trouble or taking your car to get serviced. There's also the cost of the stress involved with worrying about the next time your car is gonna break down.
2. Give us your 3 most important gas saving tips
A. Don't drive aggressively. You burn a lot of gas accelerating quickly or braking hard because you were going too fast.
B. Plan ahead and combine multiple errands into a single trip if you can.
C. Carpool. You effectively double your MPG when you and another driver work together
3. What would you recommend to a person who goes for the first time of going to a repair shop?
Bring along a friend who knows more about cars than you do and shop around. Finding a good, reasonably priced mechanic who you can trust is worth it's weight in gold.
4. What do you do before going on a long trip in your car?
I check my fluid levels, air pressure and wear on my tires, make sure my spare looks good and that I have a jack, change the oil if I haven't done it recently, check to make sure all my lights work, and make sure I have all the emergency equipment I might need like a fire extinguisher and set of tools. If I have any doubts about a potential problem beyond my level of car knowledge, I'll have an expert check it out
5. How do you save money on car maintenance?
By learning as much as possible. I may never have the know-how nor the tools to change an engine, but I can keep all my fluids at the right levels and make simple repairs. This knowledge also means I know when to bring the car to an expert repair shop and when I can do the work myself to save a little money.
---
John Schneider – Debtfreeguys.com
1. What do you fix for yourself?
Unfortunately, neither of us have time to perform car maintenance ourselves. We certainly do the basics, such as car washes, filling up fluids, such as oil, fuel injection cleaner, and windshield washer fluid, and maintain proper tire pressure. Beyond that, we rely on experts.
2. What advice would you give to make car maintenance cost as low as possible?
Even though we don't perform much car maintenance ourselves, we do have our cars regularly serviced and have our oil changed about every 3,000 miles. For us, this means we change our oil about twice a year for each car. We, also, carpool to and from work each day. This reduces the wear and tear on both cars and reduces our gas usage. We estimate that carpooling saves us between $75 and $100 per week.
3. What are your criteria's in choosing a repair shop?
I don't have great knowledge of cars and car maintenance. David has better knowledge. Both of us, however, look for quality service and a repair shop that will speak to us and not down to us. Whenever we get a quote from our repair shop, we always do a price-check. If we found that our repair shop wasn't giving us fair prices, we would consider that a violation of service quality and leave. We haven't had that problem, though.
4. Do you budget upcoming car repairs upfront?
We have our emergency savings account on which we rely for unexpected problems. We there's a non-urgent repair, we do budget for it. In fact, we need new tires before this coming winter and we're saving for them now. We won't use credit or a loan, as this would increase our costs.
5. How do you prepare for a costly car repair?
If we had an unexpected and urgent repair that was costly, we would use our emergency savings funds. If we had an unexpected and non-urgent repair, we would save the necessary money first. We're diligent about separating urgent repairs and non-urgent repairs to help us control our budget.
---
James Molet – RetirementSavvy Blog
1. What do you fix for yourself?
My car is a later model and quite frankly, I'm not comfortable rooting around too much under the hood. While with previous, older cars, I was comfortable with most of the basic maintenance activities such as changing the oil, that is no longer the case. With my current car, I limit myself to changing the air filter and replacing the battery when necessary.
2. What advice would you give to make car maintenance cost as low as possible?

I would offer three pieces of advice: stick to the manufacturer's prescribed maintenance schedule, utilize independent auto shops as they typically charge less than licensed dealers and invest in an on-board diagnostic (OBD) code reader. An OBD code reader provides the status of various vehicle subsystems, useful information before committing to paying someone to render vehicle maintenance.
3. What are your criteria for choosing a repair shop?

I utilize three sources for choosing a vehicle repair shop: solicit feedback from family and friends on their experiences with local shops, visit Yelp.com to read reviews of potential shops and visit the Better Business Bureau website (bbb.org) to see if there have been any complaints about potential shops.
4. Do you budget upcoming car repairs upfront?
Yes. 'Vehicle Maintenance' is one of the categories on my budget worksheet, along with entries for gas, utilities, groceries, insurance, etc. and I maintain the requisite money in my regular savings account.
5. How do you prepare for a costly car repair?
I do not set money aside specifically for major, costly repairs or maintenance. I always maintain an emergency fund and when major repairs are required, utilize money from that fund; ensuring to replace the money spent as soon as possible.
Overall, the results were clear—plan ahead and be prepared. All three experts stress the importance of adding vehicular maintenance into your monthly budget, and keeping an emergency savings fund for unexpected, costly repairs. Shop around for the best independent mechanic to keep costs low, and continue to service your car regularly to avoid damage. If you follow these tips, you're to have a car that'll run without breaking the bank.