Types of Loans: Which One is Right for You?
There are so many types of loans out there and you want to make sure you are getting the one that is right for you. That may sound like a simple task but it is one that requires a solid understanding of the differences between each loan and how that relates to your personal circumstances.
In this article we will walk through some of the most common types of loans and help you understand which one could fit your needs.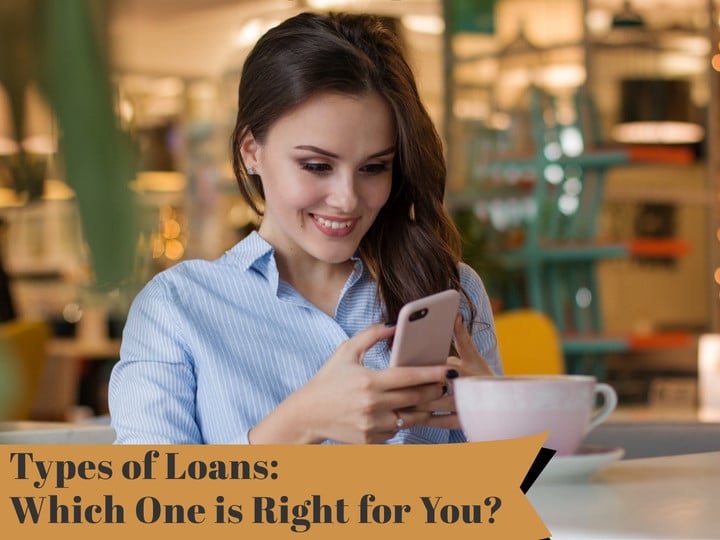 We will start by comparing a few types of loans in order to give you an idea of what could be a good fit for your unique situation
Common Types of Loans:
A. Car Title Loans
Car title loans are secured loans that use your vehicle as collateral to secure the funds you are requesting. The application for getting a title loan is relatively simple and can be completed online many times. Auto title loans are available in several states and can be used to borrow relatively large sums of money, sometimes upward of $15000. Getting approved for a title loan depends on the value of the vehicle and the customer's ability to repay the loan, amongst other credit criteria.
A few clear advantages of title loans include a short and easy application process, getting to keep driving your car for the entire time of the loan, and no prepayment penalties.
B. Payday Loans
Payday loans are short term loans that are meant to provide quick cash relief for financial emergencies. These are high interest loans that often don't require a credit check at all. They are also easy to apply to and quick in terms of processing time, making them very appealing for those who need urgent cash. Payday loans demand relatively quick repayments and you can expect to be required to pay it in full within a few weeks of the time you took out the loan.
C. Personal Loans
A personal loan can be offered by a bank or a private lender and usually has a fixed interest rate. It can be taken out for short or long terms and has higher interest loans than many other types of loans since no collateral is used. For a personal loan, some lenders do rely on credit scores so poor credit can mean higher interest rates. The great thing about personal loans is that they can be used for whatever your needs are. Whether it's a medical emergency or a long-awaited vacation, most lenders will be happy to help you get this type of loan with no questions asked!
Important Differences Between Loans
Now that you know more about three very common types of loans, it's important to take a moment and understand the differences that these loans have. Knowing the most you can about these loans will help you make the most informed decision for your needs.
The first important distinction to make is whether the loan is secured or unsecured. A secured loan will be backed by collateral. For instance, car title loans are secured by the vehicle you own which is a major reason why they don't require you to have great credit. An unsecured loan doesn't require any collateral at all. Payday loans and personal loans often fall in this category, and this is the reason that interest rates are higher for these loans.
Another important difference between types of loans is whether the interest rate is fixed or variable. Interest rate is so important because it determines how much you will pay for taking out your loan. A variable interest means that it can change during the life of the loan and a fixed interest rate means it remains constant throughout. Most types of loans that we discussed have a fixed interest rate which allows you to know in advance and upfront the cost of your loan.
Which Loan Should I Choose?
No matter what you plan to use the money for, you want to make sure you choose the loan that fits your needs and that you can afford to pay back. Not paying back the loan according to the terms on your contract can result in repossession of your collateral or the accruing of hefty fees. Make sure you understand each type of loan and base your decision on your ability to repay the loan. You can usually apply for several loans at once for free without any obligations and that way you can compare which one works best for you.
*Car title loans take multiple factors into consideration for a loan approval: This includes your ability to pay your loan, the equity value of a qualifying vehicle, as well as a source of income to pay monthly on a car title loan.
Working with 5 Star Loans
Once you have determined which loan is right for you, you'll want to choose a lender. Similarly, you want to make sure that the lender you choose is easy to work with and has your best interests at heart. Choose a lender that will be able to provide you with good loan terms and great customer service.
5 Star Loans has served thousands of customers over the last years. We have gained expertise in different types of loans and we pride ourselves in putting our customers first. We offer an online inquiry that lets you start your loan application process quickly and from the comfort of your home. We believe in helping you make the right and smart financial decision which is why we train our loan agents to be experts on all types of loans and customizing each one for every customer.
If you are looking to get started with your loan, fill out the online inquiry or give us a call today. Our professional loan representatives are waiting by to help you get back on your feet and improve your financial standings.