What Do Lenders Accept as Collateral for Loans in California
Although most assets in your possession are considered collateral, not all can be used for a loan. Different lenders use specific collateral to lend out money to borrowers and the terms vary widely across these.
The following are the most common types of collaterals used for loans:
House
Vehicle
Paycheck
Valuables and Collectibles
Jewlery
Fine Art
Naturally the type of collateral you use for the loan will affect the amount you will be able to borrow.
When you contact your chosen lender they will examine the value of your collateral as well as your ability to repay the loan and will provide you with a qualification status based on that.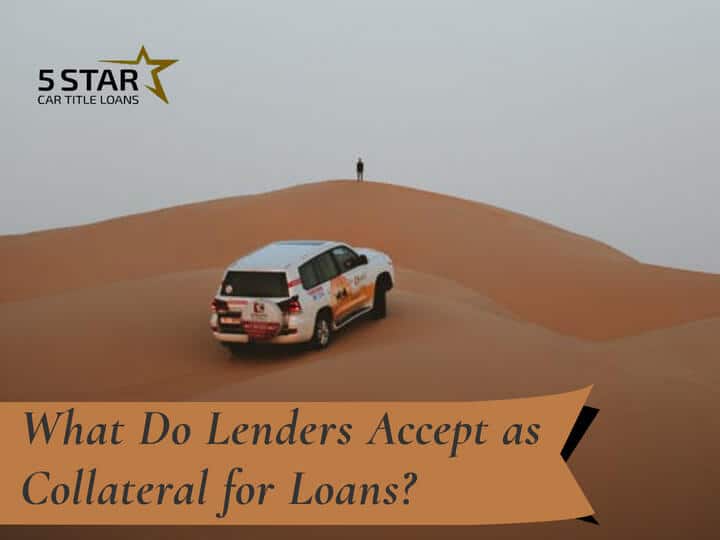 Of course, before going out and choosing a lender or applying for a loan, you need to understand what types of collateral security exist and which can be used to borrow money.
What is Collateral?
Before getting started with secured collateral loans, it is important to understand what collateral means. In general, collateral is anything that you own which has monetary value. Your house, vehicle, and even jewelry are considered collateral. When it comes to loans, your collateral can be used in order to guarantee the loan which is why these are referred to as secured loans.
The collateral is considered an asset that the lender can use in case you do not pay back the loan properly. Think of it like a credit score- if you take a loan based on your credit and do not pay it back, the lender can report that to the credit bureau which will result in your score going down. Similarly, your collateral can be taken by the lender if you fail to pay the loan. Of course, lenders prefer that customers make payments as agreed upon in the contract and never reach the situation of a collateral repossession.
So collateral can be used as a safeguard for a loan, especially in cases where the customer doesn't have a good credit score or doesn't want to use it. Secured collateral loans* can be a great option if you are not approved for other types of loans or are looking to improve loan terms and conditions.
*Car title loans take multiple factors into consideration for a loan approval: This includes your ability to pay your loan, the equity value of a qualifying vehicle, as well as a source of income to pay monthly on a car title loan.
What Do I Need for a Collateral Loan in California?
Now that you know more about what is collateral we want to discuss collateral based loans and how they work. As we have mentioned, these are often called secured loans since they are assured by your collateral. You can view the collateral as a promise by the borrower to pay back the loan the lender provided. Collateral loans in California are really easy to obtain and usually don't have many requirements. Some of the information you will need to provide for a collateral loan is:
You will need to provide information such as your name, date of birth, address, phone number, and social security number.
Regardless of the type of collateral you use for your loan, the lender will request to see information like how old it is and its current condition in order to estimate the total value.
Every lender will request that you provide some sort of identification. For the most part, your passport, driver's license, or state-issued ID can be used.
One of the most important requirements is that you prove that you are able to repay the loan. You can provide a paystub, bank statement, and sometimes even a letter from your employer in order to satisfy this. Your lender will let you know exactly what forms of proofs are accepted.
Many lenders require their customers to provide several references which they can call in case the customer cannot be reached. Basic details like name and phone number of each reference are required.
As you can see, the requirements for how to get a loan against a property are not difficult at all. Depending on the specific lender you choose and collateral you will use, the requirements may differ a bit.
How to Get Started on a Collateral Loan
The great thing about using collateral for loans in California is that it can be easy and quick. Long gone are the days of long applications and annoying questions by unfriendly loan representatives. Collateral based loans are an efficient alternative and we recommend following the steps below in order to get started on yours!
This is a very important step since the lender you choose will impact your loan terms, the customer service you receive, and of course the types of collateral you can use for the loan. Make sure you choose a lender that is attentive to YOUR needs and doesn't charge any unneeded penalties like an early prepayment fee.
In this day and age, plenty of lenders offer the option to start your loan application online or by phone. This is very convenient and efficient since you can know pretty quickly if you are prequalified for the loan. In other words, you don't need to waste your time going through paperworks of application just to find out you are not approved.
Assuming you are prequalified for your collateral loan, you will need to complete your application by providing any missing documents and signing your loan contract, among other requirements your lender may have. Once you finish all that you can walk out with cash in your hands!
Collateral loans in California are very common and can provide an easy solution for those who need money fast but do not have a good credit score and history.
When Should I Consider A Collateral Loan?
As you probably know by now, using collateral for loans in California is a great method to get quick cash without all the hassles. However, there are certain instances where this type of loan is more suitable than others. We have gathered below the top reasons why you should consider secured collateral loans.
You have bad or no credit. Since you are using something of value as collateral, the credit doesn't play as big of a factor as in other loans.
You are looking for fast cash and no hassles. Unlike bank loans, collateral loans are quick and do not require customers to go through all the fuss traditional bank loans do.
Common Questions about Collateral Loans in California
Why do some loans require collateral?
A: Usually collateral is required in cases where the loan cannot be secured by anything else, such as a positive credit score. Collateral loans allow consumers to borrow money against a property or asset even if they have bad credit or no credit at all.
A: LTV is loan-to-value and it is a term you hear a lot when dealing with loans. It refers to the amount you are borrowing in comparison to the value of the collateral. Generally, lenders will have a cap on their LTV. For example, you may only be able to borrow up to 50% of your vehicle's value.
Q: How do I value my assets?
A: If you are looking to secure a loan using some collateral you own, you don't need to bother with evaluating its worth at all. Lenders who provide these loans have plenty of systems for this evaluation and will happily do it for you.
Q: Do you get your collateral back?
A: In most cases, you wouldn't even be giving up your collateral at all! With car title loans for example, your title is given to the lender but your car stays with you for your use and enjoyment! Once you finish paying off the loan in full, the title gets released back to you.
Using Your Vehicle as Collateral for Loans in California
One of the most common types of collateral loans are title loans. These loans use your vehicle, whether it is a car, motorcycle, RV, or boat, as collateral in order to help you get the money you are looking for. In the state of California, these loans are easy to obtain without a lot of requirements.
5 Star Car Title Loans is proud to be a leader in the industry. We have been providing car title loans for years and have trained employees who work hard to make the loan process smooth, simple, and quick for each and all of our customers.
If you are looking to get a loan using your collateral, give us a call today or fill out our online inquiry and an agent will get back to you shortly!