What to Consider When Taking Out a Car Title Loan in Florida
For people living in Florida, a car title loan might be the solution for a quick, short-term cash infusion. Medical bills, home repairs, and accidents can surprise even the savviest money savers. Sometimes paychecks don't come fast enough, bills pile up, and emergencies tap into funds. When quick financial assistance is needed, Florida car title loans through companies like 5 Star Loans can help.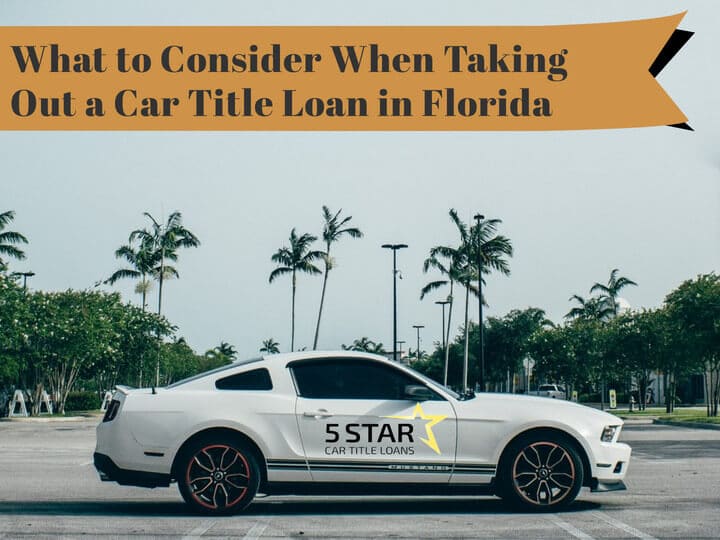 Car Title Loans in Florida: Everything You Need to Know
What is a Title Loan?
Car title loans (also called pink slip loans) are a type of personal loan similar to payday loans. To receive a car title loan, a person signs their car title over to the title loan company as collateral. They then receive money in exchange. This money must be paid back with interest and lending fees within a certain time limit. Once the borrower pays back the money, the car title returns to them.
If the borrower does not repay the loan on time, the title loan company can takes possession of the collateral vehicle. To receive a car title loan, in most cases the owner must own the car completely. This allows title loan companies to resell the car to recoup lost money when a borrower defaults on a loan. However, some lenders will accept cars with a small loan attached.
What Should Be Considered When Taking Out a Title Loan?
Beware of the drawbacks of title loans. These loans often come with high fees and may require borrowers to purchase add-ons such as roadside assistance. These costs add up, meaning borrowers repay more than they borrowed.
Because of the high interest rates and fees involved in most title loans, borrowers might consider the following alternatives before seeking a title loan:
Borrowing from family and friends
Reevaluating options (i.e., possible payment plans, the urgency of the needed funds, etc.)
Asking employers for salary advances
Borrowing from a credit union
Talking to a credit counselor
Considering these options first can save money and stress.
Provide Fast Funds
However, Florida title loans do provide fast funds that can provide relief in an emergency. With the needed information handy, borrowers can sometimes receive payments in as little as a few hours.
Those with poor credit or other difficult financial circumstances can often receive title loans because of the tangible collateral involved. They also do not affect a borrower's credit if they default on the loan. Borrowers have the freedom to drive their car if they make payments on time, even though the title loan company owns the vehicle.
What Are the Laws Regarding Title Loans in Florida?
Florida title loan laws and regulations make title loans in Miami and throughout the state safer and with better protection for borrowers and lenders. For example, Florida auto title loans require clearly written contracts between the lender and borrower. These written title loan agreements provide guidance on loan stipulations and assurance that both parties understand the requirements.
Without such an agreement, borrowers risk losing their vehicles due to misunderstood loan conditions or unexpected changes that were not part of the original verbal agreement.
Car Title Loans in Florida Interest Charge Limits
Because title loans in Florida tend to have high-interest rates and fees, the state has placed a ceiling on the amounts a lender can charge.
30% annually for the first $2,000
24% annually for additional amounts between $2,000 and $3,000
18% annually for amounts above $3,000
Lenders cannot add the unpaid interest to the principal loan amount because it would compound the interest and make title loans extremely difficult to pay off.
Other Considerations
Other Florida state laws protect both the lender and the borrower from flawed loans. The Florida State Office of Financial Regulation must issue each title loan lender a license to operate. In addition, auto title loan contracts must clearly state the following in writing:
The exact vehicle used as collateral
Principal amount borrowed
Interest rate
Conditions upon which the lender will take possession of the vehicle
Lenders also have certain requirements placed on them if they intend to confiscate a vehicle for resale. First, they must provide advanced notice of their intention to repossess the vehicle. The borrower must have the opportunity to remove personal property from the vehicle and surrender the vehicle voluntarily rather than having it removed by an agent.
Once the lender decides to sell the vehicle, the lender must notify the borrower of when and where the sale will take place as well as the outstanding amount of the loan. The borrower can recover their vehicle if they repay the loan along with other reasonable charges such as repo agent fees before the sale.
How Do I Get a 5 Star Loan in Florida?
Now that you know the main pros and cons of getting a title loan in Florida, you can begin considering whether it is the right option for your personal finances.
Florida residents can apply online for a car title loan from 5 Star Loans. Our friendly team members will provide all the information needed. Simply visit the website or call our toll-free number 24/7.