How to pay off your title loan early?
No one wants to be stuck paying on a title loan for long. So, what are your options for repaying your title loan ahead of time?
Paying off a title loan early can be done. The feasibility depends on how flexible your creditor is. One thing to watch out for is a prepayment penalty fee. Be sure to ask if there's a penalty for repaying the loan early.
The penalty is sometimes so steep that it makes it impractical to pay that amount. So how can you tell if you're making a prepayment that could trigger a penalty?
Paying more than the minimum payment can incur a prepayment penalty.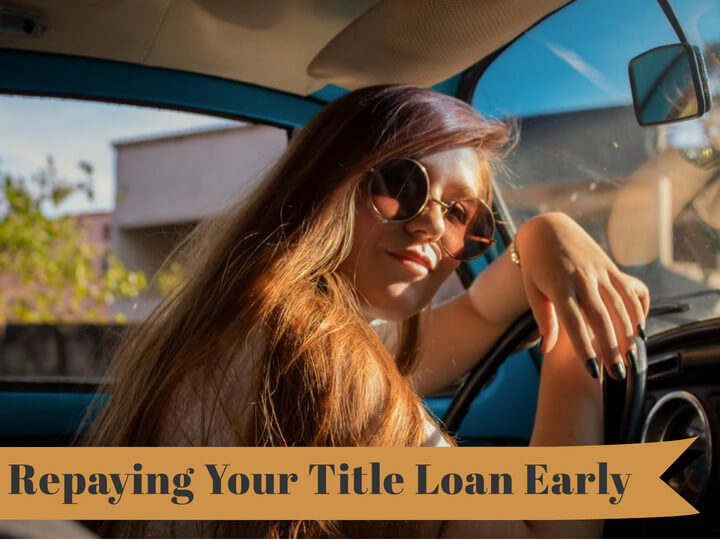 Many title loan companies carry prepayment penalties in their financing options, so check out to see if their company uses them before you agree to a loan
So, How Can You Repay a Title Loan Faster?
There are a couple of steps on how to repay these loans early. They include:
Round up your payments to the nearest hundred
Here's why rounding up payments to the nearest hundred can help you pay off the loan early. Let's say the monthly payments on your title loan are $157 each time. Instead of taking this system literally and paying $157 each month, pay an even $200 and contribute an extra $43 to each payment. You'll be giving more money to the loan each time, which means the total is shrinking with each payment and there is less to charge interest on.
If you cannot afford to give an extra $43 each month, examine your finances and decide on a figure that's reasonable for you. It doesn't have to be an extremely large amount, but the more you're able to give each month, the more you will pay off.
Take a consolidation loan
While it involves taking another loan, a consolidation loan can help you pay your title loan on time. Consolidation loans can take longer to pay off, so you might be "dragging" the loans a bigger distance. On the other hand, you'll be able to make the title loan payments.
Selling your vehicle for the it's full market value can help you pay the title loan at once, or at least decrease the loan amount drastically. Buying a cheaper car afterwards can be a solution if you still need a ride. Make sure to contact your title loan lender beforehand, as the loan company is the car's temporary lien.
It might take some time, but arranging all your monthly expenses into a sheet can help you see the overall picture of your expenses. This way, it will be easier to know what expenses are mandatory and which are a luxury you can spare, at least until you finish paying your title loan.
One of the big issues that can affect you if you take out a title loan is the possibility of missing payments. While it may not always be your fault – either you didn't have the money, or the payment date wasn't clear to you – this can set you up for several harsh consequences, starting with higher interest.
The company can take a missed payment as a sign that you're delinquent or unable to satisfy the terms of your loan. You're now considered a risk, which means it has a right to protect itself. Lenders and other financial institutions do this by hiking interest rates for customers that seem risky. If you don't want to wind up paying more money each month, make sure you don't miss any payments. Doing it this way, the lender can't raise your interest and you'll be contributing more money to the principal of the loan.
If you don't want to wind up paying more money each month, make sure you don't miss any payments
Things to Consider When You Pay on a Title Loan Ahead of Time
If you have a title loan on your vehicle, you're going to want to concentrate on paying it off as quickly as possible. While this may make for a financially uncomfortable situation in many ways, paying off a title loan early is going to present many advantages to you.
To pay off your car title loan early you'll first need to consider a few things, such as:
How much money do you have right now?

How much of that money can be spared each month?

How much money will you need to get this off your shoulders?
One big thing to think about is how much "extra" money you'll have each month to devote to your bills. If you've taken out a title loan, to begin with, you're probably already strapped for cash, but if you can spare any additional funds to the title loan each month – even if it's just five or ten dollars – you'll find yourself owing less in the long run.
Avoid Paying High Interest Rates
Many title loans impose high-interest rates on customers. By the time a title loan is paid off, you'll likely have given the lender more money than what you received because of the interest. You obviously don't want to give the lender any more than you need to, but the only way to make sure this happens is by paying off your loan quickly. The longer it lasts, the more money you'll be shelling towards your loan payments.
With 5 Star Car Title Loans It's a great idea to pay off your title loan quickly because the faster you pay it off the less interest you need to pay on the loan!
Title Loan Prepayment with 5 Star Car Title Loans
Since 5 Star Car Title Loans doesn't charge prepayment penalties, you can repay the loan as fast as you would like to. It's a great idea to repay these loans quickly because the faster you pay it off, the less interest you'll have to pay. Pick up the phone and call 5 Star Loans, we'd like to be there for you during these tough financial times.