A title loan is when you temporarily offer ownership of your vehicle to a lender in exchange for quick cash to cover bills and other financial responsibilities.
The title loan process can work with virtually any vehicle, whether it's a truck, car, commercial vehicle or motorhome, but did you also know that it works for all-terrain vehicles (ATVs)?
If you have an ATV lying around in your garage and you need money quickly, the ATV's title could wind up being a massive problem solver for you once you get an ATV title loan.
Get an ATV Title Loan in 3 Easy Steps:
STEP 1: Apply Now
Apply Now and speak with our loan specialists by calling (323) 870 9511
STEP 2: Basic Information
Complete your application process, provide basic information* such as model, mileage of your ATV and a proof of your ability to repay your loan
*Other documents may be needed
STEP 3: Get Your Money
Once pre-qualified, visit your nearest 5 Star Car Title Loans branch, finalize the loan and pick up your check. YES! You Keep driving your ATV once you get your money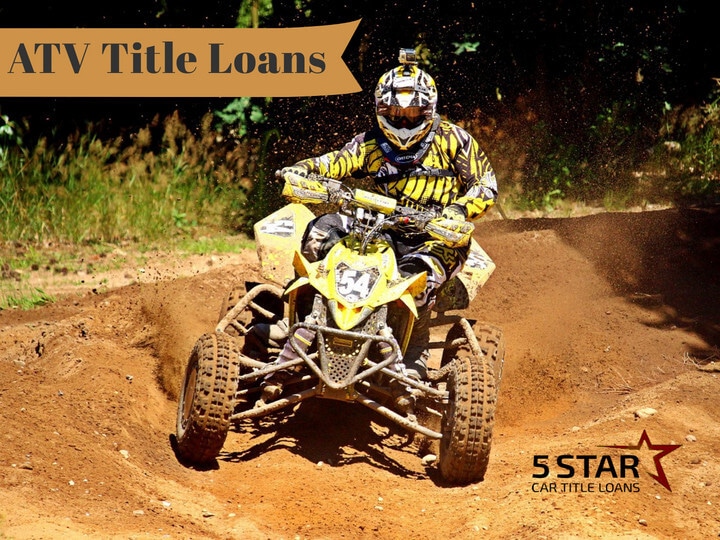 However, there are certain things to remember when applying for an ATV title loan, including:
A. Terms and Conditions
B. The Size and Price of an ATV
C. Payment Options
Let's Examine These ATV Title Loan Potential Issues:
Terms and Conditions of ATV Title Loans
As with all other vehicle title loans, the lender will more than likely expect full payment of the loan within a certain period, usually 24-48 months. If this is doable, you're probably good to go. However, if you think you'll need more time, there are a few things to think about.
First off, you can work with your lender to potentially extend the period of the loan. Depending on the specific terms, the loan could be extended by anywhere between a few weeks to a few years. However, keep in mind that you'll probably wind up paying higher interest fees depending on how long the extension lasts.
Remember: The longer it goes, the more money you'll pay, which means that by the time the loan is paid and done with, you'll probably have given more money to the lender than what you received
The Size and Price of an ATV
Title loan lenders will base your loan amount on the resale value of your vehicle and on your ability to repay your loan.
An ATV title loan does have a few drawbacks you'll need to keep in mind. For example, an ATV is not as expensive or as large as a standard automobile or truck. Thus, it's possible that an ATV title loan isn't going to provide you with as much money as you'd probably hope for.
you probably want to know how to pay off a title loan quickly. Most lenders will offer you several different ways to pay off your title loan. 5 Star Car Title Loans offer you to pay off your loan with the following options:
PHONE PAYMENTS – Have your debit/credit card ready nearby and give us a call at (888) 309 0994.
ONLINE PAYMENTS – If your account is not set up for online payments, please give us a call so we can assist you with this.
CASH PAYMENTS – Cash payments can be deposited at your nearest Bank of America branch.
TITLE LOANS CHECK / MONEY ORDER PAYMENTS – If you prefer to pay by check or money order, simply mail it to our main office address.
The number one reason to pay off any loan early, of course, is that you will end up saving money on interest – The extra money you must pay the lender for giving you the loan!
How Can You Apply for an ATV Title Loan?
Title loan lenders have made it more convenient to apply for an ATV title loan. The title loan application is easier than ever. Following you can find 2 ways you can apply for a loan with 5 Star Car Title Loans:
1. Call Us:
Give us a call at: (323) 870 9511.
We will help you with finding the required information, including how much you can get on an ATV title loan, how ATV title loans work and more.
2. Visit One of Our Conveniently Located Branches:
Visit one of our title loans branches. Our staff will assist you with the steps through the ATV title loan application process.
Additional Documents You May Need
Almost every title loan lender will require additional documents during your loan processing. Documents that you may need to prepare include:
Utility bill or proof of residency

Proof of vehicle insurance

Proof of ability to pay the loan

Contact information of at least two references
What Should I Be Aware Of?
Another thing to consider is that if you are not able to make the payments or if you default on the loan in any way, the lender can assume full ownership of your vehicle. As the new possessor of the vehicle, the company has the right to do with it as they wish. This means they can sell it at a profit to earn their money back.
If you're not ready to part with your vehicle, make sure you have the means to repay the loan within due time before you consent to the loan's terms.
Are You Ready to Apply for an ATV Title Loan?
If you're in a jam and you need cash quickly, we're a company that can help you. We are 5 Star Car Title Loans, and for years, we've been helping people just like you. We offer loans starting at $2,600, depending on your needs and your ability to repay.
Applicant approval is determined by examining several different factors including your individual credit profile. We study your ability to repay the loan, as well as the overall value of your vehicle.
If you have poor credit or no credit score, don't let that deter you. You can still qualify for a loan with 5 Star Car Title Loans. We offer several different options to match your needs. No matter how bad your situation is, one of our many loan options might assist you.
Contact us today for an estimate. We look forward to serving you.