Motorcycle Title Loans
Last update: 30 October 2018
When you are using your motorcycle as collateral for a secured loan, it is referred to as a motorcycle title loan.
Although you must give up your title, you can keep the motorcycle with you to ride while you pay back the secured motorcycle loan.
Can You Get a Title Loan on a Motorcycle?
When you get a motorcycle title loan, it can be for as much as $20,000. We will get you that money as quickly as we can.
The motorcycle title loan terms vary, and they are according to proof that you can pay back the money.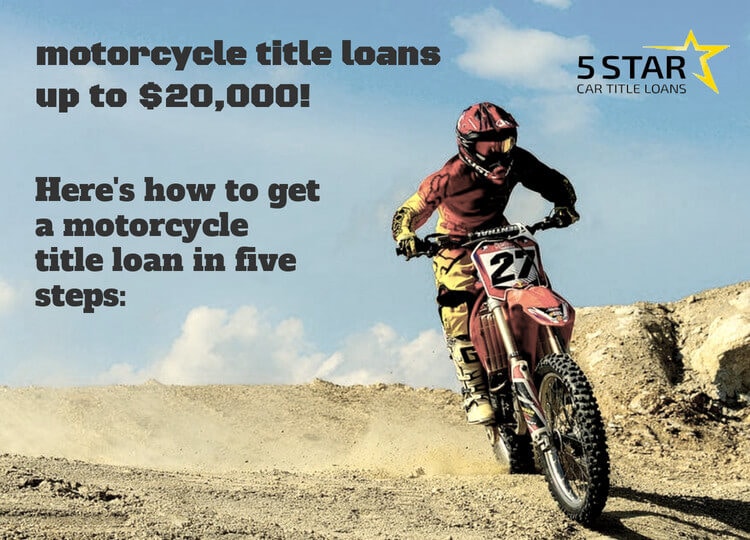 Five Easy Steps for Getting a Title Loan on a Motorcycle:
1. Apply online OR Call us at (323) 870-9511

2. Get your pre-approval estimate
3. Sign and submit your title loan contract
4. Send us the title to your motorcycle
5. Get cash for motorcycle title
The steps for getting motorcycle title loans from us are quick and easy.
Contact us to see how much you can get!
Get Cash for Motorcycle Title
When people who don't have credit, or their credit is bad, motorcycle loans can give them an easy way for getting the cash quickly.
Don't worry about bad credit when getting a motorcycle title loan estimate from us!
One of the facts about a motorcycle title loan that will please you is that when you get cash for a motorcycle title loan, a credit check is not always needed if you fulfill the credit criteria.
Why wait? Send your online application now and find out how much cash you are eligible for with secured motorcycle loans!
We offer no credit check motorcycle title loans for any type of credit customer who can prove ability to pay, owns a vehicle with adequate value and has a valid title.
Great Reasons for a Motorcycle Title Loan
All types of credit ratings accepted: Good, bad or no credit

Fees: There aren't hidden fees or penalties if you prepay

Bike title loans have competitive rates

Payments: One monthly payment

You motorcycle stays with you
Apply Now for Motorcycle Title Loans Online
Could you use extra cash to pay your outstanding bills? Are you having trouble with your finances and need emergency money?
Get started now with a motorcycle title loan online. Fill out an online title loan application.
Finding Motorcycle Title Loans Near Me
At 5 Star Car Title Loans, we work together with several third party motorcycle title loan providers. This is how we offer extremely competitive title loans rates.
Give us a call today so we can find your nearest motorcycle title loans location!
At 5 Star Car Title Loans, you receive quick cash using your motorcycle as collateral. Complete our online title loan application to begin the loan process or give us a call now at: (323) 870-9511.