How It Works - 5 Star Car Title Loans
5 Star Car Title Loans offers car title loan services at its local branches. Continue to read below and find out how it works. If you have any questions, please visit our local branch and our friendly staff will be happy to further explain you everything you need to know.
STEP 1

SIGN UP FORM
STEP 1 - Walk In with Your Documents
Our in-branch loan process is very easy and can take less than an hour if you come prepared. You don't need to call in to schedule your loan appointment; simply drop in during our business hours and bring in the following item with you:
Proof of identity: Driver License, State-issued ID, Passport
Proof of income: Two most recent Paystub or Bank Statements
Proof of Address: Utility Bill, Voter Card, Rental Agreement/Mortgage
STEP 2

REVIEW LOAN DETAILS & GET APPROVAL
STEP 2 - Quick Lending Decision
We'll confirm all of your documents and then explain the loan details to you, as well as answer any remaining questions you might think of. After we confirm the details needed for our credit criteria, we will do our best to approve you for a loan ranging between the minimum of $1,000 up to $50,000.
STEP 3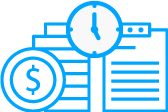 SIGN, GET THE MONEY, & GET TITLE BACK
STEP 3 - Walk Out with Your Cash
Sign: Signing the contract is quick and following that you can drive away with your car and a check in hand!
Pay off the loan: If you get a chance to pay it off early, that's great! There are no extra fees for early repayment penalties.
Release your lien: When the loan is paid in full, 5 Star Car Title Loans team will sign a release on the lien of your vehicle at one of our branches. You'll receive the car title.
This is a great solution for the residents of California and Florida who want to stay ahead of bills while keeping their car!