How It Works - 5 Star Car Title Loans
Applying for a loan with 5 Star Car Title Loans is easy and you don't need to fill out long and exhausting forms. You can simply give us a call at (888) 309-0994 and find out if you are pre-qualified to get a car title loan!
Read more about how 5 Star Car Title Loans makes the entire application process friendly and quick or check our complete guide – how auto title loans work.
STEP 1

SIGN UP FORM
STEP 1
Complete the secure car title loan application. It won't take more than a few minutes to do so. On the form, you will need to give information including the make, model and odometer reading of your car.
You'll also need to provide some basic information about yourself such as your name and phone number. This is how our agents can contact you to help guide you with Step 2 and Step 3. It's quick and it's easy!
STEP 2

KEEP KEYS & GET CASH
STEP 2
Step 2 is to come in to the nearest 5 Star Car Title Loans branch to meet us and finish up the application process. With branches in many locations across the country, such as Pasadena, Los Angeles and Northridge we're closer than you think!
We'll confirm all of your documents and then explain the loan details to you, as well as answer any remaining questions you might think of. After we confirm the details needed for our credit criteria, we will do our best to approve you for a loan ranging between the minimum of $2,600 up to $20,000. Signing the contract is quick and following that you can drive away with your car and a check in hand!
STEP 3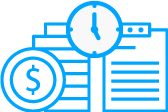 PAY LOAN & GET TITLE BACK
STEP 3
Step 3 is to pay off the loan. If you get a chance to pay it off early, that's great! There are no extra fees for early repayment penalties.
When the loan is paid in full, 5 Star Car Title Loans will sign a release on the lien of your vehicle. You'll receive the car title in the mail. This is a great solution for many people who want to stay ahead of bills while keeping their car!