Car Title Loan Calculator
Monthly Payments
Total Principal Paid
$5,000
Total Interest Paid
$103.70
Show
Amortization Schedule
How to use
Our Loan Calculator
Choose a loan amount
Fill in loan term
(1-36 months)
Fill in interest rates
Estimated Payoff Date
July 18, 2024
Start Date

Amortization Schedule
| | | | | | |
| --- | --- | --- | --- | --- | --- |
| Oct 2023 | $510.37 | $491.62 | $18.75 | $18.75 | $4,508.38 |
| Nov 2023 | $510.37 | $493.46 | $16.91 | $35.66 | $4,014.92 |
| Dec 2023 | $510.37 | $495.31 | $15.06 | $50.71 | $3,519.60 |
| Jan 2024 | $510.37 | $497.17 | $13.20 | $63.91 | $3,022.43 |
| Feb 2024 | $510.37 | $499.04 | $11.33 | $75.24 | $2,523.39 |
| Mar 2024 | $510.37 | $500.91 | $9.46 | $84.71 | $2,022.49 |
| Apr 2024 | $510.37 | $502.79 | $7.58 | $92.29 | $1,519.70 |
| May 2024 | $510.37 | $504.67 | $5.70 | $97.99 | $1,015.03 |
| Jun 2024 | $510.37 | $506.56 | $3.81 | $101.80 | $508.46 |
| Jul 2024 | $510.37 | $508.46 | $1.91 | $103.70 | $0.00 |
The information generated by our "car title loan calculator" above is based only on details provided by you. The values generated are for informational purposes only and are not part of 5 Star Car Title Loans application process. The actual payments, rates, and terms may vary and are in no way guaranteed or offered as part of a loan. All the calculations assume payments are made in full and on time.
Using a Car Title Loan Calculator for Title Loan Estimate
Do you need a title loan but want to know the approximate terms of the loan before you get started?
Our simple to use online car title loan calculator allows you to get an estimate of how much a title loan will cost you. It provides you with an approximation of the monthly payments as well as total costs of interest.
Knowing these details will help you manage your finances better and make a wise decision in regards to your title loan. You can use the car title loan calculator anytime, even if you don't choose to apply for a title loan.
How to Use a Title Loan Calculator
The best thing about an online auto title loans calculator is how easy it is to use! It allows customers to conveniently learn about their financial options before starting any loan application. Using the car title loan calculator only requires a few basic details:
Loan Amount. This is where you want to think how much money you really need. We recommend only borrowing what is truly necessary and not the highest amount due to the fact that you will accrue interest rates that can be costly.
Loan Term Months. Plan ahead and check what works with your income and expenses. Keep in mind that most title loans run between 24-48 months but there is some flexibility on this. You will notice that changing the length of the loan affects the monthly payments directly.
Interest Rate. This section lets you see how the yearly interest rate affects the monthly payments and of course the total interest paid on the loan.
The results presented in the title loan calculator are meant to help you make an informed decision about a loan. There is absolutely no limit on the number of times you can use our simple loan calculator so feel free to play around with the details and get a sense of what a loan can potentially look like. You can use it to compare rates and terms offered by different lenders or just for learning purposes so you can better understand how title loans work.
How a Title Loan Calculator Can be Useful for You
Getting as much information as you can before applying for a title loan is important and there are many advantages to using an auto title loans calculator. Here are some of the clear cut benefits:
Our online title loan estimate calculator is really quick, you just need to fill out a few basic details and there's your estimate! It's completely free to use too so you can test it out and get as many estimates as you need.
Instead of working hard to compare the offers given to you by different lenders, simply enter the terms you were given and see which offer works best for you.
With our simple calculator and easy to understand presentation you can easily see what loan will be optimal for you. If you have any worries that you can't afford the loan talk to your lender and see if there is any flexibility with the offer.
A title loan calculator can save you time and money in your loan process and is another tool provided by 5 Star Car Title Loans in order to help our customers make the most informed decisions possible.
Explaining Important Title Loan Calculator Terms
Before using a title loan payment calculator, it is important to understand a few basic terms that have to do with title loans. This will help make sure you know what you are looking at and have a clear picture of how your loan can possibly look like should you choose to apply.
When we are talking about the loan amount we are referring to your total loan and that includes any fees that go along with it. For example, most title loans have a $15 fee which is charged by the DMV in order to add the lien holder on the title. Many lenders charge an administrative fee for processing the loan. The loan amount includes these fees already.
This is fairly straightforward. The loan term months are how long your loan will be for. It is common for car title loans to run anywhere between 24-48 months but this can vary by company and state. Make sure your chosen lender doesn't have a prepayment fee, that way you can pay off the loan in full earlier than the original length without paying anything extra.
You probably already know what interest rate is but when it comes to loans it can be a bit confusing. Some companies talk about monthly interest whereas others discuss yearly interest, known as APR. The higher the interest, the more you will pay for borrowing your loan.
The above are the main things you need to understand before using a car title loan calculator. We understand that loans can be confusing so feel free to give us a call or use the many resources we have on our website to make sure you understand it all!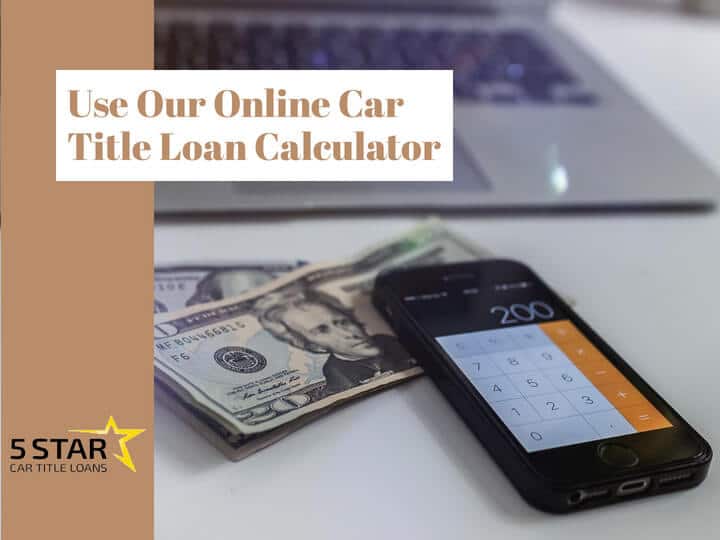 Need More Information on How Title Loans Work?
We hope that this article helped you gain a more thorough understanding of how car title loans estimate using an online calculator can help you make an informed financial choice. If you are looking to learn more on how car title loans work and what is required in order to obtain one, please give us a call today. If you wish to get started on your application simply fill out our online inquiry which only takes a few minutes to complete. Our loan agents are waiting by to help you with any question or concern.
Get back on the right track with a car title loan today!