How to Pay - 5 Star Car Title Loans

Have your debit/credit card ready nearby and give us a call at (888) 309 0994. One of our friendly agents will walk you through the payment process in no time.

Cash payments can be deposited at your nearest Bank of America branch.
The account is under the name 5 Star Loans and the account number is 325074085189.
Your deposit slip should look like the one below: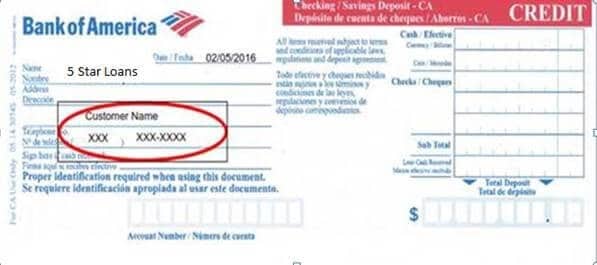 If you prefer to pay by check or money order, simply mail it to our address below.
Please make sure to write your loan number on the check/money order.
5 Star Car Title Loans
2216 E Colorado Blvd
Pasadena, CA 91107

If your account is not set up for online payments, please give us a call so we can assist you with this.
Your username is your email address.
The password was sent to your email on the day the loan was originated. If you do not have it, please give us a call and we will reset it for you.
You can log in to your account and make a payment using the button below: