What Is an RV Title Loan?
RV title loans and mobile home title loans work the same way as virtually any other vehicle-based title loan.
If you own an RV (recreational vehicle) or motorhome, you can put the title of that vehicle up for "temporary sale" and garner the funds you need to tackle your financial obligations, just as long as you meet the lender's credit criteria.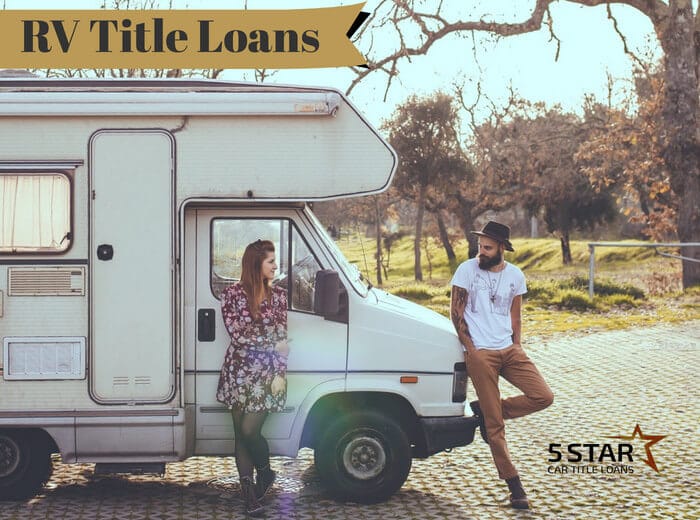 Getting RV title loans or travel trailer title loans means that you can keep on using your RV to tour around with your family while enjoying the benefits of having extra money to spend
A Brief Explanation of the RV Title Loans Process
If you're familiar with the process of a car title loan, you're already a step ahead. The process is virtually the same with an RV or motorhome. You provide your vehicle's title to the lender and show the ability to repay the loan, and in return they give you cash so you can handle your finances. Prior to taking the money, make sure you're clear regarding the terms and conditions of the loan.
What You Need to Qualify for Mobile Home Title Loans
Here's a list of the basic requirements when applying for RV title loans or travel trailer title loans:
You must be at least 18 years old
Qualifications for RV title loans are relatively simple. In California, you only need to be 18 years of age or older to legally apply.
Make sure there are no holds or liens against your vehicle's title
Second, there can be no liens or holds on your travel trailer's title. If you've already applied for a loan against mobile home title with another company and that loan was approved, you won't be able to do so with another lender so long as that first loan is in effect.
You need a valid RV title
To be able to get an RV title loan or travel trailer title loans, the lender will use the title to your RV as collateral. Before applying for an RV title loan, be sure to check that you have the RV title and that it is current.
Verification of your identity with a government issued ID (such as a drivers license)

Your vehicle insurance (not only liability)

Proof of your ability to pay the loan

Photo of the vehicle you are using as security
*Please note that you may be asked to produce other documents, according to the lender's request.
Using Your RV's Title Instead of a Regular Car's Has More Benefits
While the process is virtually the same for both an RV and a standard vehicle, there are a couple of differences to consider. Sometimes, getting a loan against mobile home title instead of a regular car's has more benefits, starting with the interest rates.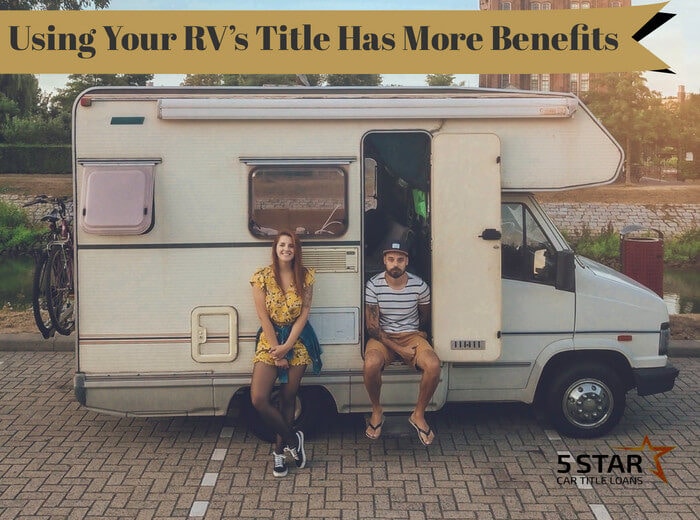 Be careful when choosing a lender. While each lender can offer varying interest rates, you should stay away from those that are offering interest rates that seem too low to be true. These lenders can tack on hidden fees that make their loans more expensive in the long run
The interest rate assessed on the loan for an RV can be significantly lower as the RV is worth more. There is stronger collateral to support the loan. However, the interest rate on your loan will also be determined by your ability to repay.
What Kind of Interest Rate Will I Get?
A high-interest rate usually occurs when the property isn't worth much or you don't possess the credit profile to be deemed trustworthy by the lender's qualification guidelines. RVs are worth a lot more money than standard automobiles, which means a title loan on your RV or trailer title loans will give you lower interest rates as there is less risk involved. The lender will be able to earn all their money back and then some by selling your RV if you're unable to make the payments on time.
How Long Do You Have to Pay Back the Money?
Most companies will require full payment within 24-48 months. Otherwise, you're likely to experience heavy interest. You may have the option to extend the period of the loan, but this is something you'll want to establish with the lender beforehand.
What Happens if I Don't Pay?
If you default on the loan or cannot repay the funds, the lender has the legal right to possess your car and assume full ownership. For this reason, a title loan is something to consider carefully, but if you need quick cash and your options of obtaining it are limited, it may be your only choice. With the right company assisting you, the process can be quick, painless and to your benefit.
Always Look Before You Leap
One problem that many people in positions like yours encounter is that they are so panic-stricken or desperate for cash, they rush into the deal without fully understanding the situation. It's important to know that the money you receive is a loan and not a grant. The money will need to be paid back within a certain period, and if it's not, there will be consequences.
You'll need to ask yourself several questions before engaging in the process. These questions might include:
• "How badly do I need the money?"
• "How much money do I need?"
• "How fast can I pay the money back?"
• "If I can't pay it back, can I truly afford to part with my vehicle?"
Putting your vehicle up for grabs with a lender can be an uncomfortable situation if you aren't fully familiar with the terms and conditions. You'll need to be aware of everything and make sure you can adhere completely to the terms before accepting the funds. Otherwise, you're at risk of paying more than you owe and losing your property.
Thinking of Getting an RV Title Loan?
If you are thinking about getting an RV title loan or a loan against mobile home title, give us a call. 5 Star Title Car Loans. Based in California, we work to help people like you get the cash they need to tend to life's everyday problems.
Our minimum loan amount is $2,600. We have several plans available designed to assist you whether you have good credit or not. Call us today for an estimate. We look forward to serving you!