Can I Get a Title Loan if The Title is Not In My Name?
While we try to help customers overcome any difficulty, this is not possible. A title loan must be under the name of the car owner.
Why Is It Not Possible?
By law, you are not allowed to offer security on an asset which you do not rightfully own. So in the case of a title loan, one must own the vehicle which he/she uses as collateral.
Don't have a title on your name but you are the owner of the car?
We can help you! Give us a call or continue reading for more information

Our loans depend on many factors including:
# The car's equity
# Your credit profiles
# Your ability to repay the loan
How Do Title Loans Work?
Car title loans use a vehicle as collateral to secure the funds provided to the customer. This is the reason that any title loan company, including 5 Star Car Title Loans, demands and verifies the rightful ownership of the car by requiring its title.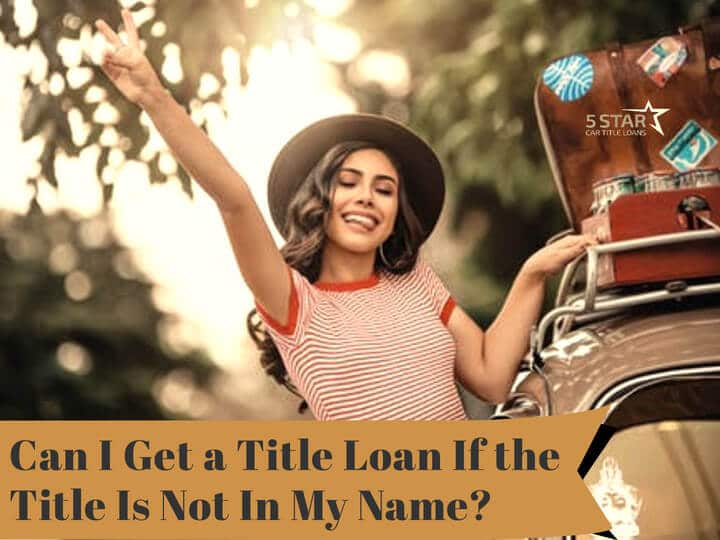 If you own a car but its title hasn't been transferred to your name, you may still be eligible for a title loan. Continue reading to see how to move forward with receiving your loan approval and funds

What if I Have a Title That's Not in My Name?
If you own a car but its title is not under your name, 5 Star Car Title Loans may be able to help you. We are often able to update the name listed on the title through the state's Department of Motor Vehicles (DMV).
Once the process of transferring the title to your name is complete, you will be able to use your car title to apply for a title loan.
Please be advised that if your name does appear on the vehicle title but someone else's name is also listed, either party will be eligible for a car title loan in most US states.
As you can see, if you don't own a vehicle in your name, things can get tricky. But you don't need to worry just yet. Our company is here to help you get the money you need, regardless of the challenges in the way.

How to Get a Title in Your Name for a Car Title Loan*:
Here's what you need to know about how to transfer a car ownership to your name:
Visit your local DMV office
Visit your local DMV office to transfer the car ownership to your name. This can't be completed online or through postal mail.
Valid form of identification
When you go to the DMV, make sure to take a valid form of identification. You can find more details about what is acceptable on your state's DMV website.
Make sure to also bring the current title and registration.
You will probably be required to pay some registration fees, so make sure to check those in advance.
If you changed your name lately you should bring any court papers issued in the U.S proving the change. Divorce or marriage certificate will be great prove.
*Bear in mind that the rules and regulations for this process vary depending on your state's DMV. If you don't have a clear understanding of what your state allows, call us or visit the DMV's website to learn more.
Once the DMV records show you as the car owner on the title, you will be able to continue your car title loan application!

Reasons Why You Own a Car But Don't Have a Title in Your Name:
If you recently bought or inherited a vehicle it's possible that it's still not under your name. Other instances include when paying off a loan or receiving a vehicle as a gift.
A common case we often see, is when the customer's name does appear on the title, but it is alongside somebody else's name. In such cases, the word between the names is what matters. If there is an "and" or no word at all, both of you may be required to sign the loan. If there is just "or" between the names, you may be eligible to sign the loan alone.
For example, whether it's written as Julie Smith and Joe Smith verses Julie Smith or Joe Smith makes a big difference. When the title says "or" between the names, this means that either party can use the title for a car title loan. If the word "and" appears between the names, then that usually indicates that the loan will need to be signed by both owners.
Here are Some Examples of Regulations in a Few States We Provide Title Loans in:
Once you have the proof of income issue settled with the lending company, you'll need to satisfy other requirements if your title loan is to be finalized. These requirements might include:
California: The Golden State requires a smog examination for all vehicles being transferred to different owners. Getting this done is simple and you can find many smog test locations across the state. You will need to provide proof of examination and a passable score to the DMV. In California, there is also a transfer fee you will need to pay. However, if the car is being transferred from an immediate family member, both the smog and fee are often waived.

New Mexico: Residents of New Mexico looking to transfer ownership of a vehicle must obtain an odometer disclosure from the person selling or gifting the vehicle. The car must also undergo an emissions inspection. Following this, proof of residency, identity, and vehicle insurance must be submitted to the local DMV office to complete the process.

Arizona: In Arizona, you and the seller of the car must visit the DMV office together. You will both be required to fill out some forms and pay the applicable registration fees associated with the transfer.
Can I Get a Title Loan if the Title is Signed Over to Me?
You're likely wondering, "can I get a title loan if the title is signed over to me?" This is one of the few scenarios that will apply to a person seeking a title loan where the title is not in their name. Some of the others include:
You're buying a vehicle from a private seller

Someone gifts you a vehicle
Let's Examine How to Receive a Title Loan if the Title Is Signed Over to You:
Someone Is Selling or Gifting You a Car
We can't always afford the best and the newest. Sometimes, we must settle for less or for what someone gives us. Say a person in your family – maybe a parent or other relative – decides to sell you their used car. It's not great, but you need a vehicle, and they don't want to go through the hassle of posting it online and waiting for a response. Therefore, they're just willing to transfer ownership to you.
This is a process that the Department of Motor Vehicles (DMV) will require within ten days of the transaction. Once this action has occurred, the title will be in your name and full ownership of the vehicle will be transferred to you. The DMV's records now list you as the official owner to prevent any legal mishaps in the future.
Bear in mind that the rules and regulations for this process vary depending on where you're located. If you don't have a clear understanding of what your state allows, visit the DMV's website to learn more.
Title Paperwork
If a person in your family sells you or gifts you the car, you'll both be required to sign portions of the title to account for the new ownership. This ensures that a record of the transaction is available in the event there are legal problems or issues with the vehicle in the future.
If you have a vehicle title in your name but it's gone missing, don't fret. Almost anything on paper is replaceable to one extent or another. To garner a second copy of your title, simply fill out what's known as a 227 form. This will need to be notarized and signed by you.
You may submit the title paperwork in person or by mail. You can make an appointment at your local DMV or mail the completed forms with payment!

While it won't be the real thing, it will serve in the original title's place. This way, if there are any problem down the line that require you to show proof of title ownership, like acquiring a title loan, this document should do the trick.
Getting the Vehicle Through Other Means
If you inherit a vehicle, the process can be somewhat challenging, especially if the vehicle is part of a probated estate sale. If it is, you'll want to contact your probate court and attorney. The title cannot be transferred until the probate is finished. The attorney can provide further guidance as every situation will be unique, but once the probate is complete, the vehicle will be handed over to you.
From there, you'll need several documents including the order from the probate court to transfer the vehicle, the certificate of the title, the transfer fee, and the odometer disclosure. You can then visit a nearby title office and hand the documents in. This should complete the title transfer.
If the vehicle in question is not part of a probated sale, call your DMV office and check what the rules and regulations are in your state. For the most part, this process should be simple, but each state will have different requirements that you'll need to fulfill, so be sure to check with the DMV before doing anything else.
Apply for a Title Loan Today
If you need cash fast and have nowhere else to turn, you can apply for a title loan. 5 Star Car Title Loans has been helping people get the money they need to get through life's everyday troubles.
Our minimum loans start at $2,600. We offer several different lending options to cover the individual needs of every customer that comes to us. Applicant approval is determined by our specific credit criteria. This involves examining several different factors, including a customer's ability to repay the loan and the overall value of your car or vehicle.
If you have poor credit or no credit score to your name, don't panic just yet. Let us examine your situation to determine if we can potentially provide a title loan option that will assist you. Customers that are approved often get their money within 48 hours, so they can get back to their lives quickly.
If you want to learn more about the application process, contact us today. We look forward to speaking with you.