Salvage Title Loans in California
Can You Get a Loan on a Car with a Salvage Title?
YES! It is possible to get a title loan on a salvage car.
Many individuals seeking a car title loan are unsure if they can qualify if their vehicle has a salvage title. However, it's not guaranteed that every lender will approve a car title loan or qualify every applicant who has a salvage title. It is up to each lender to decide.
Most individuals mistakenly believe that qualifying for a salvage title loan is too expensive and too difficult. Salvage title loans can be obtained. Like car title loans, salvage title loans have similar requirements, along with a few more.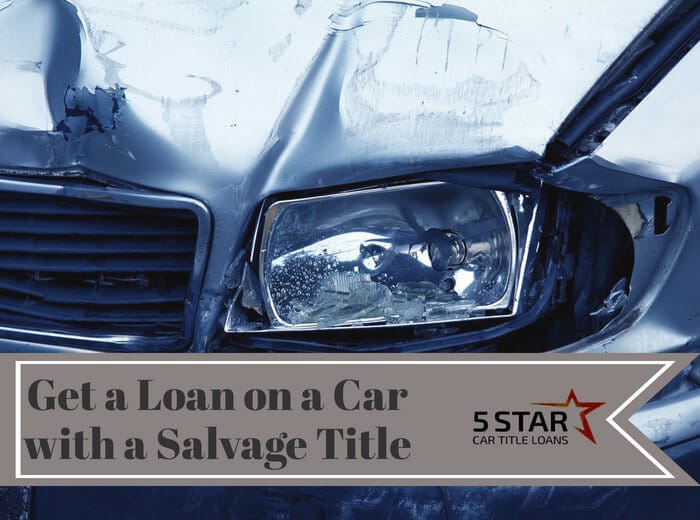 Salvage cars are simply vehicles that have been declared as a total loss after being involved in an accident
How Salvage Car Title Loans Work
It is not as difficult as you may think to get a car title loan using a salvage title. Beware of a lender who wants to charge you more for a car title loan using a salvage title. A reputable lender should not charge a different, or a higher rate when applying for a car title loan with a salvage title.
Salvage Title Requirements
Car title loans using a salvage title require the same paperwork for borrowers as regular car title loan applications. Applicants need to bring the following documentation with them:
Government-issued personal identification (driver's license)

Proof of regular income (most recent pay stubs)

Current proof of insurance (for the vehicle)
Insurance is required in many states for car title loans using a salvage title to help protect against default. Insurance helps the borrower (in the case of repossession) auction the vehicle off legally, and at the best possible price. Obtaining insurance with a salvage title can be difficult, but can be done.
This list is neither exact nor complete. It is recommended that you check with potential lenders before applying for a list of required information and documents. Knowing what to have with you prior to applying for a car title loan will go a long way in making the process quicker.
The bottom line is that yes, you can get salvage car title loans in California if you're willing to put in the extra effort that is required
How Much Does a Salvage Title Lower the Car's Value?
Without going into too much detail, many lenders in California automatically cut 50% off the value of a car that has a salvage title. However, don't despair! The actual price is determined by an estimator that values your car's worth. The price can vary depending on who looks at your car to value it. Of course, it also depends on the condition of the vehicle.
Even if you can't get the price you are hoping for, you can at least get some money out of it. When you're in a tough financial situation, any amount of money you get on a salvage title can be very helpful.
Getting Title Loans on Salvaged Titles
If your car has been involved in an accident or been damaged in the past, it will be noted on the title, which makes it a salvaged vehicle. The damage could be due weather, such as flooding, hail storms, lightening or anything else that has deemed your car a total loss. While you can get a car at a cheaper price, it will be more difficult to use it as collateral for a car title loan.
Laws governing salvaged cars vary from state to state. Usually, this type of note is added to a car's title when it would cost 75% more than what the car is actually worth to repair the damage. Even so, you might be able to buy that vehicle cheaply, take care of the repairs yourself and get years of driving pleasure from it. Since each state has different requirements, check the law in the state you are living in carefully.
In California, it is mandatory that the salvage title displays any relevant history and information. This includes its mileage and the interest rates used when applying for a car loan. Finding a title loan company that agrees to finance vehicles with salvage titles can take more research on the buyer's part. Of course this also depends a lot on the specific car, its age and its condition.
Do Further Research Before Choosing the Best Loan for You
It is also in your best interest to shop around when considering a car title loan. This helps to ensure that you find the best lender with the best deals for you. Car title loans are serious, and should be handled as important financial business.
California is one of the many states where applicants can get a car title loan with a salvage title. State laws are in place to protect both the borrower as well as the lender. As with any loan, it is highly recommended that you educate yourself about these types of loans before applying. Being well informed is a great way to make the car title loan experience a more pleasant one.
Getting a Salvage Title Loan in California
It's important to note that In California there is a salvage certificate and a salvage title.
The salvage certificate is what you get while going through all the checks needed to get the car back on the road. 5 Star Car Title Loans does not provide loans in this situation. The customers are asked to complete checks and then come back.
The salvage title is what you get after you completed the process and the car has been approved to go back on the road. 5 Star Car Title Loans does provide loans in this situation. Actually, the process is just the same as with any other type of title.
If you've already tried to get a title loan on your salvage vehicle but are running into a dead end, don't let that worry you too much. Using your rebuilt title, you can apply for a pink slip loan or a salvaged title loan. Go ahead and give us a call at: (323) 870-9511.