Buy Out Existing Title Loans
Title loans are known for their flexibility. When you take out a title loan with a particular lender, you may end up wanting to renegotiate for better terms with another creditor offering more flexibility.
Here's everything you should know about what does it mean to buy out existing title loans and what it can do for you.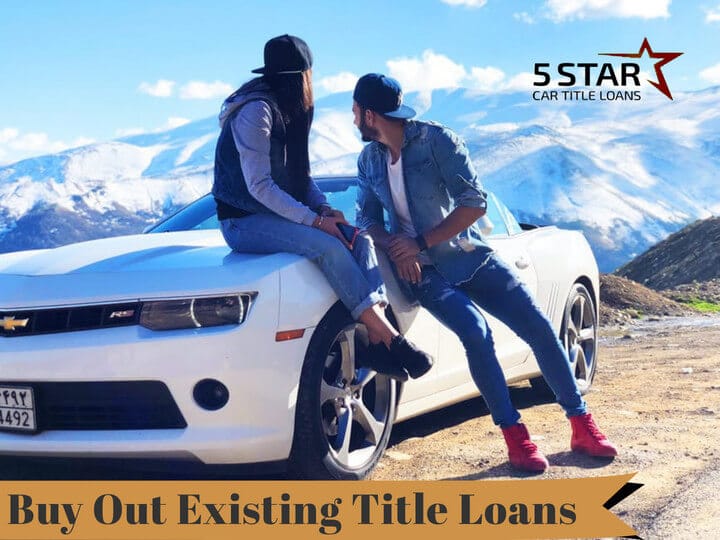 A buy out is a great option for anyone looking to get a better deal with a different title loan company
What Is a Title Loan Buyout?
So, what does it mean to buy out existing title loans?
Think of your loan as a finance product – it can be bought and sold between other companies that buy out title loans. Title loan buyouts are good news for you as a borrower. When you get a title loan buy out you can get lower payments and better terms than if you were to refinance under your current lender.
How a Title Loan Buyout Works?
You may be wondering, "how do I buy out my title loan?"
The title loan buyout process is pretty straightforward:
1. The new lender that you're looking to work with will get in touch with your current title loan company and offer to buy the loan from them.
2. As far as your original lender is concerned, the loan will have been paid off.
3. It will then fall on the new lender who purchased it to carry the loan.
4. Your new lender will take over the loan and you'll then renegotiate the terms of the loan under them.
The Difference Between Title Loan Buyout and Refinancing
Keep in mind that there are two major differences between a title loan refinancing and buy out:
• With refinancing, you would be renegotiating the terms of your title loan under your current lender instead of with a different one.
• When refinancing a title loan, you can ask for things like extending the duration of the loan or lower payments.
Title Loan Buyout Benefits
Why wouldn't you just refinance the title loan under your original lender for more favorable terms? These are the benefits of title loan buyout:
Not all title loan companies will budge much when asking to refinance. It's why many of you will most likely get a better deal with a title loan buyout instead of refinancing under the same old lender
With a title loan buyout, you can not only renegotiate your interest rates, but also the loan duration. Getting more time to pay the loan without paying more on interest rates can make a big difference.
Sometimes the title loan company you started out with loses its luster, especially when a company starts raising payments out of nowhere.
Being unable to pay the title loan might end up in repossession. Getting a better deal with a title loan buyout can avoid this option.
What to Look for When Searching for a Title Loan Buyout
The single most important thing to look for when searching for a title loan buy out is trust. When you want to switch title loan companies, it's crucial to choose one that you can fully trust to give you a better deal than what you previously had.
The main object of seeking a title loan buyout is to find a lender who can offer you lower payments. Sometimes after you've been with them long enough, your current lender will start raising up the minimum monthly payments after the first few months. No one likes that and you can show your appreciation by leaving the company for one that can give you a fair deal.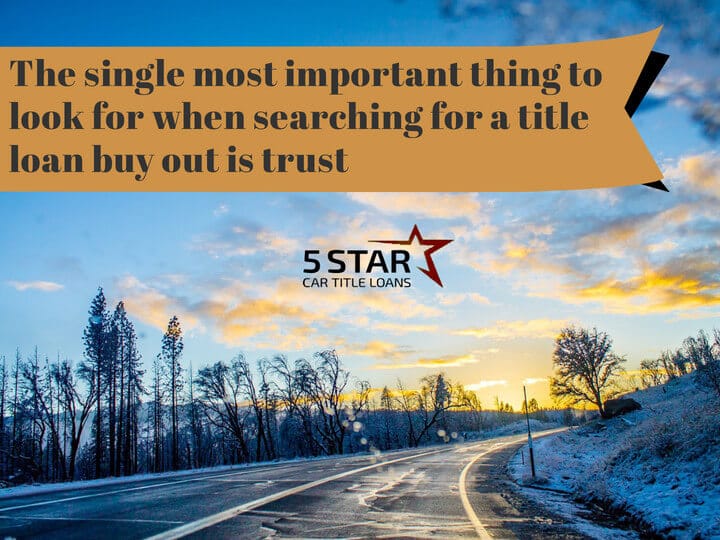 Who Will Buy Out My Title Loan?
Who will buy out my title loan? Good question. Companies that buy out title loans are simply other financiers in the title loan business.
There are plenty of these companies to choose from. The trick is to find one that will give you the best deal. After all, to justify going through the trouble of pursuing a title loan buy out, you'll want some incentive like lower payments in return.
Companies That Buy Out Title Loans Near You
While there are several title loan companies offering buyouts in the state of California, only 5 Star Car Title Loans can offer you the most flexible terms. It's the optimal solution for a great deal and lower payments.
You can find some of the best terms around for title loans and get fast-tracked for approval when you shop with 5 Star Car Title Loans.
Frequently Asked Questions About Title Loan Buyout
Some frequently asked questions when looking for a title loan buyout include:
• Can you get lower payments with a title loan buy out? The short answer is yes – it's definitely a possibility.
• Is a title loan buy out the same as refinancing? No, as discussed before, they are quite different.
• Do I need to meet any additional requirements for a title loan buy out? The rule of thumb is that you won't need to meet any additional criteria other than what you had to secure the original loan. There aren't any hoops to jump through for buyouts.
With your questions answered, you're in good shape to continue the process and start shopping for a new lender.
Apply for 5 Star Car Title Loans Buyout Program
When it comes to companies that buy out title loans, you'll want to work with the best. 5 Star Car Title Loans is on the top for a reason, we're well-known for being a trusted company that provides you with 5-star service every time.
We truly care about customers and will work with you to present a buyout offer you can't refuse. After you sign the papers, you'll be home-free and enjoying the flexibility of lower payments under the renegotiated terms.
Don't hesitate, ditch your old lender for better terms and lower payments from a company you can trust, call 5 Star Loans today and see how much greener the grass is on the other side!