Refinancing a Car Title Loan in California
Refinancing your car title loan in California means one of two things:
• Renegotiating the current terms of your loan with your present lender
• Negotiating new terms for your loan with a different lender
If you currently have a loan, you may want to decrease your monthly payments or lower your interest rate on your vehicle title loan.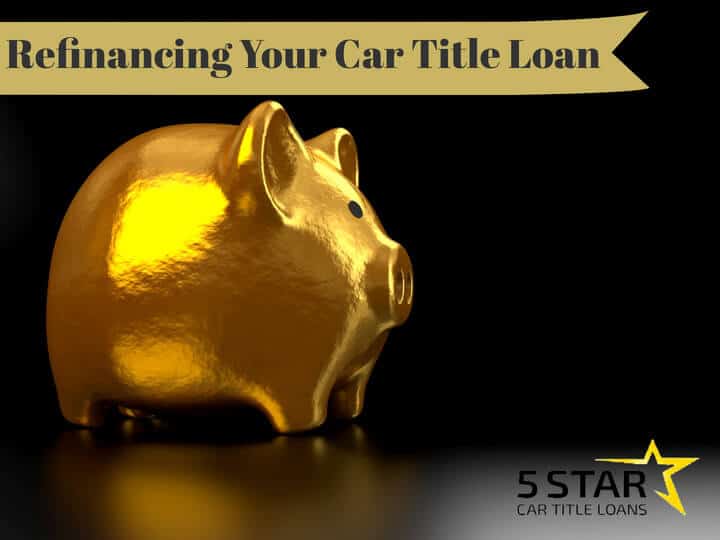 Refinancing a car title loan means to extend your loan time and lower your interest rates
How to Refinance Your Car Title Loan
To refinance your car title loan in California, there are certain things you'll need. Four of the most important documents include:
A copy of the original loan certificate (with your old lender)

Proof of your ability to repay your loan

A certificate of inspection

A free title to a vehicle
Let's cover some more of the information required to refinance your car title loan:
You cannot be currently bankrupt

The millage on the vehicle must not exceed 200,000
Different Repayment Options
From here, the new lender is likely to go over a variety of different repayment options with you. The process will either take place online, over the phone or in person. You can choose which repayment plans work best for you, and depending on your credit and past payment history, the lender will work with you to ensure these new terms are implemented quickly.
Once you and the lender have agreed to a new repayment option and the terms of the new loan are set, you'll be able to continue making payments on your loan to the new company.
Examples of 36 Month Loans*:
| | | |
| --- | --- | --- |
| Examples | Example A | Example B |
| Title Loan Amount | $2,600.00 | $2,600.00 |
| Interest Rate (monthly) | 10.01% | 9.21% |
| Term Length | 36 Mo. | 36 Mo. |
| Processing Fee | $75.00 | $75.00 |
| DMV Lien Transfer Fee | $15.00 | $15.00 |
| Monthly Payment Amount | $269.00 | $250.00 |
*Our repayment schedules don't have prepayment penalties or hidden fees.
Disclosure: Not very application is approved. Approval depends on certain underwriting criteria as well as the borrower's ability to repay. There can be additional loan restrictions.
How Fast Is Auto Title Loan Refinancing?
Refinancing your current pink slip debt can be as fast as 1 to 2 business days, but it would depend on how fast you can get the requirements to the lender. These may include the following:
The mileage on the vehicle
Proof of your ability to repay your loan
The lender's other required documents
Turn in these documents quickly and you can easily get the money and refinance your existing loan or get a new title loan in California.
Additional Reasons for Refinancing Your Car Title Loan
Here are some other reasons why you might consider refinancing your car title loan with another company:
A. Bad Customer Service
If the lender you've been working with up to this point is under different management or ownership, many things are likely to change, including customer service.
Regardless of ownership status, if you've noticed a serious downgrade in customer service as of late, it may be time to take your business elsewhere.
B. Your Old Lender No Longer Seems Reputable
If you're looking to refinance title loans, it's important to pay attention to the dealings and goings-on of your current lender. If they've accumulated several negative Google reviews over the past few months or appear shady in any way, you should take your business somewhere with a better reputation.
5 Star Car Title Loans Google Reviews:
I would highly recommend this place for best payday loans. The crew was very helpful and answered all my questions. The place was nice and clean. The staff was all nice, professional, and very accommodating. Their rates are justified and attainable.
Maegan Dicki
13:16 29 May 21
Thank you for always providing such exceptional service and for your awesome team of employees who are always kind & sweet. I love doing business with companies like this!
Bianca Rosales
00:04 27 May 21
They really stand by you during rough times. Always accessible and easy to work with. So happy I found 5Star CTL and will absolutely share this company with others.
Camilla Ahmed
08:23 15 Mar 21
A positive experience applying for a car title loan online from them. The whole process was super and really good to understand. Unlike the last time I took a car title this time was really stress- free!!
living ancient
07:20 13 Feb 21
They helped me a lot and were very kind throughout the process Thank you all very much!
Richelle Sisk
18:10 19 Jan 21
Really appreciate everything the people at 5 Star Loans did for me. They were patient and explained every single detail of my loan, made everything simple and quick. Don't hesitate to use their services.
Kreiger Miller
05:22 25 Dec 20
Really happy with 5 star loans! Unlike other loan places I have done loans with, they explain the loan process fully to be sure you understand the terms and they don't try to avoid talking about the costs of the car title loan.
Eleanor L Orta
08:07 07 Dec 20
Very fast online loan service. I keep loyal to 5 star in pasadena cause they have great online loans that I can do from home.
Anon Boston
10:55 20 Nov 20
Great help by the team at 5 Star Loans. Made the process quick and easy like it should be. They approved me even though I have low credit which was extremely helpful.
Chad Mathewson
09:20 18 Nov 20
Super easy to do the online loans. Recommend to every person that needs a title loan to check it out!
Sydney Allen
06:34 24 Oct 20
It was fast and easy. Excellent service. I will happily recommend them to anyone looking for car title loans in Hawthorne.
Macejkovic Samuel
12:19 20 Oct 20
5 Star Car Title Loans is the number one company if you're looking for help to get quick and good money! They did a great job helping me out!
Buck Q Chavez
11:20 24 Sep 20
I just moved here from Michigan and needed to get a car loan but I have low credit so I wasn't sure how to go about it. I called 5 star and they explained professionally how it works. Good service!
Lisa Capel
06:37 11 Sep 20
I was hesitant about getting auto title loans online but their website was really easy to use and helps you get the loan step by step. They work with you so you get the best loan for your needs
Daniel McGhee
06:50 04 Sep 20
For no credit loans, I take out title loans only from the loan provider that I can trust
Eric Snyder
09:47 02 Sep 20
Applying for a loan with these professionals was super easy!! I didn't have to wait for months, in fact, within a couple of hours only, I got my loan request approved. Really very impressed with their professionalism!!
Megan Kinard
01:45 06 Jul 20
Thanks to 5 Star Car Title Loans Pasadena, my trip to South Korea pushed through! Great service, getting emergency loan never be easier.
Marina Corona
06:12 15 Jun 20
5 Star Car Title Loans Pasadena is just a five-minute walk away from my apartment. I took my title loan with them and haven't had any bad experience so far.
Klein Maynard
10:07 01 Jun 20
I always take my title loans at 5 Star Car Title Loans Pasadena. They've taken good care of me, so I've been their loyal client.
Kenneth Cole
04:36 09 Mar 20
I was able to get a loan using my car title in just 30 minutes!
Vincent Lauritsen
10:16 24 Feb 20
I thought there was no way out of my money troubles. But then I found out about 5 Star Car Title Loans. The people there talked to me about my options and helped me get the fast money I needed. I'm so grateful.
Clair Hiles
06:21 13 Feb 20
I've never had money troubles that I couldn't get out of until my kid needed money urgently and I didn't have it to give. I got an online title loan and was surprised at how well it all went. I was able to hand my kid the money and now I'll pay it back a little each month.
Neil Clark
10:26 28 Jan 20
I never had the need for personal loans before, but when I needed money fast, I realized that online loans were the way to go. Worked great.
Elizabeth May
05:30 13 Jan 20
I didn't know where to go when I needed a fast loan in Pasadena, so I looked online and found 5 Star Car Title Loans. I got my money and all was good.
Louis Slater
09:48 06 Jan 20
I got a no credit loan to pay off some bills that were due. My credit is bad and I didn't want it to get any worse.
William Paige
07:49 13 Dec 19
I applied for a pay off title loan. I was a little disappointed because I needed more than they gave me. I guess that that car I own didn't have enough value. Well, that's life I guess. At least I could still keep my car.
Debra alderman
21:09 25 Nov 19
I just wanted to tell y'all about money loans with car title. I'd never gotten one of those before, but then I got into a bit of a money problem and didn't know where I could get help. With my credit history, I already knew better than to walk into any bank. They'd show me the door. Really besides

my job, the one thing I had going for me was my car. I kept that thing clean as a whistle, and it was all paid for. I didn't want to give it up - no way! But I found out I could get a loan without giving it up. So I tried that. I filled in the form and sent it over to the loan office. First they pre-approved me - even with bad credit! Then I had to wait until the next day until they finally approved my title loan. I wish it would have been quicker, but at least I got the money and kept my car.

read more
Wayne J Graham
06:51 04 Oct 19
Getting a fast loan isn't hard if you have a great credit history and plenty of time and money. I had none of those things, but I had a car. I sent in the application and was shocked how quickly I got a reply and loan approval! I couldn't be more pleased.
Martoni Martone
05:45 23 Sep 19
I heard from my buddy at work about how easy it is to get a quick buck at 5 Star Car Title Loans. Since I have a pretty good car, I thought I'd give it a try. Sure enough! Good service and fast money.
Lucas Dickens
08:07 13 Sep 19
I was so out of money that I couldn't even by milk for the morning cereal. I knew that my government check would be coming in the next week sometime, but I couldn't wait that long. I needed the money quickly. I sent an application into 5 Star Car Title Loans and do you know what! They contacted me

immediately and helped me through each step until I got the money. I thought I would have to wait a day or two, but I got it the same day!

read more
Stephanie McKnight
09:47 19 Aug 19
I had never applied for a title loan before, but when I filled out a request I was pleasantly surprised at how smoothly the whole process went. From my first phone call to picking up my check they were as helpful as could be! And I was so happy that I was able to keep my car! Highly recommended.
Joyce Fuller
08:06 24 Jul 19
I was extremely happy to do business with 5 Star Car Title Loans. They were able to help me when other major companies did not want to help me. I would be very happy to recommend them to any of my friends or family.
Laura Jenkins
08:43 15 Feb 19
Was looking for a car title loan and found out about 5 star. Called and was very pleased with their customer service and answers they gave me. I definitely recommend them!
Devon Dansky
06:19 28 Jan 18
Refinancing Your Car Title Loan May Be the Answer
If your current lender is reasonable and you've shown "good faith" in the past, you may be able to work things out so that you have lesser interest rates. In cases like these, refinancing your car title loan may be your best bet.
You may also be able to change your terms and conditions so that you have more time to pay your loan. In this case, working things out with your current lender may prove useful in that it's already familiar with your case. It's dictating your current loan terms and should be able to work things out in a way that's beneficial for both of you.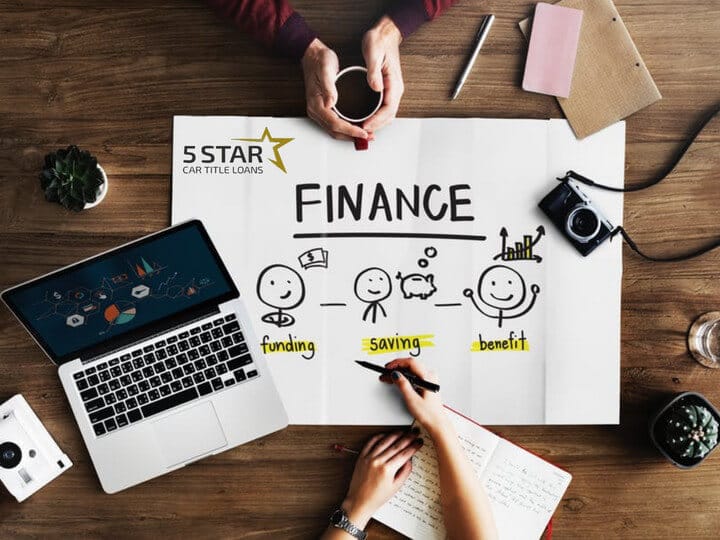 When the Original Company Cannot Be Bargained With
However, if the lender is being stubborn or obstinate in some way, you may want to take your loan to another company that will be more reasonable. Whatever company you choose will have the option of taking over your present loan and changing the terms and conditions so that they are more appropriate to your financial situation.
Extend Your Loan Time and Lower Your Interest Rates
They'll work with you to extend your loan time or lower your interest rates or monthly payments. On top of that, they will work to simplify your current loan terms so that you have an easier time repaying the money.
Call us now and check how much money you can save on your monthly payment with 5 Star Car Title Loans refinancing
Refinancing with 5 Star Car Title Loans?
Opting for a refinance is easy if you already have your car title loan. When you apply to refinance your title loan with 5 Star Car Title Loans, send you a quote on how much money you can save on your monthly payment for the title loan refinance.
Once you submit all the requirements and sign the contract, then we'll start the process to refinance your car title loan. We'll contact the company where you've obtained the title loan and we'll pay your debt. It's that easy!
Contact us soon to get a free estimate for refinancing your car title loan in California.