Refinancing a Car Title Loan in California
Refinancing your car title loan in California means one of two things:
• Renegotiating the current terms of your loan with your present lender
• Negotiating new terms for your loan with a different lender
If you currently have a loan, you may want to decrease your monthly payments or lower your interest rate on your vehicle title loan.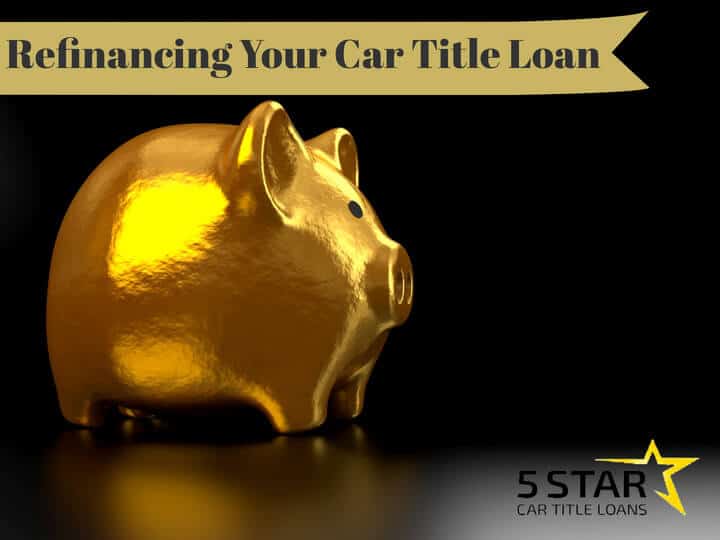 Refinancing a car title loan means to extend your loan time and lower your interest rates
How to Refinance Your Car Title Loan
To refinance your car title loan in California, there are certain things you'll need. Four of the most important documents include:
A copy of the original loan certificate (with your old lender)

Proof of your ability to repay your loan

A certificate of inspection

A free title to a vehicle
Let's cover some more of the information required to refinance your car title loan:
You cannot be currently bankrupt

The millage on the vehicle must not exceed 200,000
Different Repayment Options
From here, the new lender is likely to go over a variety of different repayment options with you. The process will either take place online, over the phone or in person. You can choose which repayment plans work best for you, and depending on your credit and past payment history, the lender will work with you to ensure these new terms are implemented quickly.
Once you and the lender have agreed to a new repayment option and the terms of the new loan are set, you'll be able to continue making payments on your loan to the new company.
Examples of 36 Month Loans*:
| | | |
| --- | --- | --- |
| Examples  | Example A | Example B |
| Title Loan Amount | $2,600.00 | $2,600.00 |
| Interest Rate (monthly) | 10.01% | 9.21% |
| Term Length | 36 Mo. | 36 Mo. |
| Processing Fee | $75.00 | $75.00 |
| DMV Lien Transfer Fee | $15.00 | $15.00 |
| Monthly Payment Amount | $269.00 | $250.00 |
*Our repayment schedules don't have prepayment penalties or hidden fees.
Disclosure: Not very application is approved. Approval depends on certain underwriting criteria as well as the borrower's ability to repay. There can be additional loan restrictions.
How Fast Is Auto Title Loan Refinancing?
Refinancing your current pink slip debt can be as fast as 1 to 2 business days, but it would depend on how fast you can get the requirements to the lender. These may include the following:
The mileage on the vehicle
Proof of your ability to repay your loan
The lender's other required documents
Turn in these documents quickly and you can easily get the money and refinance your existing loan or get a new title loan in California.
Additional Reasons for Refinancing Your Car Title Loan
Here are some other reasons why you might consider refinancing your car title loan with another company:
A. Bad Customer Service
If the lender you've been working with up to this point is under different management or ownership, many things are likely to change, including customer service.
Regardless of ownership status, if you've noticed a serious downgrade in customer service as of late, it may be time to take your business elsewhere.
B. Your Old Lender No Longer Seems Reputable
If you're looking to refinance title loans, it's important to pay attention to the dealings and goings-on of your current lender. If they've accumulated several negative Google reviews over the past few months or appear shady in any way, you should take your business somewhere with a better reputation.
5 Star Car Title Loans Google Reviews:
I was so out of money that I couldn't even by milk for the morning cereal. I knew that my government check would be coming in the next week sometime, but I couldn't wait that long. I needed the money quickly. I sent an application into 5 Star Car Title Loans and do you know what! They contacted me

immediately and helped me through each step until I got the money. I thought I would have to wait a day or two, but I got it the same day!

read more
Stephanie McKnight
09:47 19 Aug 19
I had never applied for a title loan before, but when I filled out a request I was pleasantly surprised at how smoothly the whole process went. From my first phone call to picking up my check they were as helpful as could be! And I was so happy that I was able to keep my car! Highly recommended.
Joyce Fuller
08:06 24 Jul 19
I was extremely happy to do business with 5 Star Car Title Loans. They were able to help me when other major companies did not want to help me. I would be very happy to recommend them to any of my friends or family.
Laura Jenkins
08:43 15 Feb 19
Was looking for a car title loan and found out about 5 star. Called and was very pleased with their customer service and answers they gave me. I definitely recommend them!
Devon Dansky
06:19 28 Jan 18
Refinancing Your Car Title Loan May Be the Answer
If your current lender is reasonable and you've shown "good faith" in the past, you may be able to work things out so that you have lesser interest rates. In cases like these, refinancing your car title loan may be your best bet.
You may also be able to change your terms and conditions so that you have more time to pay your loan. In this case, working things out with your current lender may prove useful in that it's already familiar with your case. It's dictating your current loan terms and should be able to work things out in a way that's beneficial for both of you.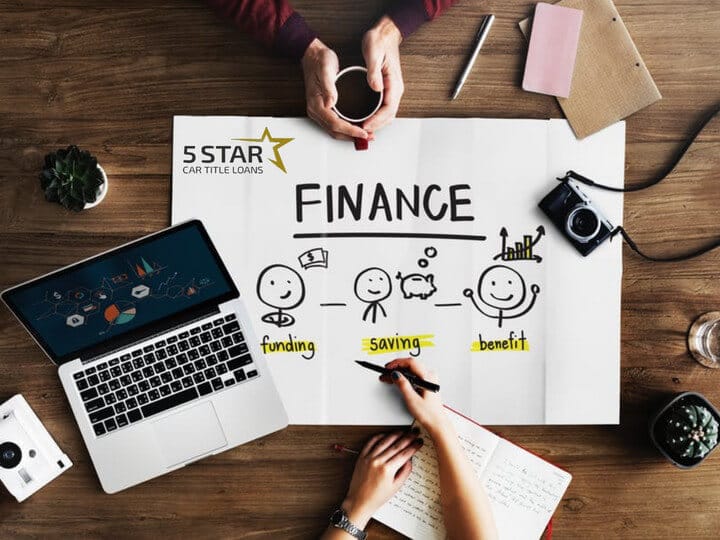 When the Original Company Cannot Be Bargained With
However, if the lender is being stubborn or obstinate in some way, you may want to take your loan to another company that will be more reasonable. Whatever company you choose will have the option of taking over your present loan and changing the terms and conditions so that they are more appropriate to your financial situation.
Extend Your Loan Time and Lower Your Interest Rates
They'll work with you to extend your loan time or lower your interest rates or monthly payments. On top of that, they will work to simplify your current loan terms so that you have an easier time repaying the money.
Call us now and check how much money you can save on your monthly payment with 5 Star Car Title Loans refinancing
Refinancing with 5 Star Car Title Loans?
Opting for a refinance is easy if you already have your car title loan. When you apply to refinance your title loan with 5 Star Car Title Loans, send you a quote on how much money you can save on your monthly payment for the title loan refinance.
Once you submit all the requirements and sign the contract, then we'll start the process to refinance your car title loan. We'll contact the company where you've obtained the title loan and we'll pay your debt. It's that easy!
Contact us soon to get a free estimate for refinancing your car title loan in California.