A title pawn uses the title to your vehicle as collateral to qualify for a cash loan. The car stays in your possession and you can still drive it.
You are essentially borrowing against the equity of your vehicle and paying monthly interest on it.
Car pawn loans are a great alternative to payday loans as they have a lower interest rate since you're using collateral.
Our loans depend on many factors including:
# The car's equity
# Your credit profiles
# Your ability to repay the loan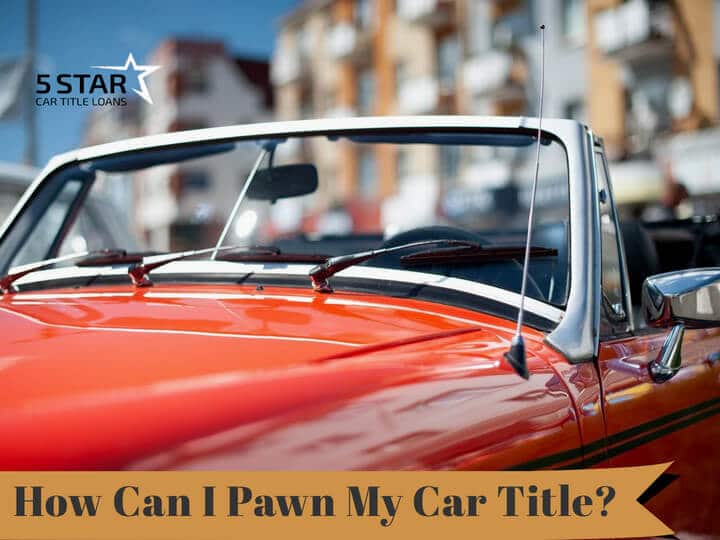 Is low credit stopping you from qualifying for another loan? If you're 100% sure you can pay your debt on time, a title pawn can get you the fast cash you need!

How Can I Pawn My Car Title?
If you're in desperate need of cash, pawning car title is a great way to get it. Learn more about how to pawn your car title:
You must own your vehicle and have the title in hand. There cannot be any other loans or liens on the title to secure the collateral.
Have basic information about your vehicle ready, like the year, make, model, and current mileage.
The approval process is quick and easy if you have all of your documents filled out correctly. All loan applications are subject to meeting our credit criteria, which includes applicant's ability to repay the loan.
At 5 Star Car Title Loans, you can get cash quickly. Our minimum loan amount is $2600.
If you're able to pay us back early, no problem! There are no fees or penalties.
Should You Pawn Your Car?
If you are not committed to selling your car, a title pawn could be the answer.
If you need cash now, you can pawn your car title without losing your car. It's a great way to get some cash in your pocket and still drive your car.
Pawning your car's title can be risky, but if you really need the cash then it's an option!

This is typically a short-term solution for those who need money now but won't have access to a bigger payout for at least 30 days.
Pawning your car title can be the answer to your immediate cash flow concerns.
Instead of taking your treasures like family heirlooms down to a pawn shop, you can get a title pawn instead. Pawn your car title for cash and you can get a great deal when you work with the right company
Online Title Pawn
If you're looking to pawn your car title online, you can apply completely online with our convenient title pawn form.
Title Pawn Benefits
Keep your car
Keep driving your car: Once you're approved, you'll get the cash you need. Plus, you don't have to give up your car, you get to keep driving.
Flexible credit requirements
Flexible with credit requirements: Conventional loans typically require certain credit scores. With a title loan, the credit requirements are flexible. Bad credit or no credit at all are welcome to apply. Your income and ability to pay are taken into consideration as well.
Use your funds
Use the funds any way you like: Unlike other types of loans, there are no restrictions on how you use the funds. Once you get the cash, it's yours to spend as you please.
Car's full value out of a title loan
Get a loan for the total value of your car: With other types of equity loans, you aren't able to take one-hundred percent of the value. With title loans, you may get more than that.
Installments payments
Pay back in monthly installments: You make payments in monthly installments, similar to a conventional car loan. Once you pay off the loan, the title is yours again.
Apply online
Apply online and get approved faster: Apply to pawn the car title online in two easy steps. You'll know how much you can get and can then complete the transaction at one of our convenient locations.
No bank account is needed
You don't need a bank account: In order to apply, all you need is a valid government ID, proof of income, address, and a clear title to an automobile. If approved, you get to walk out cash-in-hand.
At 5 Star Car Title Loans, we know life can throw some pretty mean curve balls that can get you off track. Unlike banks and credit unions, who expect nearly perfect credit before lending, 5 Star Loans can get you the cash you need when you need it the most

Title Pawn Near Me, Where Can I Pawn My Car Title?
If you find yourself searching for "pawn car title near me" online, check out 5 Star Car Title Loans. With convenient locations in the following areas, 5 Star Car Title Loans is easy to get to and even easier to work with.
Pasadena on E Colorado Blvd.
Los Angeles – on Hollywood Blvd.
Northridge – on Reseda Blvd.
For those of you in need of quick access to cash in the US, come down to 5 Star Car Title Loans and walk
out with a fist full of cold hard cash.
If you are in need of emergency cash, a car pawn loan can help. And we want to make it easy. That's why we make sure to have locations for car title loans near you!
You can then choose to read about each location and its services, so you know exactly what to expect.
We believe in making things easy for customers who are going through tough times. We invite you to search "pawn a car title near me" and visit a location near you or give us a call and find your nearest title loans location.
This is typically a short-term solution for those who need money now but won't have access to a bigger payout for at least 30 days.
Pawning your car title can be the answer to your immediate cash flow concerns.
Ask About the Advantages of a Title Pawn
At 5 Star Car Title Loans, you can pawn a car for cash. We'll take care of you and do everything you can to help you pawn your car for cash and get you back on your feet when you pawn your car with us.
We offer:
Range of average rate: 60% – 175% Annual Percentage Rates (APR)
Loan amounts between 25% and 120% of the value of your car
Single monthly payments
No fees or penalties for paying off the loan early
All pursuing to CA Financing Law License No. 603F508
Title pawns can help you get out of a rough patch and back on track.
Call 5 Star Car Title Loans or stop by and speak with one of our car experts on how pawn car title loans can improve your circumstances.