How to Get a Title Loan Without Title in Hand
Obtaining a title loan without a title in hand is easier than you may think. We've created a streamlined process that allows customers to get the money they need as quickly as if they did have a title in hand.
Follow the simple steps below to get started on your loan even without your title!
Complete Title Loan Inquiry
This step allows us to see if you are prequalified for the loan, regardless of your title status. It only takes a few minutes to complete and can be done online or by phone with one of our agents. Once we know you are prequalified we can move on to the next step.
We want to verify that the vehicle you are using for the loan is in fact yours and has no remaining debt. We will use our DMV system to check that the title has no liens and everything is up to date. If all is good, we can move on to the next step.
In order to get a loan without a title, the DMV requests that you complete a form that states your title is missing and you are applying for a new one. The filing of this form usually accrues a small fee which will be added on top of your loan.
Continue with Loan Process
Continue with the rest of your loan as usual! We try to make this process hassle free and simple, even if you are missing your title. The remaining process will include final approval, signing your contract, and of course getting your money!!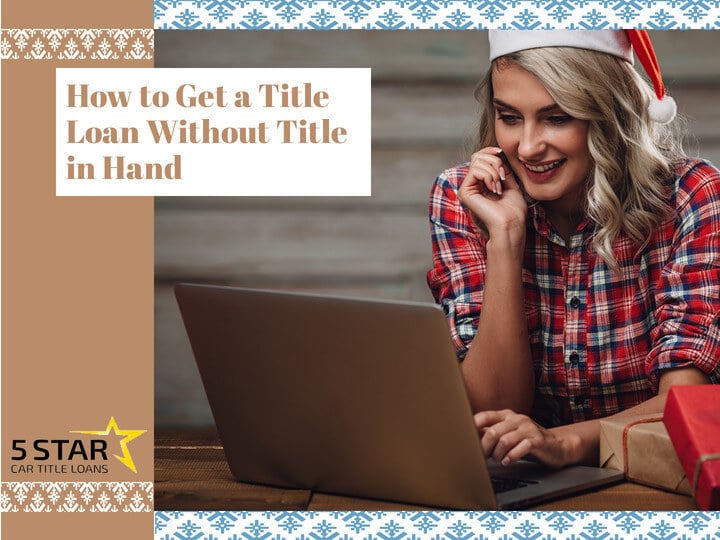 As you can see, the process of getting a title loan with no title is still easy and quick, allowing you to get the cash you need without a lot of fuss. Our loan agents will walk you through each step and have all the necessary DMV forms at hand so there is no need to go to a DMV office to get those.
Can You Get A Title Loan Without A Title?
Getting a title loan without title in hand is not as big of a deal as you might think. Car titles are documents that people often misplace or forget where they put in the first place so it is pretty common for customers to need a title loan without a title.
We work as hard as we can when it comes to helping customers get the money they need so naturally we were determined to help customers find a solution for the scenario where they need to get a title loan without their title in hand.
Your Title is Clear and Free of Liens?
The most important thing to check when one wants a title loan with no title is that the title is clear and free of liens meaning that its owner is the person borrowing the loan and that there is no debt on the vehicle.
As long as we can assure that the vehicle belongs to the customer borrowing the loan and that there are no debts remaining, a loan can usually be provided. 5 Star Car Title Loans, as well as other lenders, use top-rated programs that utilize the local DMV database to verify the title status.
In this day and age, plenty of lenders offer the option to start your loan application online or by phone. This is very convenient and efficient since you can know pretty quickly if you are prequalified for the loan. In other words, you don't need to waste your time going through paperworks of application just to find out you are not approved.
How to Get a Title Loan Without a Clear Title
In some cases, you may not have your title in hand but it is not clear and has a lien on it. This could be because you still haven't finished paying off your car from when you purchased it or because you took a loan with another lender. Even if this is the case, you might still want to get a title loan in order to borrow some extra cash or improve your loan terms.
Get a Title Loan Without a Clear Title
Luckily, we can help even in cases where customers are looking to get a title loan without a clear title. This process is called a "third party payoff" and is done by paying off your remaining debt to the company that is on the title and then transferring the lien to our company. In lots of cases, customers can even get some extra money.
A simple example that showcases this scenario is that you have $1,000 remaining to pay the company that financed your vehicle and your title is with them. 5 Star Car Title Loans can pay off this amount and, assuming you qualify, even give you an extra $2,000. So your total loan amount is now $3,000 and the title will be moved automatically from your previous company to your new lender.
Still Looking to Get Some Extra Money?
This process is also relatively simple and doesn't require lots of paperwork or hassles. For the most part, we work with the 3rd party company so you don't have to deal with them. This is a great solution for those who have a lien but are looking to get some more money or improve their loan terms!
Apply with 5 Star Car Title Loans
We hope you found the above information useful in your decision process about getting a title loan. At 5 Star Car Title Loans, our customers are our top priority so we work hard to make sure we can help each and every person that is interested in getting a title loan.
We've created streamlined processes even for cases which are not ordinary such as people who don't have a title or have a remaining lien on their title. Our agents are knowledgeable and professional in getting you the money you are looking for quickly and efficiently. Call us today or fill out our online inquiry to get started on your title loan application!