Online Title Loans with No Store Visit
These days, the internet is a platform where almost everything can be searched or done and title loans are no exception. With 5 Star Car Title Loans you can apply online for a loan and save yourself a visit to the store.
Title Loans Completely Online with No Store Visit
We know that getting to the store may not always be ideal, so we created an application and loan process that can be completed online or via a mobile phone. There is no need to visit any branch, saving you valuable time and money.
You can receive your money from the comfort of your home- either through a direct deposit or MoneyGram. MoneyGram is a safe and quick option that allows you to get cash in many locations, including your local WalMart.
So how do we make our online title loans with no store visit work? Continue reading to get all the information.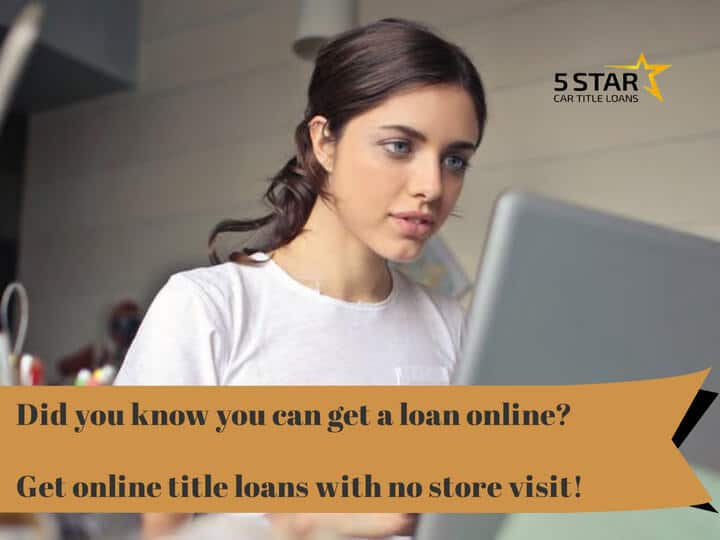 We've created an efficient process that allows you to be approved quickly with a fast application process and money in your hands shortly after that
We Have 2 Ways to Apply Online:
Option 1 - Instant Quote
Simply fill out our online application and receive an instant call from one of our representatives who will explain your loan options.
Option 2 - 100% Online
Complete the entire loan process online: fill out the application, get approved, electronically sign your loan documents and finally receive your funds with our leading online title loan platform.
Apply online in 4 Easy Steps:
Enter Your Car's Details: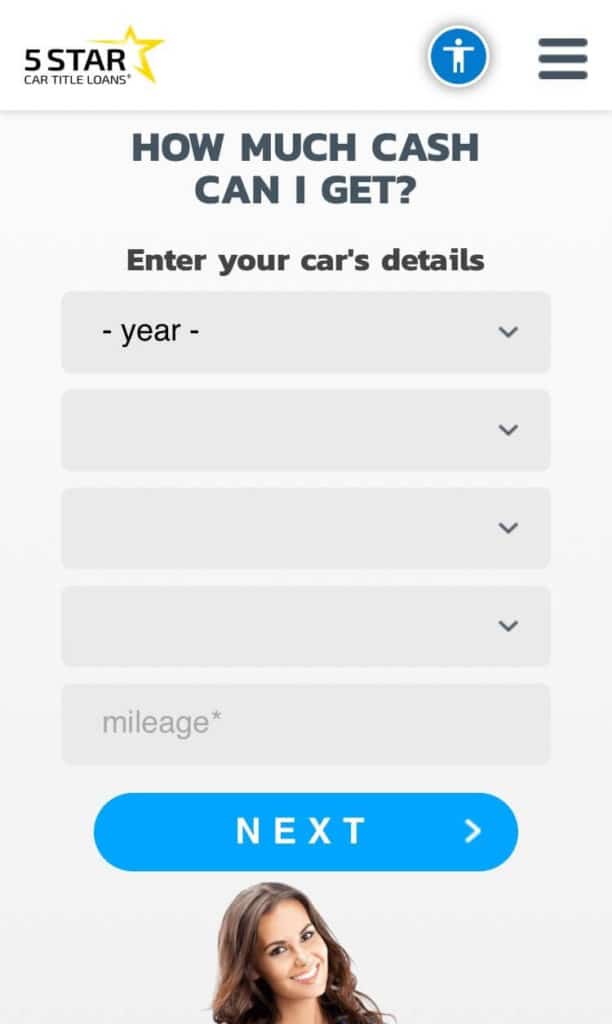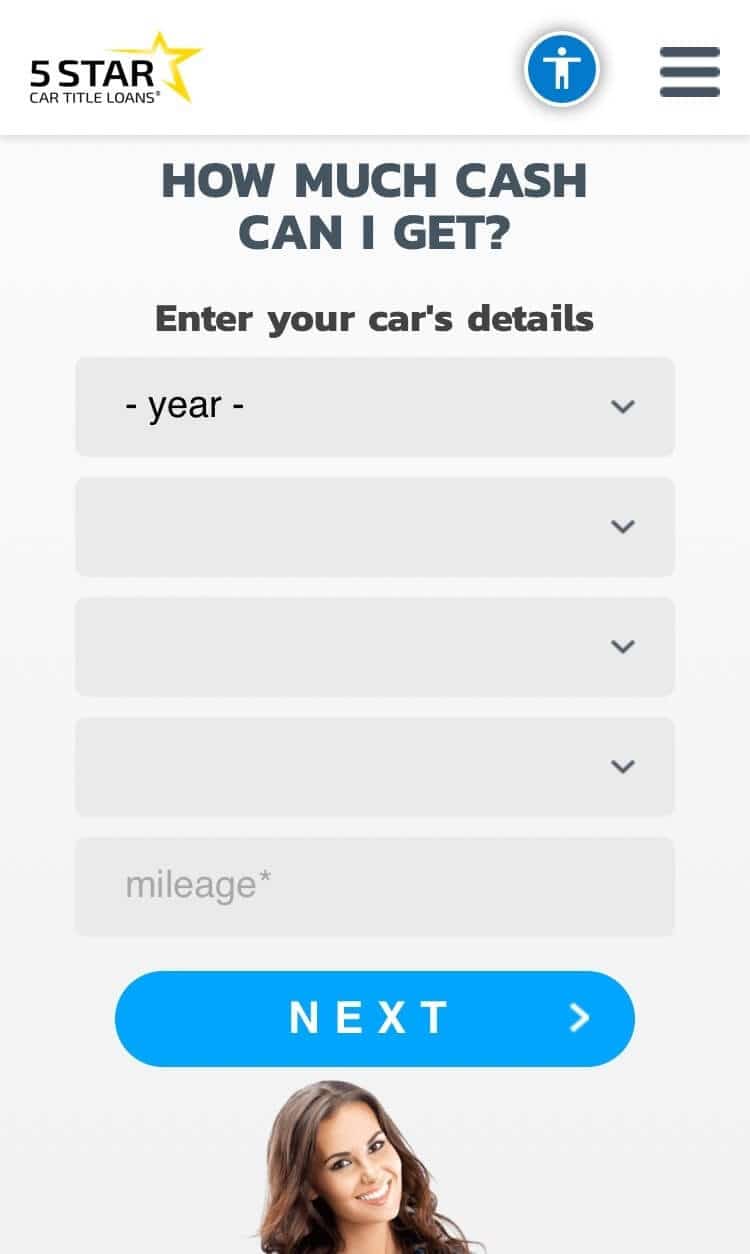 Your Personal Information: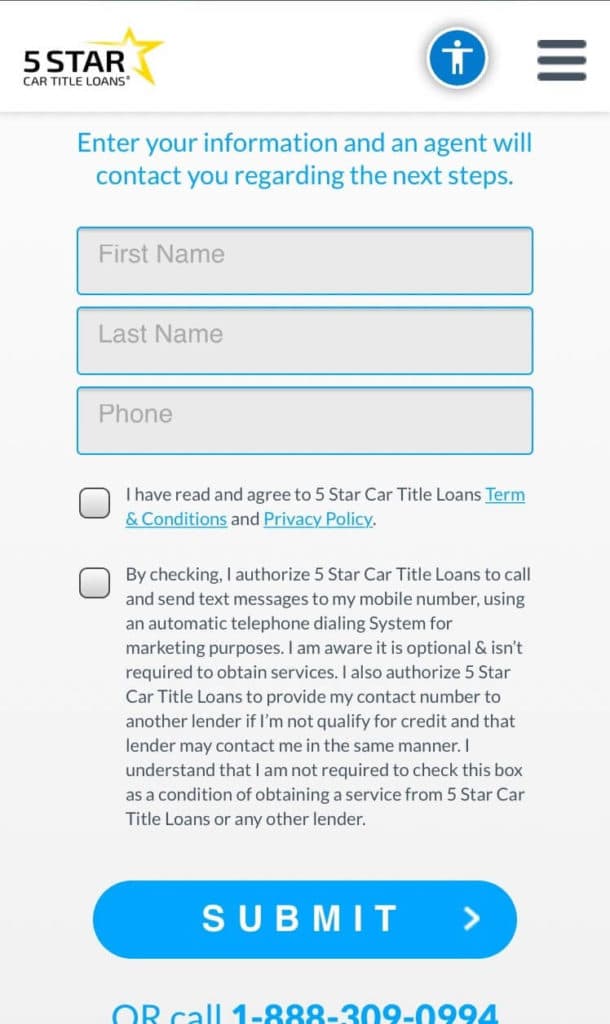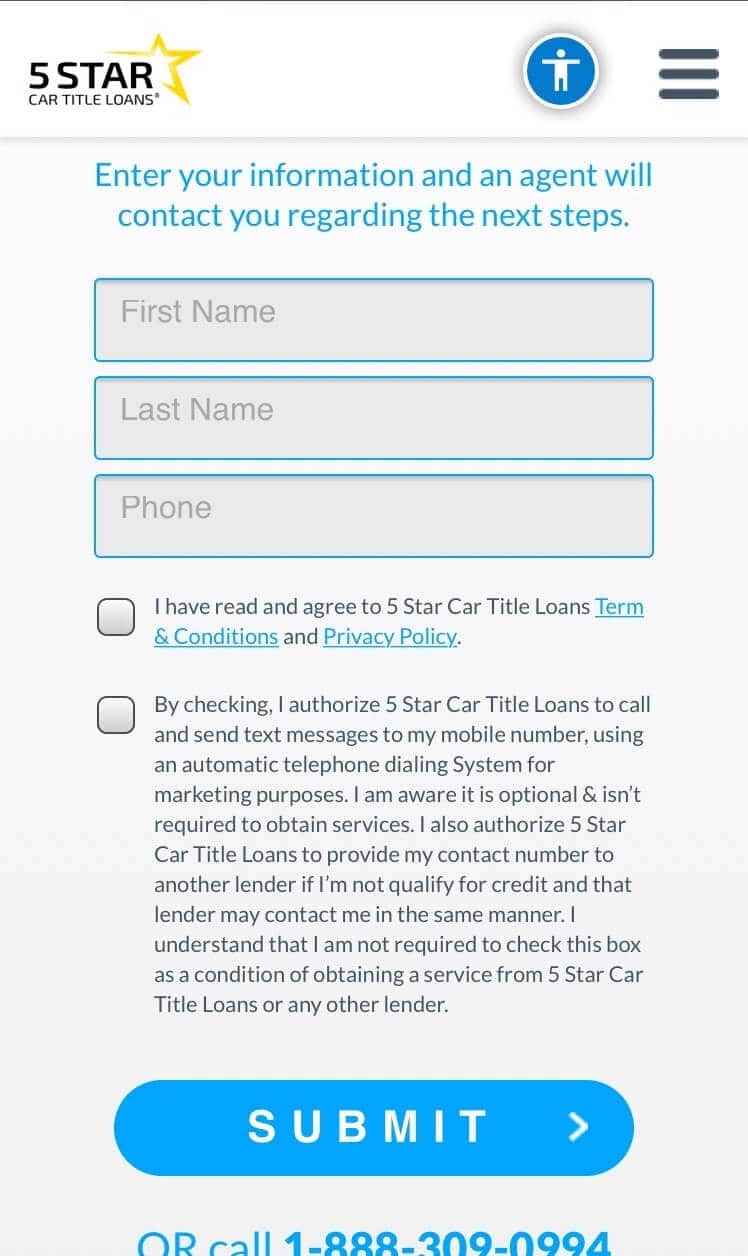 Address, Date of Birth and SSN: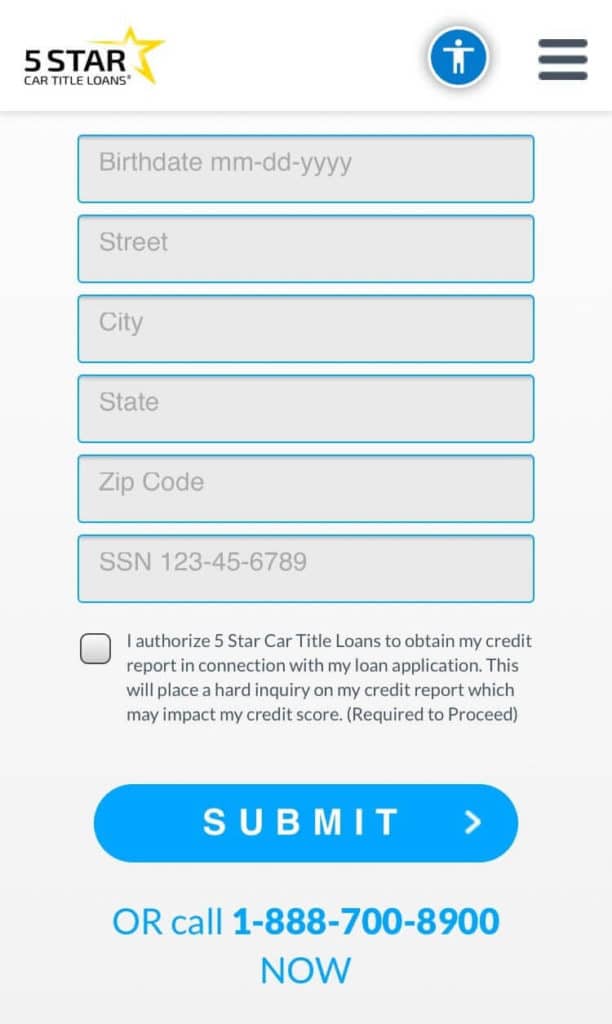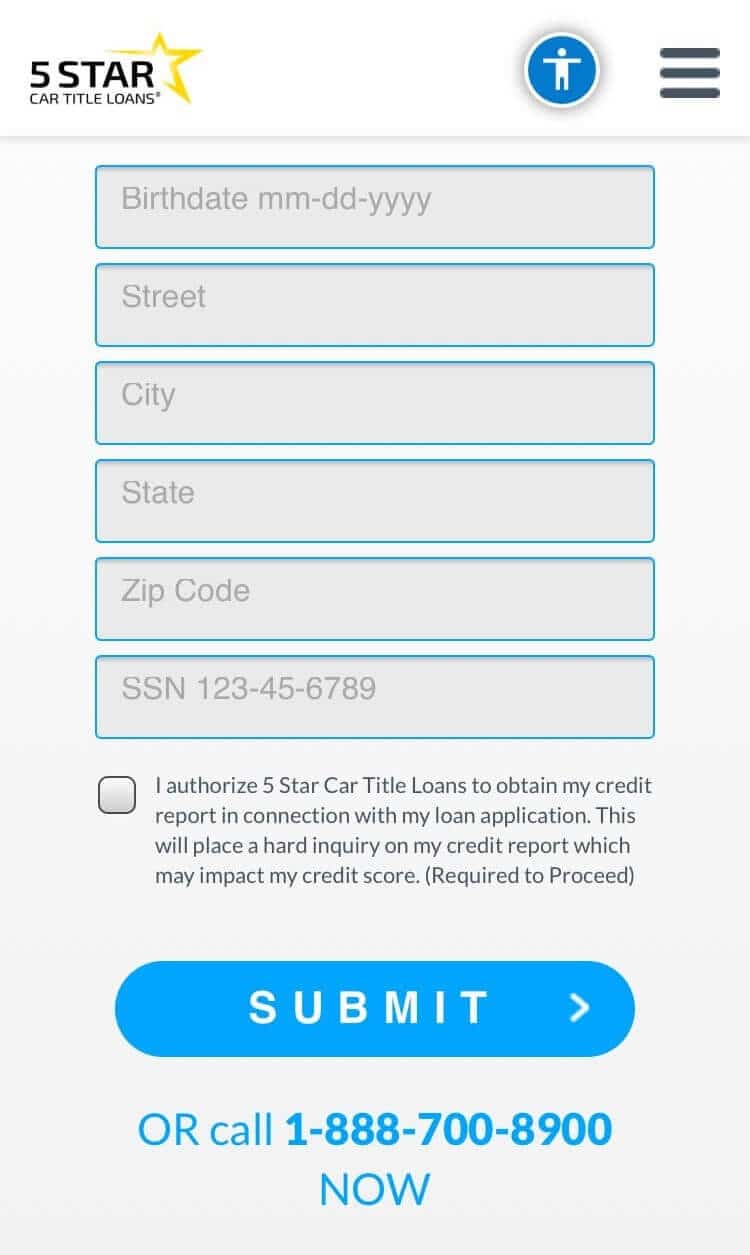 Upload Photos of Your Vehicle: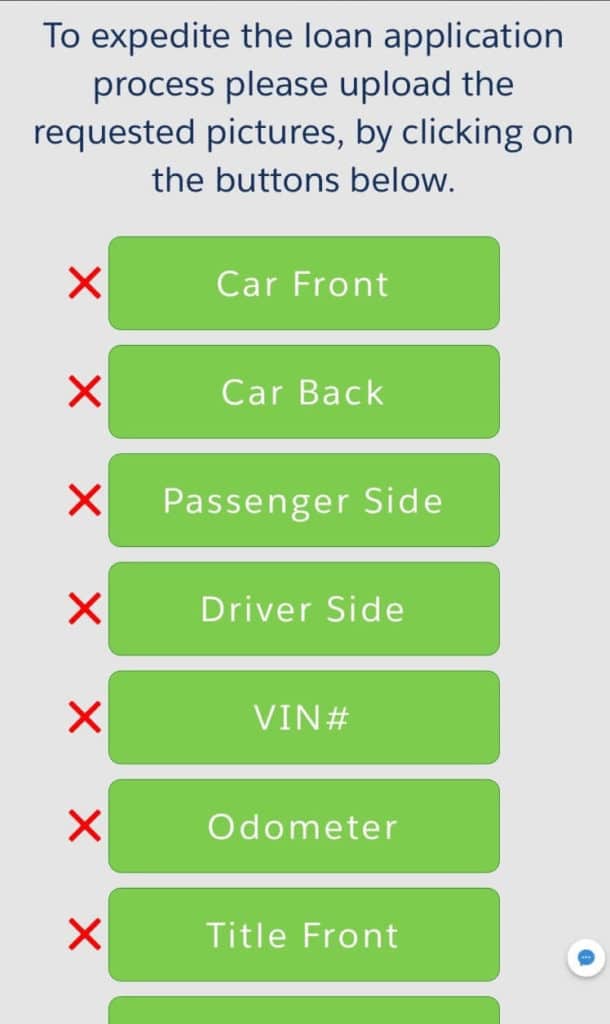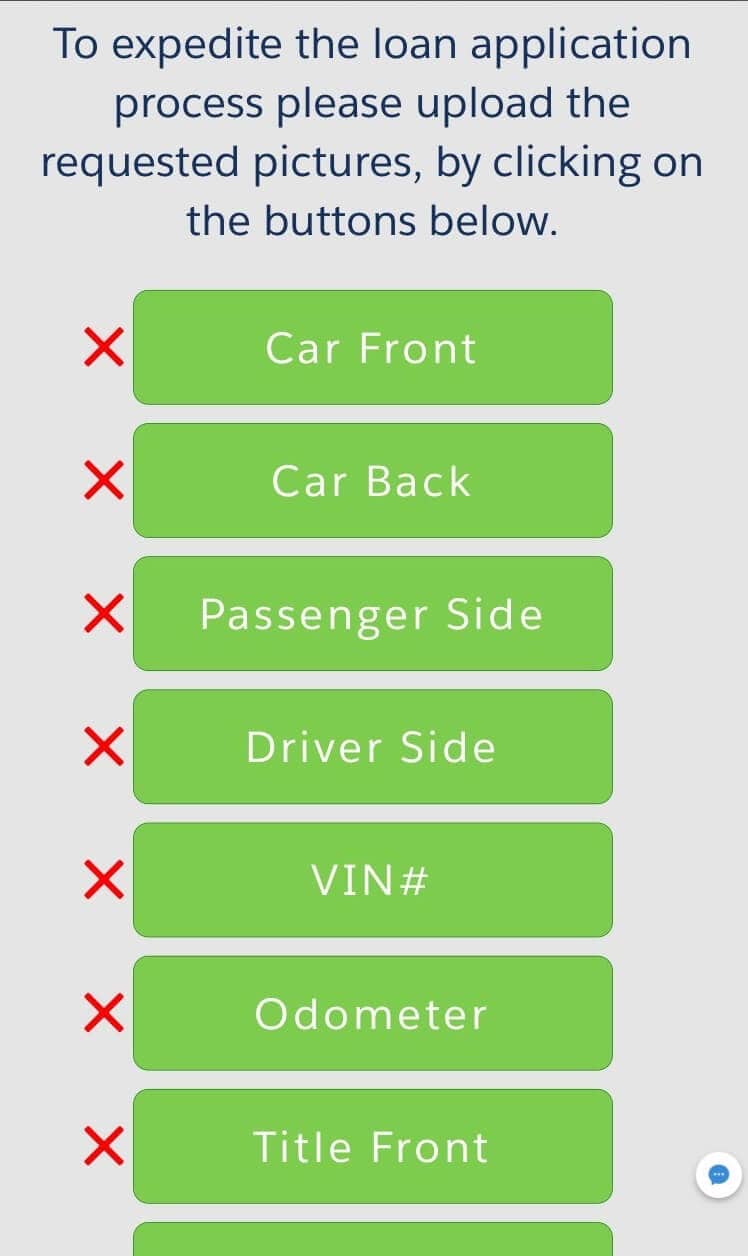 The first step is to submit your basic details which will help us verify your loan eligibility:
Step 1: Submit basic details
Step 2: Complete your application
Once we confirm you are pre-approved for a loan, you will be asked to complete your application by submitting a few final documents.
Upload:
A copy of your Driver license
Step 3: Loan offer
Receive your loan offer:
Once we have your completed application with all of the information mentioned above, one of our loan experts will contact you to provide you with a loan offer and explain the terms you qualify for.
Our loan representatives can answer any question and explain any detail you may wonder about.
Step 4: Get the money!
The final step is to get your money!
Finally*, we will provide you with a shipping label, free of charge, so you can send your car title to us. You will be asked to drop off your car title at any FedEx location and once we confirm the title was sent, the funds will be transferred to you.
*There are certain cases in which the borrower will be asked to visit one of our GPS Centers for an installation of a tracking device onto the vehicle, completely free of charge.
People choose online title loans because they are simple and quick! It only takes a few minutes to fill out the application, after which you get approved and submit all necessary documents to start your loan process and get your funds
What Do I Need To Apply?
Ready to get your loan started without visiting any store?
The following is a list of items you will need to provide in order to get your application started:
Access to Vehicle for Photos
How Do You Get a Car Inspected If You Don't Visit a Title Loan Store?
We don't require that you bring in your car, simply send us some photos so we can see it is in good condition!
When you apply for a loan with 5 Star Car Title Loans, you will be asked to send us several photos of your car. We require several photos of the vehicle exterior, interior, VIN, and odometer. You can simply take these photos with your mobile device and upload them to our title loan app or text them to us.
We use these photos to confirm the details in the documentation provided, determine the value of the vehicle, and qualify you for the auto title loan. Instead of a vehicle inspection which can be both costly and time-consuming, simply snap a few photos and let us do the rest!
There are no obligations in applying for a title loan and checking if you qualify! All you need to do is complete the online form on our website and one of our loan experts will be in contact with you shortly after!
The Advantages of an Online Car Title Loan
No need to drive to a title loan store
When you choose to apply online with 5 Star Car Title Loans, you are taking a big step toward getting the title loan you need without any hassles. You avoid the need to drive to the loan store and finish the entire process from the comfort of your home on your own schedule.
Online title loans allow you to get the money you need in an extremely efficient process. Assuming there are no special issues, you can access cash within hours of being approved!
Many people think that they will need to surrender their car to the title loan lender for the duration of the loan. Fortunately, this is not true! You get to continue driving your vehicle while repaying back the loan.
Great alternative to other loans
When compared with payday loans for example, car title loans often offer better interest rates and terms. Because your vehicle is used as collateral for the loan, it allows the lender to charge lower rates and get you a better loan!
Convenient repayment plans
At 5 Star Car Title Loans, we don't charge early prepayment penalties. This allows you to pay off your loan earlier than the loan's maturity date, saving you money and helping you get back on your feet financially.
Suitable loans for customers with bad credit
We don't turn away customers based solely on their credit scores or history. We look at numerous factors, such as your ability to repay and your vehicle's value, to determine your loan qualification. This enables those with bad credit to apply and get the cash they need.
No Store Visits Needed Here!
The top reason to choose online title loans is the fact that you save time and money by completing everything from the comfort of your home. You don't need to drive to a loan office and wait while your loan is processed. With us there is no need to take time off work or waste any precious moment with your family in order to apply for funds!
Getting started is simple. Fill out the required information in our online application and sit back while we process all the details. This is a quick process so be ready for a phone call from one of our representatives!
If you're not sure whether you qualify for a car title loan, give us a call. Our specialists are waiting by to help each and every customer with their own unique situation. We will walk you through every step so you can rest assured you're in good hands
Get A Free Online Title Loan Quote
Want to know how much money you qualify for? That's the easiest part! Simply complete the from on our website and one of our representatives will be in touch with you after reviewing your application. Once approved, they will explain the rest of the process and how you can get the funds you need.
While talking to our loan specialists, we recommend asking any question and raising every concern. Each specialist will be able to help you understand your loan terms and what you are agreeing to. Taking on a loan is an important decision and we emphasize the importance of checking all options and understanding all details. Our specialists are gladly waiting by to discuss the loan process with you!
No need to go outside for a title loan! Get an instant online title loan with no store visit! Give us a call and get the cash you need FAST!