When seeking out a title loan, one of the single most important things to look for is reviews on the lending companies. Not all title loan companies will give you the best deal, in fact, some of them will give you terrible ones, so it pays to do your homework on this.
Here's what to look for in a title loan company and why reviews are so important when shopping for a title loan.
5 Star Car Title Loans Reviews
5 Star Car Title Loans is among the top title loan lenders in US with high and consistent reviews. These reviews are no accident, as the company has built the trust of customers by forging strong relationships over the years and giving folks a fair deal.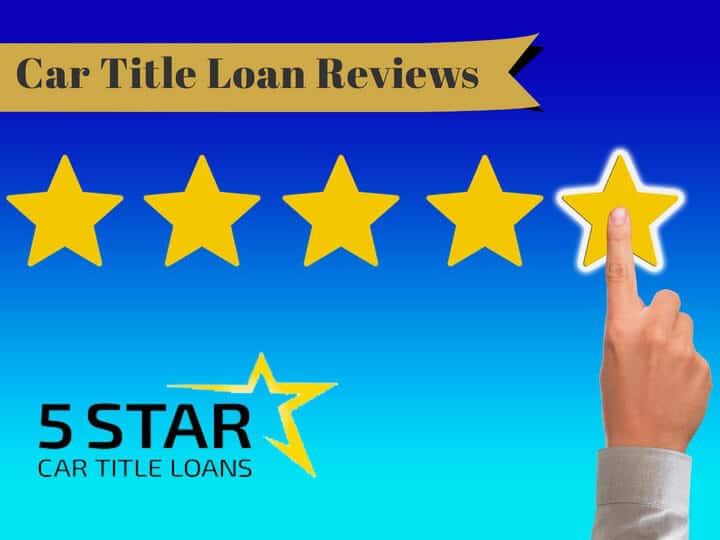 Looking for a car title loan? Compare auto title lenders reviews side-by-side to get the best (and safest) deal you can!
5 Star Loans Google Reviews
My friends and I agree that 5 Star Car Title Loans is the best loan provider in California.
Donald W.
05:58 20 Jul 21
The process is very simple and the turnaround time is fast. If you need a loan this is a great option. I hope to pay mine off within a couple of months and avoid the high interest! Thanks a lot for helping me 5Star!
Mylie Taniyah
12:22 27 Jun 21
They have an extraordinary client support rep who assisted me with getting instant loan. Continuously suggested this organization.
Vicky Mitchell
21:08 28 May 21
I had the money in my hands in no time thanks to 5Star Car Title Loans. They are great to work with, very professional bunch of people.
Robert Alber
11:41 03 Mar 21
They are easily in the top 5 car title loan companies I have worked with. They know how to make things simple and fast for you. No headaches involved. Thank you 5 star, Awesome all the way through!
Julian Freitag
11:39 09 Feb 21
I must say the experience was much better than I expected. Everything is straightforward and they work hard for their customers. Amazing service!!
Zina Leonia
01:37 21 Jan 21
They are very thorough here in how they explain every detail of the loan process and what you should expect. It really helps put you at ease and gave me lots of confidence that this is a company I can trust for title loans in Fresno. Will be back for sure!
Jimmie Neal
08:28 25 Dec 20
I really recommens this place for car title loans. They are nice and the process is fast and simple.
Victoria Huxley
07:31 12 Dec 20
If you're looking for a place that's easy to work with go with 5 star loans and their online loans in Fresno. I highly recommend them the loan process is very easy.
Aleida Galloway
13:11 25 Nov 20
The staff was super helpful. They helped me quickly and went out of their way to meet my needs and get me a loan in spite of my low credit score. Wonderful place to do business with!
Alvera Mcwilliams
05:04 17 Oct 20
5 Star loans are always helpful and friendly. I have never had a bad experience and they always go the extra mile to help. Thank you 5 star car title loans!!
Phillip Keeler
06:30 16 Sep 20
I just wanted to say thank you for your prompt and efficient service. It is greatly appreciated. Not only I got my loan approved, but the process was even stress-free. Thumbs up!
Asher Mendoza
12:58 25 Aug 20
Called 5 Star Car Title Loans on Saturday right before they were about to close. They couldn't get me the money that day but the lady who I spoke to started my application so by Monday I had the cash in my hands! They truly care about their customers
Yvonne Mathis
08:43 22 Aug 20
You know when I first decided to apply for car title loans online, I thought I'd be glued to the computer all day answering questions or filling out forms. That was not the case at all! An online loan is nothing like a conventional loan. It was so much quicker and I got the money fast without waiting.
Carmen Bristow
13:38 23 Mar 20
I wasn't sure I'd be able to get a personal loan since I don't have a bank account. I closed that years ago. But I didn't have any trouble getting a no bank account loan. I used my car's value for that.
Carolyn Swartz
08:13 22 Feb 20
I'm so happy that I got money in the same day I applied for it! I couldn't hold out very long unless I got some extra money, but that's what a vehicle title loan did for me.
Ruben Yang
12:55 17 Feb 20
Loans you can get quickly are not so easy to find. At 5 Star Car Title Loans, you can get the money within 24 hours.
Stephen Jefferson
05:49 09 Jan 20
I wasn't sure I'd be able to get a personal loan since I don't have a bank account. I closed that years ago. But I didn't have any trouble getting a no bank account loan. I used my car's value for that.
Joanne Wilson
10:51 12 Dec 19
With my bad credit history, a no credit loan was the only way to go. I'm happy with the service.
Debra Adler
17:03 23 Nov 19
They are a awesome company to work with fast easy and very understanding. Kiara is great! She was on top of the process and walked us right through it.
Heidi Pacheco
21:08 03 Aug 19
I've never been through the process before but the service was excellent it took a very short. Of time to give them the information that was needed to find out if you qualify and after that it may have taken an hour the experience was actually worth it and I hope you take a chance to experience it too
Patricia Agurs
21:58 10 May 19
Bryan was professional and upfront with me and made this process a lot less stressful than I imagined. He responded quickly and even added some humor. He a keeper!
Wendy Brown
00:13 08 May 19
Jonathan was a great help ! They closed at 630 but they were able to wait for me and get me my money today ! Quick , nice , and very comforting. I recommend for anyone needing extra money
Chris Cruz
02:40 23 Apr 19
Had a great experience,. Worked with Jonathon and everything went quick and smooth
linda Escobedo
01:45 16 Apr 19
catherine almazan
23:55 20 Mar 19
I was help .by Jonathan an he was the best person I was help by and thank you for everything
Elidio Aviles
21:07 15 Mar 19
Great service! Very professional and courteous!
5 Star Car Title Loans works with you. Miguel was really helpful. He worked with me and explained what is going to happen in certain situations. Miguel was awesome to work with and very helpful.
Al & Terry
19:06 24 Aug 18
Why Are Car Title Loan Reviews Important?
In order to find the best deal on car title loans, you'll need to look for the best title loan reviews. Car title loan reviews are important because they represent a customer's experience, and will give you the honest, whether good or bad, details.
Customers who were given a bad deal with sky-high payments that they couldn't afford will make it known by leaving title loan reviews. These title loan reviews matter in that they offer a glimpse at what it would be like to work with a title loan company as a customer.
If history repeats itself, so do bad title loans. It's especially true when you don't take the time to read car title loan reviews.
Remember, you are offering the title to your vehicle to companies in a highly unregulated corner of the finance industry. The more unscrupulous of these companies could very well set up a loan designed to start off at a comfortable pace and then quickly overwhelm you with high payments.
Auto Title Loan Reviews – the Opinion That Really Matters
Auto title loan reviews matter because they come straight from the customer, as stated before. These opinions are not formed with any bias or incentive – it's what the consumer truly thinks about the company.
If you only go off of the commercials and ads of the company in question, you are more than likely only seeing them from one side. They are, of course, more likely to be biased about their own services and products.
When it comes down to it, the best form of advertisement is positive auto title loan reviews left by satisfied customers. Clients who leave positive feedback have had good experiences, and those can be yours too when you do business with the same company.
How to Find the Best Car Title Loans Near You
Auto title loan reviews let you see what the lender got right and what they got wrong. Finding the sweet spot between the two on reviews of local lenders is key to choosing the best title loan company near you.
Check out local reviews online for the best car title loans near you, and see what options come up. You may be surprised at the feedback you read.
Things to Look After When Reading Car Title Loan Reviews
Things to look for in title loan reviews consist of positive experiences and mentions of low or flexible payments. Also, look for reviews that describe how comfortable or uncomfortable it was to work with different title loan companies. All of this information helps paint a picture and narrow down the best choice.
Be prepared to find some real horror stories when reading care title loan reviews. It is the title loan companies with bad reviews that give the industry a bad name. By signing contracts for a title loan, these companies can take your car, so do be careful.
Examples of Good Car Title Loan Reviews
For examples of good car title loan reviews, check out the reviews on companies like 5 Star Car Title Loans. Reviews like those are hard to find because the title loan industry is so rife with predatory lending practices.
Finding a solid trustworthy lender with integrity like 5 Star Car Title Loans is like finding a needle in a haystack. 5 Star Car Title Loans offer some of the best car title loans in US.
Get the cash you need from a company you can trust, have a chat with 5 Star Car Title Loans today!