An auto equity loan is similar to a title loan, in that you can get cash in exchange for the equity of your car as collateral and you get to keep driving your car.
Find out what makes these loans so convenient and why you should apply for one when in need of extra dough.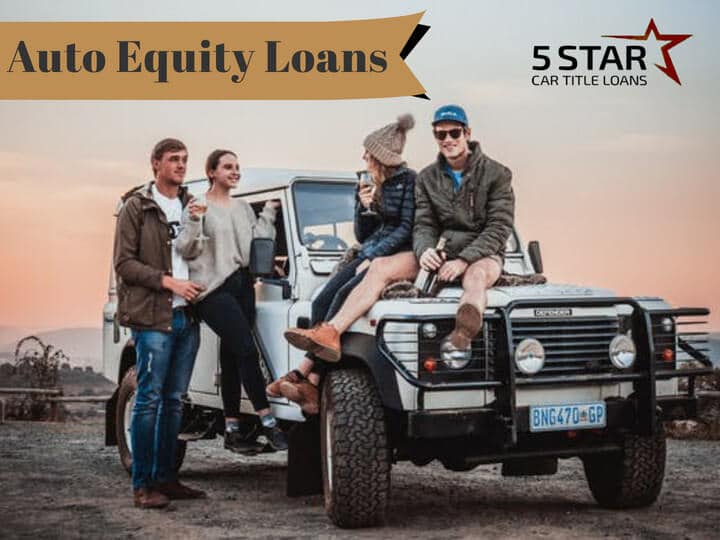 Auto equity loans let you borrow against the value of your car. Just like with any secured loan, you do risk losing the collateral and your credit may take a hit if you don't make payments on time
What Are Auto Equity Loans?
A car equity loan is quite similar to a home equity loan. The similarity is that you are using the equity in your assets, in this case, your car, to secure financing. These loans are perfect for those whose bad credit would easily disqualify them from banks loans.
While you might look like an unacceptable risk to a bank or credit union, as long as you can show the ability to repay the loan and the value of your car exceeds what you owe on it, title loan companies are able to work with you.
Unlike conventional loans where the money is handled and transferred directly by the bank, you can get your hands on the cash you need and the freedom to do anything you want with it.
How Do Auto Equity Loans Work?
Auto equity loans are based on the value of your car and your ability to repay your loan. When approved, you can keep driving your car while paying off the loan. These loans are perfect for situations when you need access to cash quickly and without any fuss.
The title loan company will evaluate your eligibility for a car equity loan by calculating the difference between how much you currently owe on your auto loan and the value of the vehicle along with your ability to repay your loan.
In this example, if you still owe $2,000 on your auto loan, for a car worth $8,000, you may be pre-qualified for a title loan in the amount of around $6,000
Vehicle Equity Loan Requirements
For the most part, the process is fairly simple. With a few basic documents, we can probably get the application started right away.
In order to apply you'll need:
Something to show the ability to repay (through a credit check)

A vehicle of sufficient value as the minimum loan amount is $2.600
Benefits of Auto Equity Loans
When you need cash to get you through a difficult time in your life, pay off a looming debt, or get yourself ahead, an auto equity loan can be a great solution. There are many benefits to taking out one of these loans.
You Don't Need Good Credit
One of the major advantages of auto equity loans is that you don't have to have good credit to qualify. The value of your vehicle supplies the collateral meaning the financier will be unperturbed by bad credit.
Use the Money How You Want
When you take out an auto equity loan, no one is going to dictate how you use the money. When you get approved for a loan through a bank, you often have to show where you're spending the money. With 5 Star Car Title Loans, you can use the cash how you want to without answering to anyone else.
Where to Find a Car Equity Loan?
While banks offer auto equity loans, you won't get a very good deal. Companies like 5 Star Car Title Loans can afford to offer better terms, lower payments, and more flexibility.
5 Star Car Title Loans has locations throughout the US including the cities of Pasadena, Los Angeles, and Northridge, California.
Auto Equity Loans Online
Auto equity loans are made even easier when you apply online. Don't have time to come to the office, no problem, just apply online and let the money come to you!
If you're looking for auto equity loans online, you can fill out the entire online application. By applying for a car equity loan online, you can save loads of time. Just fill out the forms and provide copies of the necessary documents including a valid government ID for proof of address. Your ID is also used to confirm that you are at least 18 years old, which is one of the requirements to qualify for a vehicle equity loan. We'll also run a quick credit check to ensure you have the ability to repay your loan.
If you have bad credit but you need cash fast for an emergency expense, an auto equity loan might be the solution for you. Even if you're still paying off your loan, you could qualify for the amount you need to get back on your feet
An auto equity loan is not without risk. If you stop making payments, you could end up losing your car or damaging our credit. It's important that you're able to repay the loan on time.
Auto Equity Loans at 5 Star Car Title Loans
When shopping for an auto equity loan, get the best deal around, at 5 Star Car Title Loans. Bad credit shouldn't get in your way. Unlike stingy institutions like banks and credit unions, we work with our customers.
Get a fist full of cash with an auto equity loan from 5 Star Car Title Loans, call today and make it feel like payday!
[yasr_overall_rating size="small"]
[yasr_visitor_votes size="medium"]