So, what are big rig title loans?
Big rig title loans are also semi-title loans, which are loans that use the title of your truck as collateral. The amount of money you can get depends on your ability to repay the loan as well as the condition, value, and age of your truck.
You can do this with your big rig commercial vehicle as well, though some of the terms are a little different than if you were "lending out" a traditional four-door car or truck, and some of these terms can work to your advantage. Here's why.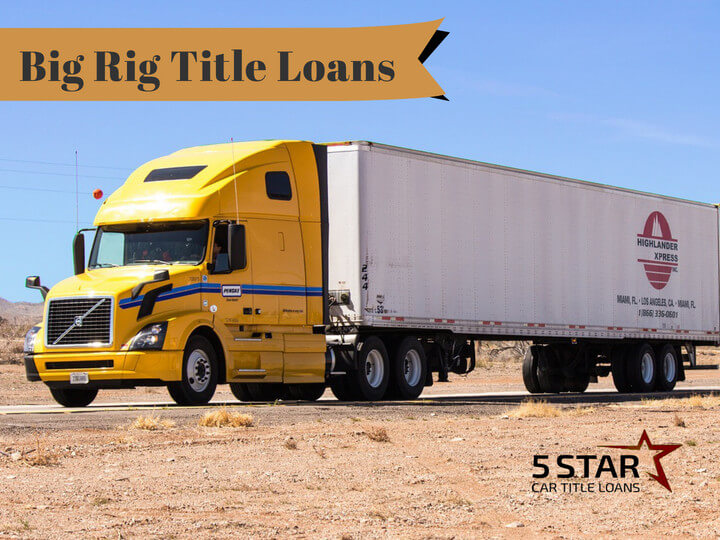 Getting you the most instant money on your big rig or semi-truck with our title loan program!

The Amount of Money You Get from Semi-Title Loans
As mentioned, a title loan is based on the value of your vehicle and your ability to repay the loan. Cars and trucks lose value as they age. The more you drive and the more mileage you put on them, the less valuable they become. The same principals apply to big rigs meaning that the amount of money you get is also determined by the value of your commercial vehicle.
The Timeframe for Paying Off Your Truck Title Loans
Big rig vehicles can come with hefty price tags, and you're not likely to pay off the money as quickly as you would on the title loan of a regular truck or car. Thus, the big rig lending company will potentially work with you and invoke a payback period that fits your present circumstances.
In certain cases, the timeframes for paying off what you owe on semi-truck title loans or big rig title loans can exceed 36 months.
What Will You Need to Qualify for Semi-Truck Title Loans?
As with every title loan, there are a few documents you might be required to show to get your money from the commercial vehicle title loan lender. These items include:
Something that proves a current (and valid) address
A vehicle title that is in your name
These are all standard items, and likely to be required with every kind of vehicle title loan. The lender wants to make sure that they will get their money back. To do that, they need to make sure that you are who you say you are.
Proof of income, for example, will show that you earn wages through a job or other means. It suggests to the big rig lending company that you're capable of making your monthly payments in full and on time.
Bad Credit? You Can Still Apply for Commercial Vehicle Title Loans
One of the greatest benefits of partnering with 5 Star Car Title Loans is that we are more than willing to work with people who have bad credit. Yes, we do check credit profiles, but if you can prove the ability to repay the loan, most chances we'll give you the thumbs up.
5 Star Car Title Loans understands hard times and what it can do to your credit. That's why we work so hard to give you the best deal on semi-truck title loans in California. The value of your rig could be your salvation- get the cash you need.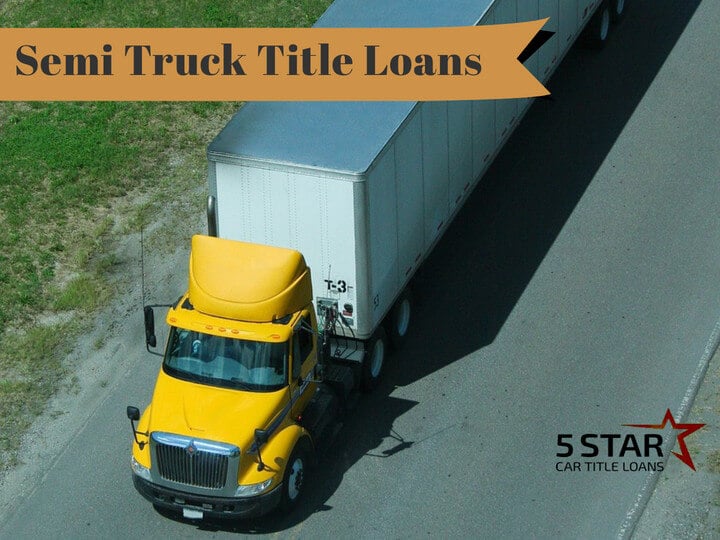 5 Star Car Title Loans is fully licensed and bonded by DBO
Is There Anything Else?
- Up-to-Date Photos of the Vehicle
In the case of big rig title loans or semi-truck title loans, there may be some additional requirements, such as up-to-date photos of the vehicle. Having these will show the big rig lending company that the vehicle is in good shape, and not likely to break down anytime soon.
- Some References
You may also need some references, either business or personal. These references can provide clarification on your character and professionalism and will offer further proof to the lender that you're worth the money they'll give you.
Are You Considering Big Rig Title Loans?
If you're thinking about big rig title loans, give us a call. We've been in business for many years, and we know a thing or two about how to get you the money you need despite your credit history.
Give yourself a break and get the ball rolling with 5 Star Car Title Loans. We can give you a fair deal that can help get you back on your feet and towards a brighter future. We care about our customers and take the role of financing semi-title loans very seriously. That's why we're the best choice for title loans on big rigs or any other vehicle!