How to Get Car Title Loans in California with No Credit Check
A car title loan is a means for car owners to obtain cash quickly using their car's title as collateral for the loan.
Also, California laws make it possible to obtain a car title loan and keep your car.
Car title loans come with their own set of challenges, which each applicant must overcome. From avoiding credit checks to meeting all the application requirements, it's critical to understand the process.
What You Need to Know Before Getting a Car Title Loan in California
A. Cost of Car Title Loans
California does not limit the amount that can be loaned. Moreover, they cap the amount of interest that can be levied on a loan's principal amount. For example, for loans under $2,500, the interest cannot exceed 30 percent over a year's time. Loans over $2,500 have no legal limit for interest rates.
In California, there are state laws which govern the calculation of interest and can affect the overall cost of the car title loan. That's why applicants need to pay close attention when applying and accepting terms for a car title loan in California, along with other states.
B. Loan Fees
California laws also specify how much lenders can charge for administrative and other fees. These fees are commensurate with the loan amount.
For loans less than $2,500, the lender can charge a 5 percent administrative fee, or $50, whichever amount is lower. The administrative fee collected for car title loans greater than $2,500 and lower than $4,999 is capped at $75.
Like loan interest, administrative fees are not capped for loans over $5,000 in the state of California.
C. Other Fees and Restrictions
The laws in California also state that car title loan lenders must clearly report any and all fees upfront. Fee transparency is legislated.
Borrowers must be informed of all fees by the lender before agreeing to any loans. California law does not stipulate how or where lenders must communicate all fees, so be sure to read the contract carefully before signing.
Also, California law states that applicants cannot use any real estate property as collateral when applying for a car title loan. Applicants can only use the vehicle the loan is made for.
D. Credit Checks
Most lenders financing car title loans require applicants to undergo a credit check. This can be counterproductive since the majority of car title loan applicants do not have the best credit scores.
A credit score is negatively impacted each time a hard inquiry is made. Most individuals applying for a car title loan are trying to rebuild their credit, or don't want to damage their credit with multiple credit checks. This can be a challenge for some applicant. However, a soft credit check does not impact the borrower's credit score, making it a preferable solution for some applicants.
Good to Know: Unlike Hard Inquires, Soft Credit Inquiries Won't Affect Your Score. Only Hard Credit Inquiries Send the Signal that You're Trying to Take On More Debt
Requirements in Obtaining a Car Title Loan
Regarding the car's information, applicants will need the following items in order to apply for a car title loan:
1. Vehicle Valuation
Applicants must allow lenders to assess the valuation of their vehicle. Most lenders use the car's VIN (Vehicle Identification Number) and mileage for valuation. Afterwards, lenders will usually inspect the car visually and check its history.
In appraising a car's value, lenders will look at certain things such as the condition of the car, the make, and model of the vehicle, and the mileage.
In some cases, lenders are hesitant to fund a car title loan on a vehicle that has high actual miles. Also, the model year of the car influences the appraisal of the vehicle.
2. Vehicle Improvements
Any improvements made to the car after purchase do not necessarily impact its valuation for a car title loan. Not all lenders include these improvements in the valuation. Many lenders go by the standard valuation metrics such as make, model, and mileage.
3. Source(s) of Income
Applicants applying for a car title loan in California need to make sure that they list all of their sources of income. Many car title loan applicants make the mistake of only listing their income from their job.
Doing this leaves out other possible sources such as annuities, scheduled payments from settlements, and other sources of income. Leaving out any source of income can limit the amount of a car title loan an applicant is approved for.
Lenders have their own methods of evaluating applicants' ability to repay a car title loan. Many lenders look at an applicant's income as a way to evaluate the applicant's ability to make payments.
4. Title
Lenders look for an accessible title on the car being used for collateral.
5. Other Information
As with any loan, individuals will also need personal identification to complete the application. Along with this, individuals are encouraged to show that the vehicle the car title loan is being made against is currently insured. This protects both the borrower and the lender.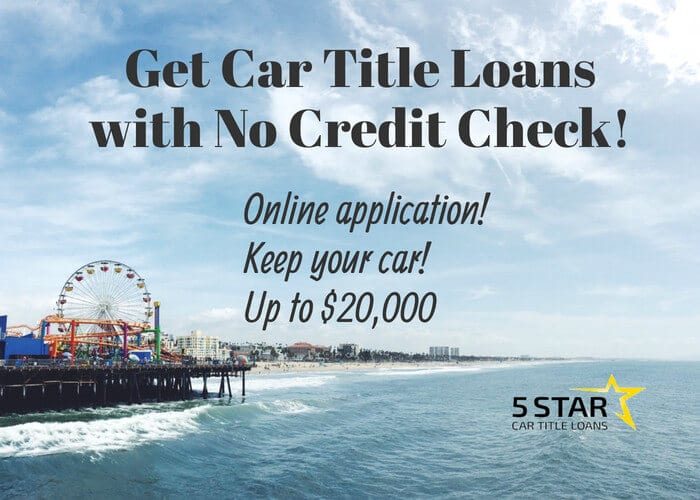 Risks Associated with Auto Title Loans in California
Repossession is the primary risk associated with obtaining a car title loan. Failure to make payments on time, or not paying the full amount of the loan can result in the collateral car being repossessed. This is why the car title loan company temporarily holds the title of the applicant's car.
This is not the only risk. Failing to pay back the car title loan in full and on time can possibly impact the borrower's credit score negatively.
It is recommended to always check with the Department of Business Oversight, which oversees title loan companies in California, as well as the Better Business Bureau and other such agencies, before taking out a car title loan. These resources can help an applicant ensure that the company they're working with has a valid license to issue loans.
How to Get Car Title Loans in California with No Credit Check
Understanding title loans can be tricky since each state has its own laws regarding title loans. California is no different. It is also recommended that applicants research companies and lenders.
Along with the laws, many loan providers check applicants' credit scores. This step adds unnecessary strain for anyone who is not just trying to obtain a loan, but possibly rebuild their credit at the same time. Luckily, there is another way.
Documents You May Need for No Credit Check Loans in California
Some car loan companies offer consumers title loans without the hassle of a credit check. This way, you can apply for a car title loan without your credit score taking a hit. Here are some of the documents that you need in your application:
1. Car Title
2. Proof of income
3. Proof of residency
4. Proof of current vehicle insurance
5. Identification (government issued)
For many consumers, it is their credit score and their credit history which has kept them from getting loans from traditional sources such as banks. Car titles have been used as a way for folks to obtain a loan from a non-traditional source. This is a powerful tool in personal finance when used correctly.
Credit can be a major factor in deciding which loan company to go with. However, applicants with no credit history or those who have poor credit history can still qualify for a title loan.
The two primary aspects of qualifying for a car title loan is the applicant's ability to repay and the car's value. Showing documents that prove your ability to pay is one of the easiest ways of obtaining a car title loan in California without necessarily going through a credit check.
Let 5 Star Car Title Loans Help You
If you're figuring out how to get car title loans in California with no credit check, 5 Star Car Title Loans can help you. They use their own credit criteria, which does not necessarily use credit checks, in order to determine approval.
Here are some of the requirements that you'll need to get auto title loans in California with no credit check:
1. Your personal details
2. Your car's details
3. Car title
4. Identification
5. Regular income
6. Personal and professional references
7. Car insurance
This way, your credit score might not be impacted when applying for a title loan. The loans you can apply for range from a minimum of $2,600 to a maximum of $20,000. Loan terms cover from 24 up to 48 months.
5 Star Car Title Loans makes getting money for your car as easy as possible. If you're interested in applying for no credit check loans in California, you can call us now: (323) 870 9511 or apply online.