5 Star Car Title Loans Google Reviews:
Best believe if I ever need another loan I'm turning to 5Star CTL right away... They are incredible, they just know how to help everyone and anyone. Thank you!!!
Elliott Jane
09:26 15 Mar 21
At first I was stressed because I had never taken a loan like this before. They really made it easy and simple to understand but most importantly they made me less stressed and I felt great throughout the whole situation. Thank you so much 5 star!!!
Thanh Mvbee
16:01 12 Feb 21
Thank you for providing awesome service and car title loans to people like me who don't have anywhere else to turn! You guys are amazing!!
Sean Churchill
10:57 12 Jan 21
I had a very positive experience here and I must say I'm surprised because I came with lots of worries and was anxious about borrowing money against my car. They helped me calm down by explaining the details of the loan and they weren't bad at all... Awesome reps!
Jast Pacheco
12:37 22 Dec 20
I would highly recommend 5 Star Loans to anyone who appreciates great customer service and is in need of some quick cash. The employees here are the best!
Jackson Ewing
10:05 15 Dec 20
Big thank you for 5 star car title loans in azusa for helping me out today. It went much smoother than I expected it to go.
Reeser Berry
17:59 12 Sep 20
Typhoon is coming, so I took a loan for some emergency funds to prepare for whatever the outcome will be.
George Baker
07:15 06 May 20
Loans aren't all that much fun to get, but at least when I get them online I know they'll be fast and easy.
Nathan Forsyth
12:17 03 Feb 20
Steven Bobby
23:08 20 Aug 18
About This Location
Multi Auto Inusrance Service Inc provides registration services for 5 Star Car Title Loans customers. The store is located at 851 S Lark Ellen St, near the intersection with Arrow Hwy. If you live in Azusa and in need of registration services, stop by Multi Auto Inusrance Service Inc that works with 5 Star Car Title Loans in Azusa. Multi Auto Inusrance Service Inc provides our clients with unmatched customer service. 5 Star Car Title Loans does not issue loans at this location.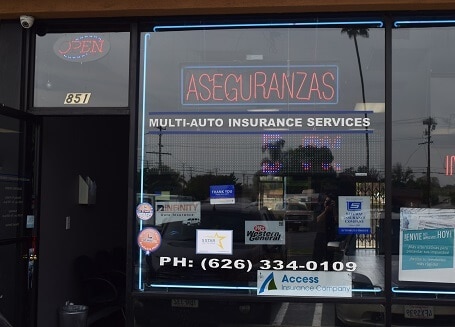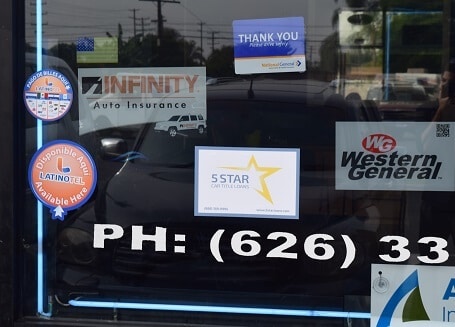 5 Star Car Title Loans in Azusa
For those people who need extra money in Azusa, 5 Star Car Title Loans in Azusa can be the perfect solution. Contact us today to see how you can use the value of a vehicle that you own to get a fast loan.
Do I Need Good Credit to Get Auto Title Loans?
No, your credit is not as important as the car you own when you apply for auto title loans. To find out more about how you can qualify for auto title loans even if you have bad credit, contact us at 5 Star Car Title Loans in Azusa. You'll be glad you did!
When I Apply for California Title Loans Can You Transfer the Title into My Name?
We will help you through each step of applying for California title loans. We will use our experience to guide you so that you can get your car registered correctly so that you can get a current registration, which is needed when you apply. Call us today and our 5 Star Car Title Loans in Azusa agents will use their experience to help you.
What if My Title is From Nevada?
No worries if you need help with your California title. We might even be able to take care of your California registration while we process your car title loan all at the same time! Let us help you with the legal work so that you can get your money as quickly as possible. Our agents at 5 Star Car Title Loans in Azusa are waiting to hear from you.
Can I Get Bad Credit Loans if I'm Still Financing the Car?
Contact us at 5 Star Car Title Loans in Azusa so we can go over your options. One option might be that we would approve you for a loan that would not only finish paying off your car, but you would also have money left over to throw at bills, buy necessities or put aside for a rainy day. Let us help you with bad credit loans so you can get back on your feet quickly.
What is the Maximum Amount I Can Get with Online Loans for Bad Credit?
When you apply to the car title loans near you for a quick loan, you can get up to a maximum amount of $20,000. Call 5 Star Car Title Loans in Azusa today!