5 Star Car Title Loans Google Reviews:
I was pretty down in the dumps when I found out that my paycheck would be late coming in. I didn't know how I would manage with my payments and bills until I heard about car title loans. The money was so helpful until my paycheck came through.
David Peters
05:16 28 Dec 19
My wife needed some up front money to start her new business. I was all for that, but she couldn't get approved for a loan because of some credit card trouble she got into before we met. There was nothing I could do about her bad credit history, but thanks to 5 Star Car Title Loans, I was able to

help her. After proving that I would be able to pay back the loan if she had a problem, I was able to become a co-signer on her title loan. We both have good cars, so it wasn't a problem to use them as collateral. I'm really glad I was able to help and she can get back on her feet in her new business.

read more
Leroy Prescott
10:09 22 Nov 19
I had gotten used to getting the night shift pay from the hospital, but they switched me to days for 2 weeks while the other nurse took her vacation. That difference in pay about did me in. I took a chance and checked out loans on car titles. They seemed like just what I needed. So glad I'm back on

nights now though.

read more
Mark Bradley
12:40 03 Oct 19
Johnathan is the man. He helped me out so much. He is very efficient and reliable. I am very impressed.
Adrian Solomon
01:55 05 Oct 18
About This Location
Julio Lemos Insurance Services provides registration services for 5 Star Car Title Loans customers. The store is located at 27255 Camp Plenty Road, near the intersection with Soledad Canyon Rd. If you live in Canyon Country and in need of registration services, stop by Julio Lemos Insurance Services that works with 5 Star Car Title Loans in Canyon Country. Julio Lemos Insurance Services provides our clients with unmatched customer service. 5 Star Car Title Loans does not issue loans at this location.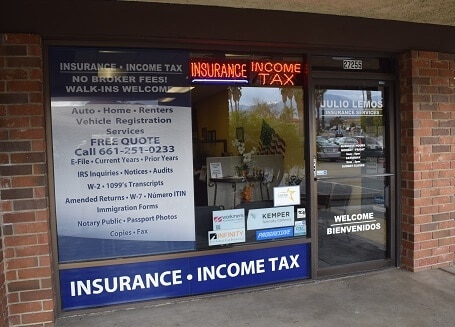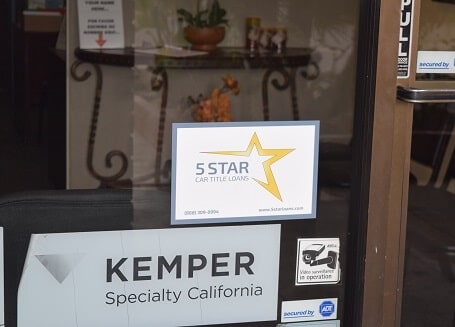 5 Star Car Title Loans in Canyon Country
For anyone needing some extra money in Canyon Country, 5 Star Car Title Loans in Canyon Country can be just the right answer. We prepare fast loans using the value of your car as collateral, so contact us now!
What Are Auto Title Loans?
An auto title loan is a type of personal loan that uses a vehicle you own as security. As for your car, it is similar to being financed, meaning that while you are paying back the auto title loan, you can still keep the car with you to drive as usual. We will hang on to your car title to use as collateral and when you're finished paying back the auto title loan your car title will be returned to you. For more details on how auto title loans work, call us at 5 Star Car Title Loans in Canyon Country.
What Is the Minimum Amount I Can Get with California Car Title Loans?
The minimum amount for California title loans is $2,600. But don't think that is all! If you have a valuable car and can repay the loan you might be able to get more. The maximum amount for online car title loans in California is $20,000, assuming that you meet all the criteria. We're here to help you at 5 Star Car Title Loans in Canyon Country.
Do I Have to Go to the DMV When Applying for Online Title Loans?
Since we have a lot of experience with the DMV, we can do that for you. Just be sure to give us your car title first. Then when your online car title loan request is approved, we will keep the car title as security. We have many ways we can help you with extra money this month, so speak to us about your needs at 5 Star Car Title Loans in Canyon Country.
When Is the First Payment on Bad Credit Loans Due?
From the time that you take out the bad credit loan, your first payment will come due 30 days later. Additional payments will be due each 30 days. If you decide that you want to pay back bad credit loans early, before they are due, you can do that without any prepayment penalties. Call one of our agents at 5 Star Car Title Loans in Canyon Country today to hear more.