5 Star Car Title Loans Google Reviews:
One of the great things about online title loans is that I can apply for them during the night when the house is quiet.
Sawyer Harrell
10:32 18 Mar 20
5 Star Loans staff was very nice, helpful, pleasant and worked well! Thanks for all!
Stewart Parsons
08:15 19 Feb 20
One of the reasons I like getting car title loans online is that I can send in my application at my own convenience. I couldn't sleep one night because of money worries, so I got out of bed and sent in an application. When I woke up in the morning, my loan was already being processed.
Andrew Young
11:46 17 Feb 20
I ran into some tough times recently and needed money bad. I didn't have credit so wasn't sure how I would manage, until I learned I could get a no credit loan. First time I ever heard of them!
Anthony Roberts
05:50 31 Dec 19
Aryan Singhal
05:00 23 Feb 19
About This Location
EZ Car Registration Services provides registration services for 5 Star Car Title Loans customers. The store is located at 10550 South De Anza Blvd, Ste 2, near the intersection with Silverado Ave. If you live in Cupertino and in need of registration services, stop by EZ Car Registration Services that works with 5 Star Car Title Loans in Cupertino. EZ Car Registration Services provides our clients with unmatched customer service. 5 Star Car Title Loans does not issue loans at this location.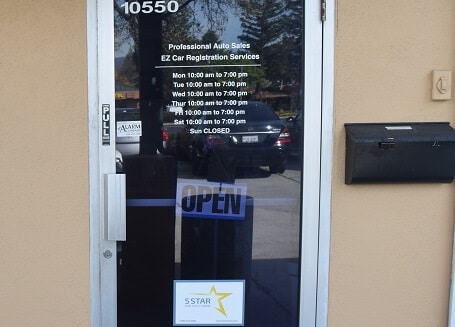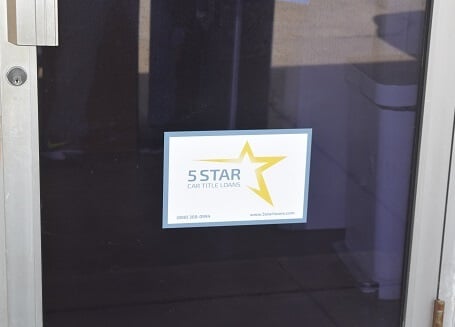 5 Star Car Title Loans in Cupertino
There are so many things you could buy with a little extra money, right! With a fast personal loan you could buy some things that are on sale or you could use the money to pay your bills. Apply for your quick loan from 5 Star Car Title Loans in Cupertino and enjoy having money to spend!
What Are Auto Title Loans?
Auto title loans are very fast loans that you can apply for online. You fill in some information about yourself and a car that you own and send it in. When it gets to us at 5 Star Car Title Loans in Cupertino, we will use your information to evaluate your auto. If the value is adequate to use it as security, if you meet our basic credit specifications and if you can prove that you'll be able to pay the money back, we will contact you. If approved, you will get the money but you still get to hang on to your car. We use its value as collateral, not the vehicle. You can use the money for whatever you need. Call our office for more information.
Will You Allow My Spouse to Cosign Car Title Loans?
If your spouse meets our credit specifications then it is ok to cosign. The agents at 5 Star Car Title Loans in Cupertino will do everything they can to help you get car title loans in as little time as possible. Call them and discuss various options with them.
If My Registration is Past Due Can I Get Auto Title Loans?
Don't worry too much about your past due registration. We can either help you go through the process of updating the registration so that you can use your car for security or we might be able to do it for you. The place to start is by sending your online auto title loans application to us at 5 Star Car Title Loans in Cupertino. Once we get your application with your car's details, we can be in contact regarding your registration. Auto title loans are a solution to getting a fast personal loan.
Do I Need to Go to the DVM?
Bring your title to us so that we can help you get a California title loan. If we have the title, we can usually go to the DVM for you. Contact us today at 5 Star Car Title Loans in Cupertino.