5 Star Car Title Loans Google Reviews:
I loved working with 5 Star Car Title Loans- they were outstanding! Will recommend this place to everyone I know that needs some extra cash in the bag. They provide great info about unsecured loans for bad credit!!!
Kenna Brianna
12:52 27 Jun 21
Thank you for working with me during these trying times and for always being professional. The best payday lenders.
Shayne Marks
13:39 29 May 21
This is a wonderful provider for auto title loans and they are extremely helpful and courteous. I definitely recommend them.
Linda McElroy
01:18 29 May 21
They were AMAZING!! Great and very chill vibes with this company.. They take care of you quickly.. It was a huge help in getting my loan fast.. THANKS!!
Cynthia Reardon
23:18 11 Mar 21
Look for a while on the internet for a good car title loan company. It was worth the wait. 5 star You guys are incredible thank you guys much for all the help!
Madeleine Carr
05:19 10 Feb 21
Thank you!! You guys are the best I will definitely tell all my friends and family to come here!!
Charles A. Blocker
14:41 16 Jan 21
Not my first time getting a car title loan in Cypress but definitely the BEST time! The employees are so kind and easy going they make the loan seem simple. Of course they are also extremely professional!
Neil Clark
11:24 31 Dec 20
Never imagined I would need a title loan before but life comes at you fast. Anyway I don't complain that's how it is. They have a good service they were professional. I do plan to return the money to them ASAP to save the interest money. Thanks again.
Cedric Alvarez
10:24 04 Dec 20
I called in and was treated like a celebrity! professionalism and the efficiency was amazing! Great service! Really recommend 5 star for bad credit loans in cypress.
Ernest Thorn
10:08 18 Nov 20
The ladies on the phone are very friendly and provide a good customer service experience. They are also helpful and they made sure I got the amount I needed. Thanks so much ladies for the help with the title loan!!!
Carita Bittner
11:02 02 Nov 20
I'm extremely satisfied with the service I received. They got me exactly what I needed in timely manner. If I am ever looking for loans near me again I'll go back to this company.
Hendershot Bresnahan
10:13 29 Oct 20
The loan company, 5 Star Car Title Loans in Cypress, has been a great help for me in my time of need. Highly recommended. 5 STAR!
Abryana J Kata
17:42 20 Sep 20
Thank you 5 Star Car Title Loans, you are the greatest
Bradley Poling
07:14 29 Aug 20
I just fell on hard times with everything going on and I was looking at title loans. Some people told me that it's expensive but I paid it off fast and I honestly am not sure why they get such a bad reputation. Just pay off quickly and you're good.
Sharon Becker
07:14 28 Aug 20
If you're from Cypress like me, take your loans from 5 Star Car Title Loans. It's highly recommended!
Edward Lemons
02:51 14 Mar 20
Loans that use your car as collateral can be a little scary, to say the least. But I tried one and didn't have any problems. They took my title, not my car. When I finished paying it off, they returned my title. End of story.
Kevin Thornton
19:51 17 Feb 20
A car equity loan gets approved if you submitted all requirements.
James Villa
04:05 17 Feb 20
Back when I was out of work my debts got piled up pretty good. Well, I still had bills but with a good steady job and a valuable car I didn't have a problem getting a bad credit loan.
Adrienne Ang
12:50 29 Jan 20
I was new to Cypress and didn't know where I could get a loan. When I googled best title loans, 5 Star Car Title Loans came up. I went with them and really glad I did.
Sidney Villarreal
19:29 09 Jan 20
With all the bills for supplies coming due, I didn't know how I'd pay them. I got a commercial vehicle title loan that used one of my vans as collateral.
Hamblin Giroux
10:04 16 Dec 19
Ya'll know what? It's not so great to have to get a loan just to put food on the table, but they were so nice about it. It wasn't my fault that my paycheck was late.
Santana Davidson
08:04 19 Sep 19
I hope I'm never so low on money again, but when I was flat broke I got a fast loan and it went pretty well.
Lily Roberts
10:29 09 Sep 19
This company has been great working with me during my loan commitment. They understood that I was in a financial hardship to need the loan in the first place and worked with me everytime I needed time on a payment. Although it is a high interest loan we sign on the dotted line knowing that . I would recommend them in the future.
About This Location
AVRS provides registration services for 5 Star Car Title Loans customers. The store is located at 5523 Lincoln Ave, near the intersection with AVRS. If you live in Cypress and in need of registration services, stop by AVRS that works with 5 Star Car Title Loans in Cypress. AVRS provides our clients with unmatched customer service. 5 Star Car Title Loans does not issue loans at this location.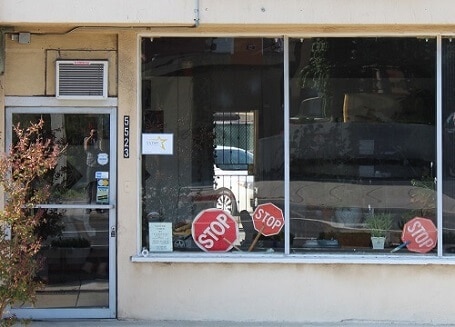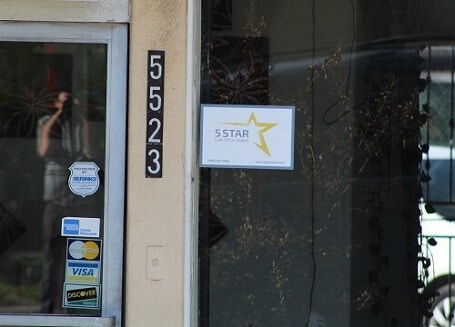 Cypress Trees that Were Planted as Windbreaks
Cypress was given the nickname "Waterville" due to the presence of quite a few artesian wells, which is quite unusual for the area. However the city was officially named Dairy City when it was first incorporated in 1956. Incorporation was the only way that the dairy farmers in the area could keep land speculators from taking away their farms. But there was more money to be made from selling land than from selling dairy products, so inevitably the housing developers won. The name "Cypress" comes from the many cypress trees that were planted as windbreaks against the prevalent Santa Ana winds.
Cash for You in Cypress
Do you live in Cypress but you don't have enough cash to get by until you get your next paycheck from work? Maybe if you're between jobs it can be tough to manage, or if you got behind on some bills. For whatever reason you need some cash, it might be possible if you own a private car. Send your details and application to 5 Star Car Title Loans in Cypress. As quickly as possible, we'll review your application and let you know if you are eligible.
Apply Now for 5 Star Car Title Loans in Cypress
When we receive your details in our office at 5 Star Car Title Loans in Cypress, we will take a look at the type of car you have so we can check how much it's worth. If the value is adequate to secure a car title loan, we will still need to confirm that you'll be able to pay us back. If you meet our credit requirements, have a car with a high enough value and have the ability to pay, we will contact you and invite you into our office for a meeting. If you are approved, you can get at least $2,600.
Poor Credit Applicants Welcome to Apply
If your credit history isn't so good, that does not mean that you won't be approved for a loan from 5 Star Car Title Loans in Cypress. Go ahead and apply, because if we verify that you fit in with our credit criteria, have a car with enough value and can pay us back, you can still get a cash loan. We will put our name on your car title while you're paying back the loan, but you can keep your car. We'll remove our name when the contract is completed.