5 Star Car Title Loans Google Reviews:
Having great customer service and a very professional staff is a pleasure whenever we work with this loan agency. I would definitely recommend this loan agency to friends and family if they need a loan without any risk.
Looking for a title loan in Hawthorne? I recommend to go with five star car title loans. I had a very good experience with the people working for this company. They helped me get out of a tough place financially so I will always be grateful for that. 5 stars
Dana Collins
11:17 17 Jul 21
This loan agency handled my loan application quite smoothly. They contacted me in a short period of time and began processing my loan. I found them to be friendly and helpful.
Nura Fareann
22:44 17 Jun 21
I'm more than satisfied with this lender. The way the handle my case is just awesome. Best title loan company in Hawthorne.
Jessie Hazelwood
10:43 13 Jun 21
The team was very professional, explained everything very well. Team really helped me during the loan approval process. I will came back again in the future if I ever need instant bad credit loan.
Thomas Loshi
19:04 04 Jun 21
This was my second time with 5 Star Car Title Loans and trust me they are the best title loan company I have every came across.
Linda Miller
19:34 01 Jun 21
Thankyou for helping me in getting bad credit loans, and being so supportive during the loan process, they guided me and helped me.
Velma Stephens
15:20 30 May 21
They are very nice and professional!!! Amazing company right here!!!
Camron Aarav
04:22 17 Mar 21
They are the absolute best company the car title loan world has to offer!
Michelle Murray
12:26 09 Feb 21
I had many doubts before contacting them but I must say they were so professional that those doubts are long gone. I've been a customer for a while now and couldn't be happier with the service.
Rufina Poland
15:52 18 Jan 21
Highly recommend using them for auto title loans. They work hard to make it easy for their customers!
Yannee Davidson
09:16 02 Jan 21
Appreciate this company for going out of their way to approve my application in spite of my bad credit!!
Jeffery Jeromy
07:34 28 Dec 20
THANK YOU 5 STAR CAR TITLE LOANS!! YOU GUYS ARE THE BEST AND I WILL ALWAYS COME BACK HERE FOR A LOAN!
Patricia Hazelwood
12:54 23 Dec 20
I looked for a while for title loans near me and I actually found this company on google. The service was very comfortable and fast. I recommend!
Sean Piper
07:19 14 Sep 20
I didn't have enough cash to pay for my credit card. I didn't want to have bad credit, so I decided to take a loan from 5 Star Car Title Loans.
George Lane
06:51 08 Aug 20
I recommend 5 Star Car Title Loans if you're planning to take a loan in Hawthorne. I had a very pleasant experience with them.
Manuel Spear
08:11 19 Mar 20
When I went looking around for title loan places, I was surprised. As it turns out, I didn't have to go anywhere to apply because the best companies are online.
Barbara Murray
10:54 04 Feb 20
When I first got to Hawthorne I didn't know anyone. When I needed extra money for moving expenses, I got car title loans online - they really helped me a lot.
Orpha Laney
22:44 31 Jan 20
Very professional took care of exactly what I needed to have done was very prompt with his service thank you
Jack Barnett
17:58 14 Sep 18
Claudine Galan
22:59 12 Sep 18
About This Location
A&E Vehicle Registration Services provides registration services for 5 Star Car Title Loans customers. The store is located at 13666 Hawthorne Blvd, Suite 1, near the intersection with 137th St. If you live in Hawthorne and in need of registration services, stop by A&E Vehicle Registration Services that works with 5 Star Car Title Loans in Hawthorne. A&E Vehicle Registration Services provides our clients with unmatched customer service. 5 Star Car Title Loans does not issue loans at this location.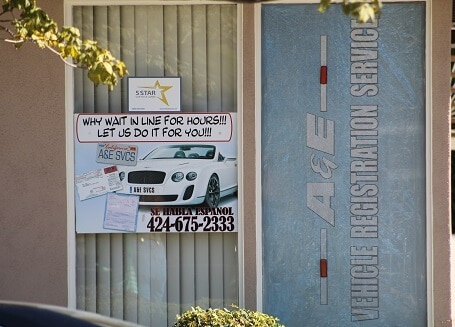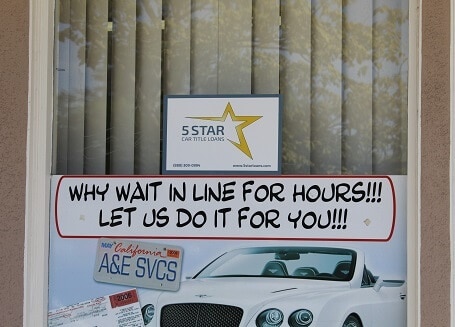 Hawthorne, California - City of Good Neighbors
Established in 1905, the city of Hawthorne was founded by B. L. Harding and H. D. Lombard as the Hawthorne Improvement Company. The city has grown quite a lot since then and is easily accessible, since the Los Angeles International Airport is only five miles away. The Mattel company helped build the city's economy when it chose Hawthorne as its home back in 1945. Aerospace is an important industry in Hawthorne and Tesla Motors has its design center based out of the Hawthorne Municipal Airport. In addition, fuselage sections of Boeing 747s and 787s are still being produced in the Northrop Field and Aircraft Plant.
Cash Needs in Hawthorne
Just like every other city in the US, there are people living in Hawthorne who are striving to get some extra cash into their accounts so they can stay on top of their bills and monthly payments. This can be a difficult situation, because if they have a bad credit history they might not be welcome in banks. Banks want you to be in pretty good financial shape before they'll take a risk, but car title loans are available to anyone who owns a car. Since auto title loans are based on the value of your car, your credit status is not such an issue. To find out if you are eligible for preapproval of a car title loan, send in an online application to us at 5 Star Car Title Loans in Hawthorne.
Qualifying for Car Title Loans in Hawthorne, CA
We won't know if you qualify until you send us your application, but the process goes like this. We'll start by evaluating your car to know if it's valuable enough to secure a loan. If it has value that is unused, we'll go on to the next step, which is to confirm that you will be able to handle the monthly payments. The last step is to confirm that your details meet our credit requirements. If we get a green light on these three points we'll contact you to complete your application. If approved, you could get at least $2,600 from 5 Star Car Title Loans in Hawthorne to use any way that you see fit!
5 Star Car Title Loans in Hawthorne - Apply Today!
We will use your car's value by adding our name to the car title. That means you'll keep driving your car while making the monthly payments. How easy is that? Pay us back at 5 Star Car Title Loans in Hawthorne and we'll remove our name. We're waiting to hear from you: (424) 393-1533.