5 Star Car Title Loans Google Reviews:
I am very pleased with the help I received for my loan application after having a look at my credit history. The team was incredible, making everything simple and straightforward for me. Thanks!
Jennifer P. Ellis
13:39 08 Oct 21
I spoke to my friend that heard of auto equity loans and told me to try to get one when I needed money. Man, thank god 5 Star helped me cause I was out of options already at that point. They are an honest company and they helped me get money fast they don't want to waste your time.
Damian Morris
05:01 17 Jul 21
Professional and courteous. I would definitely recommend them to anyone who wants to get a loan. Couldn't have asked for a better experience. Best company to get payday loans near me.
Kaylie Emery
15:15 04 Jun 21
When I was growing up, we always lived in houses that we owned. I wanted to do the same, so I found a mortgage lender and bought a fixer-upper. For now it'll do.
elin brittany
04:23 28 May 21
They were the best, I got approved so quickly, and the entire process is very efficient. It is convenient that they let you get a loan online without the need to drive to an office. Very nice!
Byron Teresa
16:14 11 Mar 21
Glad I found 5 this company they were fast and they got it done for me. I needed an instant loan as fast as possible to get some bills paid and my bank did not approve my application.
Sharon Rearden
05:55 03 Mar 21
They truly live up to the hype and expectations!!! Take a car title loan only from them, You wont regret it!
I was able to get a loan for the market value of my car which exceeded my expectations. I am satisfied with the nice service and look forward to continue being a customer here.
Gauthier Lemelin
05:51 11 Jan 21
The coronavirus situation hit my family really hard and we ended up deciding that a loan was the best option moving forward. I shopped around and decided to choose this company because they provided me with the best offer. They are pros and I hope to continue working with them in the future.
The guys here at 5 star loans were very helpful. I needed help paying my rent and they did everything they could to get me approved. If you need pink slip loans in Los Angeles just call 5 star they helped me a lot.
Wilson S. Boggs
10:07 01 Dec 20
I thought that if I have a bad credit score, I cannot borrow any more. But with 5 Star Car Title Loans, I just needed my title and some IDs. They processed my loan so much faster than banks!
George Mosher
13:18 04 Nov 20
First time getting a car title loans in Los Angeles. Everything was done fast with 5 star hopefully I can pay back the money soon enough. Thank you 5 star.
Alejandra Rivers
06:16 21 Oct 20
I spoke to my friend that heard of auto equity loans and told me to try to get one when I needed money. Man, thank god 5 Star helped me cause I was out of options already at that point. They are an honest company and they helped me get money fast they don't want to waste your time.
Thomas Garling
14:38 04 Oct 20
I needed an instant loan for an emergency I went through and found 5 Star online on google. The process itself was good no complaints there. The service was good as well.
Gav Collins
06:35 15 Sep 20
5 Star Car Title Loans is my go-to loan institution every time I need to take a title loan.
Juanita Albright
05:28 23 Jun 20
5 Star Car Title Loans approved my car title loan. I needed money for some bathroom renovation.
Jeff Schwarz
10:51 11 Mar 20
I should have just taken car title loans instead of going to the bank. I got my loan in just a day, while banks let you wait with uncertainty for almost two weeks.
Mariam Wickens
12:26 25 Feb 20
I'm tired of rejection, so I went for 5 Star Car Title Loans cash title loans. I should have done this earlier.
Richard Gomez
14:15 16 Feb 20
I asked my buddy for a quick loan, but he said he didn't have it to give me. Instead, he told me about auto title loans. They are the best deal going for fast cash loans.
There's no way I could have gotten my bills paid this month without applying for title loans. What a lifesaver for me!
Luz Martinez
19:26 06 Jan 20
I own a big rig but until recently, I had no idea I could use it to get a quick loan! Sure enough, I got a big rig title loan.
Maria Hodges
21:01 25 Nov 19
I got laid off down at the plant. Sure, it was some sort of a trick and they took me back after 10 days of no work. But those 10 days really put me behind in my bills. When the rent came due, I couldn't pay it. The landlord came around and gave me 24 hours to get the money. Good thing loans with car title are so fast! He was shocked when I gave him the full amount for my rent the next day.
Evelyn White
06:08 28 Sep 19
I've gotten title loans more than once, but this time it was especially useful. The customer service agents were so helpful that I barely had to think for myself to go onto the next step. I was busy with my work and other things and it seems like they just took over and did everything for me.
Joanie Mann
12:47 22 Aug 19
I appreciate the professionalism of the staff, even when I was late. They were very flexible and tactful when dealing with me. They explain what happens when you're late and then asked what can you do which makes the customer feels empowered and not overly stressed. Also, now that I'm paid in full, I must say it was never a bad experience when dealing with 5 Star. Daniel, today was very helpful and thorough when ensuring that I received the information that I needed.
About This Location
Umanas Auto Registration Services provides registration services for 5 Star Car Title Loans customers. The store is located at 5170 S Normandie Ave, near the intersection with Calatrana Drive. If you live in Los Angeles and in need of registration services, stop by Umanas Auto Registration Services that works with 5 Star Car Title Loans in Los Angeles. Umanas Auto Registration Services provides our clients with unmatched customer service. 5 Star Car Title Loans does not issue loans at this location.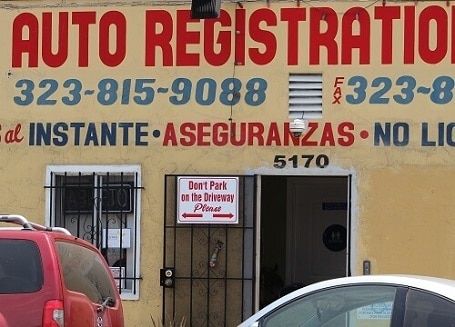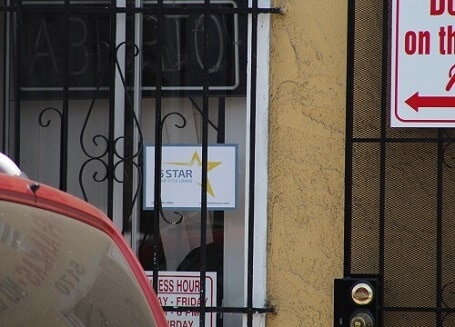 Los Angeles, California
Los Angeles has many attractions including miles of coastlines with endless ways to enjoy yourself in the sun and surf. One of the favorite beaches is the Santa Monica State Beach. Besides the great swimming and sunbathing, beach volleyball is fun and free. But you have to reserve court time in advance. After your volleyball game, be sure to sit down at a chess table to match wits with whoever is there at the International Chess Park just south of the pier. Another fun beach, and less crowded, is South Venice Beach. Great for body surfing as well as volleyball.
Extra Cash in Los Angeles
It doesn't cost much money to hit the beaches for sunning and surfing, but if you want to join friends for a beachside meal afterwards, it can be embarrassing if you don't have any money. Being low on cash can be even more stressful if you can't pay bills that are due or don't have enough money to pay your school fees and tuition. If you find yourself in need of some quick cash, you can always reach out to 5 Star Car Title Loans in Los Angeles. If you own a car then send us your details today and let's see how we can help you with some quick cash.
Using Car Title Loans
The application procedure is pretty straightforward. You send your personal details and the required information about your car to 5 Star Car Title Loans in Los Angeles. Then we will check if you meet our basic credit requirements, if your vehicle has adequate value and if you will be able to pay back the loan. Your credit rating is less important than our criteria, so go ahead and apply. If all of that checks out, then we'll contact you to set up a meeting. We will work as quickly as possible to get you some cash!
Using Your Car's Value to Get a Loan From 5 Star Car Title Loans in Los Angeles
By using your car's value to get a loan from 5 Star Car Title Loans in Los Angeles, it means that we will hold a lien on your vehicle. You can still keep it at your house and drive it whenever you want to, so don't worry about getting to work! When the loan is paid off, your car title comes back to your name. Simple as that! Don't wait another minute if you need some extra cash!