5 Star Car Title Loans Google Reviews:
No hassle at all and a very direct attitude toward the process. I am impressed with how quickly they got back to me and got the ball rolling... Excellent loan company!!
Abigail Turner
05:02 11 Mar 21
Thanks guys really awsome job!
Linwood Freedman
10:44 06 Feb 21
Got my money on the same day thanks to the employees at 5 star staying extra hours to help me out with the online loan!! They really saved my day.
Michael Haakenson
10:15 03 Feb 21
These guys proved to be a lifesaver when I needed some emergency money to pay off some bills. They got me a very reasonable offer and were extremely nice all along the way.
Overall this has been a great experience and this is not to be taken for granted because some lenders are just awful. These people are courteous sweet and professional..
Lloyd Epps
08:13 21 Dec 20
Loved my experience at 5 Star Loans in National City. Everyone was really friendly and down to earth.. Didn't feel any pressure to sign anything at all.. Overall wonderful experience.
Aiden Stainforth
07:38 12 Dec 20
Very helpful with getting my second auto title loan in National City. Explained the contract. Felt comfortable talking to them excellent service.
Krista A. Sloan
11:35 14 Sep 20
I promised my daughter I'd give her a big party for her 18th birthday. I took a car title loan in 5 Star Car Title Loans to fulfill that promise.
Joseph Rock
10:37 31 Mar 20
If I knew how fast it would be to get a title loan quote from 5 Star Car Title Loans, I would have asked for it sooner. I thought it would be complicated with a lot of red tape but not at all.
Fowler Richard
12:37 10 Feb 20
kimberly paulding
18:31 03 Oct 18
About This Location
EZ Connect Multi Services provides registration services for 5 Star Car Title Loans customers. The store is located at 124 E. 30th St. Suite E, near the intersection with E 30th St. If you live in National City and in need of registration services, stop by EZ Connect Multi Services that works with 5 Star Car Title Loans in National City. EZ Connect Multi Services provides our clients with unmatched customer service. 5 Star Car Title Loans does not issue loans at this location.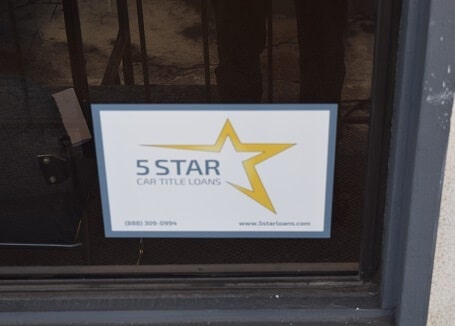 5 Star Car Title Loans in National City
Anyone living in National City who needs a quick loan to help get through a tough time can consider California title loans. Using only the value of a car that you own, you might be able to get $2,600 or more from 5 Star Car Title Loans in National City.
Am I Allowed to Apply for Title Loans in California if I'm Financing My Car?
Sure, you can go ahead and apply for car title loans online even if you aren't quite finished with your car payments. We will evaluate your situation to determine if we can prepare a fast loan for you that will not only pay off your auto but, leave you with spare money to use as you please. Send in your request today to 5 Star Car Title Loans in National City so we can suggest ways that we can help you.
What Can I Do About My Registration That Is Past Due?
There are a few steps to take to get your registration in order so we can complete your request for title loans in California. We have helped many customers who are in the same situation, so we know exactly what you need to do and will help you. We might even be able to do it for you, so contact on of our agents today at 5 Star Car Title Loans in National City for all the details.
When Will I Need to Send in My First Title Loan Payment?
Once you have signed your agreement for auto title loans, you don't have to send in your first payment until 30 days later. From then on, you'll be expected to make a payment every month.
Can You Accept Titles that Are Salvaged?
Sometimes we are able to accept salvaged titles to use as security for bad credit loans. Our agents at 5 Star Car Title Loans in National City are trained to handle your specific questions, so be in touch with us today. We're here to help you!
Will I Go to the DMV for the Necessary Paperwork?
Most likely, you will not have to go to the DMV, as we can usually take care of such matters on our own. Go ahead and send us your online application so we can begin to process your request for car title loans near you.