5 Star Car Title Loans Google Reviews:
This company's quick service really surprised me. I acquired a fast loans through them with no issues.
Lucy Hunt
04:52 26 Jan 22
I recommend this loan service to anyone who is looking for the best car title loans. Customer service is great and the loan process is extremely straightforward.
Sharp Sawyer
05:37 22 Jan 22
My online loan application was successfully processed. The process was simple and only required a few steps. The loan was approved quickly after the application process was completed.
Olivia Watson
11:22 22 Dec 21
Thank you kindly for every one of your endeavors to get my quick short term credits endorsed. I really like the time and exertion your group put in and am profoundly happy with how responsive they were.
Christine Robinson
07:00 19 Dec 21
This was an easy and quick process and would be recommended to anyone looking for a cash loan. Excellent service and really convenient. If you want no fuss, this is the lending company you need.
Paul Fairfield E
05:43 12 Oct 21
It was brilliant, and I felt at home on the phone and with the service. I would recommend it to anyone in need of a short term loans bad credit!!!
Carina Braelyn
23:38 28 Jun 21
We are so satisfied with the quality of service provided by 5 Star Car Title Loans. We will always appreciate the fact that they were there to give us extra money during the pandemic.
Kathleen Aditya
12:40 04 Jun 21
I thought having bad credit is a major turnoff. But 5Star still accommodated me. The title loan process is smooth, and I encountered no problems during the process $$$
Ebony Pollak
12:03 05 May 21
Thanks for the great loan process and easy method for getting money, it was absolutely simple and I will do it again if needed!
Daniel Smith
08:13 12 Mar 21
The staff is very professional and friendly. They're always listening and they give good advise. I gave a 5 star because they always help me a lot when I need a bad credit loan.
They treat you with understanding and humility. Thats more than enough to better than the last company I went to for one of these types of loans. You guys rock, Love youuu!
Yvonne Bailey
08:50 13 Feb 21
Everything went very well here. Quick, easy and efficient. I really have nothing negative to say just want to thank you guys.
Marjorie M. Loranger
10:53 08 Jan 21
Although I've gotten title loans before I never experienced such a fast and efficient process. It was so easy and the service really was awesome. Thanks guys!!
Reaves Daughtery
11:28 22 Dec 20
I had a great experience there with 5 star car title loans, they were very nice and professional and the service for the bad credit loans was very quick.
Hansen Dave
09:51 22 Dec 20
I got a loan yesterday with 5 star and they really saved me with the DMV paperwork. I had a bunch of stuff pending and they offered to help to take care of the paperwork. Really nice of them.
Joshua S Bills
11:02 08 Dec 20
Great service, fast service, definitely recommend to anyone that needs a personal loan in Ontario area around here.
Lawerence Whitehead
10:54 17 Nov 20
5 Star Car Title Loans is the best lender out there. Choose them you won't be disappointed
Jennifer Morton
10:47 18 Sep 20
Me and my wife's credit is generally bad, so this is was the best option for us to utilize. Everyone should consider going here for bad credit loans first before any other loan company.
Adam Hernandez
06:08 18 Sep 20
If you are looking for car title loans with fast transactions, try 5 Star Car Title Loans. Trust me; I had the best experience.
Ksyn Josg
08:34 06 Sep 20
The process was really easy & quick! The support team was super responsive to my queries and went above & beyond help me out. They just made everything easier for me! I am grateful that I found this website to get a personal loan and will be recommending it to everyone I know. 5 stars!!!
Myrna Coker
09:19 21 Aug 20
If banks keep on rejecting your application, get a bad credit loan from 5 Star Car Title Loans.
Ava Newman
12:49 02 Jun 20
5 Star Car Title Loans Ontario is highly recommended. Try it for yourself and understand why.
Keith McHone
04:36 20 Mar 20
Bike title loans are easy and fast. Anyone who owns a good bike can apply.
Robert Alvord
13:20 24 Feb 20
To get my auto title loan, all I had to do was send in an application through the internet. After it was approved I gave them my car title and got some money real quick.
Anthony f berry
11:07 06 Feb 20
Bike title loans gave me the money I needed in 10 hours!
Deborah Thompson
06:01 25 Jan 20
It's not so each not having a bank account, but I manage to just get by paying for everything with cash. I was running low on cash though, so I got a no bank account loan. It's better for me than messing with a bank account.
Fiacre Legault
12:58 06 Dec 19
Did y'all know that you can get a loan even if you don't have a bank account? I didn't know about that, but it sure works for me. And a lot less red tape and no jumping through hoops like you sometimes have to do. When you get a no bank account loan, you get fast service and quick cash.
Stephanie Torres
07:13 05 Nov 19
Miguel has been very helpful, when I get behind on my payment he understands.I am pleased with Miguel's customer service.
Carlos Contreras
01:06 21 Sep 18
About This Location
Save In Insurance Services, Inc provides registration services for 5 Star Car Title Loans customers. The store is located at 4320 Mills Circle Suite B, near the intersection with Concours St. If you live in Ontario and in need of registration services, stop by Save In Insurance Services, Inc that works with 5 Star Car Title Loans in Ontario. Save In Insurance Services, Inc provides our clients with unmatched customer service. 5 Star Car Title Loans does not issue loans at this location.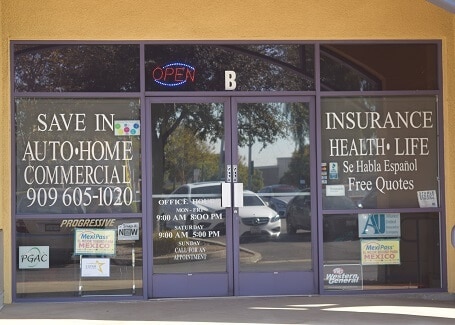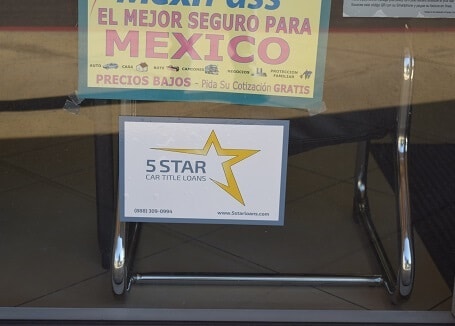 5 Star Car Title Loans in Ontario
For people who are lacking money to pay the bills or for an unexpected expense, a little bit of extra money would be the perfect answer. Contact 5 Star Car Title Loans in Ontario to find out how you can get a quick title loan.
What Are Auto Title Loans, Anyway?
Title loans are loans that are secured by something that you own. In the case of auto title loans, they are loans that use your own vehicle as collateral for a fast loan. The amount of the auto title loan is dependent upon your car's value. The more it's worth the higher amount you can qualify for. Of course there are other considerations, but the base is your car's value.
Do I Need Good Credit to Get California Title Loans?
Since California title loans are based on your car's value, your credit score is less important. That means that anyone with any credit score can apply and be approved, depending on the value of the car and other credit specifications. You can get more details on this by calling our offices at 5 Star Car Title Loans in Ontario.
What is the Minimum Amount that I Can Borrow with Bad Credit Loans?
The amount you can borrow with bad credit loans depends on the value of the car that you own and your financial situation, but the minimum amount of title loans that we process at 5 Star Car Title Loans in Ontario is $2,600. Contact us to find out how much you can get!
Can I Get Car Title Loans Online if I'm Still Financing My Car?
We might be able to help you with a car title loan online that you can use to pay off your car. With the money that is leftover from paying off the loan, you can keep and use for other expenses. Just like driving your car while it's still being financed, you can also keep driving your car while you are making the payments on car title loans online. We're here to help you at 5 Star Car Title Loans in Ontario.
Do I Have to Go to the DMV for Title Loans?
We can usually help you by taking care of the paperwork at the DMV. Contact one of our agents to find out where the nearest title loan location is.