5 Star Car Title Loans Google Reviews:
Yo this company is dope!! Check them out they are sweet and helpful!
I felt welcomed and comfortable from the very beginning. Their positive attitude and friendly customer service really take the stress out of the whole thing. It's rare to find a title loan company like this.
Thanks for all you did to get me a title loan you guys rock!
M. Christopher
12:21 28 Dec 20
They have been nothing but AWESOME and 100% efficient in their processing of my loan. I know there are many options for title loans near me but I'm glad I went with this place where people are HONEST and KIND.
Helen D. Holmes
10:08 30 Nov 20
I have learned that requirements for title loans in Pittsburg, CA, vary widely. For example, some may require proof of employment while some do not. To reduce confusion, I usually turn to 5 Star Car Title Loans for advice. They have been my partner in loan processing.
Donald Carroll
09:31 07 Oct 20
Thank you so much I really appreciate all the help. If you need a quick loan in Pittsburgh call these guys they will help you get a loan.
Sam Conroy
18:07 08 Sep 20
Although their entire process was a bit confusing being my first experience with the company, I was lucky enough to get cash so quickly. The car had no use, but it helped me to get cash.
Sarah G Krebs
14:53 24 Aug 20
I looked for title loans in Pittsburg after my sister wasn't able to pay her purchase using my credit card. I didn't want to have a bad credit score. I found 5 Star Loans and was amazed by the service they gave me.
Dominic Carr
07:06 08 Jul 20
One time when visiting Pittsburg I realized I'd left my wallet at home in LA. It wasn't a disaster since I had my smartphone and could easily apply for a title loan online.
Anthony Wilson
10:25 20 Mar 20
To get car title loans online, I sent in an application and then the loan guy contacted me. They told me what to do so I could get the money fast. They were great.
Harry Fisher
09:45 18 Feb 20
Jonathan and the staff at 5 Star Car Title Loans were informative, clear on what they needed to expedite the process, helpful, and made the loan process simple. It took 30-45 minutes from when I began the application to when I left with my cash loan. I would recommend them to anyone in need of this service.
Matt Houtz
02:27 13 Nov 18
About This Location
Pacific Star Insurance Services provides registration services for 5 Star Car Title Loans customers. The store is located at 2273 Railroad Ave, near the intersection with E Leland RD. If you live in Pittsburg and in need of registration services, stop by Pacific Star Insurance Services that works with 5 Star Car Title Loans in Pittsburg. Pacific Star Insurance Services provides our clients with unmatched customer service. 5 Star Car Title Loans does not issue loans at this location.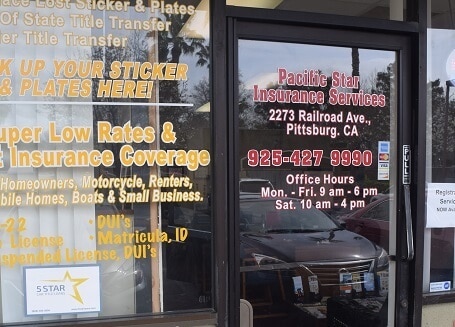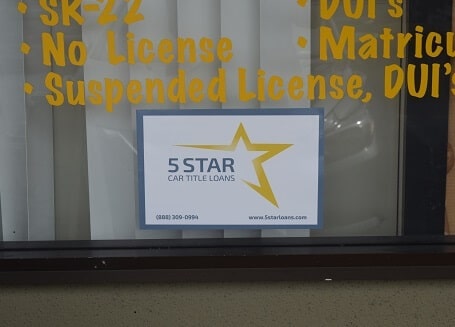 5 Star Car Title Loans in Pittsburg
Living in Pittsburg, did you ever feel like you could just use a little more money to get on top of your expenses? If you own a private car in Pittsburg, then you are invited to fill in and submit an online car title loan application to 5 Star Car Title Loans in Pittsburg.
What Are Online Auto Title Loans?
If you need money for any reason and you own a car, then you are eligible to apply for auto title loans. On your online auto title loans application, fill in the questions about the type of car that you own. We will find out the current worth of your car, and if it's enough we can use it as collateral for a quick personal loan. That's what auto title loans are. They are title loans that use the value of your vehicle as security. Since 5 Star Car Title Loans in Pittsburg only uses the value as collateral, the car is yours to keep driving during the loan period. Call us today or send in your online auto title loans application to get started.
How Much Money Can I Get with California Title Loans?
When you send your online car title loans application in to us at 5 Star Car Title Loans in Pittsburg, we will go over your car's details. Depending on your automobile's worth and your financial situation, we will set the California title loan amount anywhere between $2,600 and $20,000.
Can I Qualify for Car Title Loans with Bad Credit?
Sure, we have bad credit loans available for people with a poor credit history. Bad credit loans can be approved just like any other title loan so long as your car has decent value and you fit in with the credit specifications that we have. No credit check loans are a solution for people who have had problems with their credit in the past but won't have a problem repaying a loan today. Send in your application to 5 Star Car Title Loans in Pittsburg and you might even be approved for bad credit loans today!
Are Prepayment Penalties Charged on Car Title Loans Online?
The simple answer is no. At 5 Star Car Title Loans in Pittsburg, we do not charge you or add on any fees if you want to pay off your car title loans online early. Contact us for the car title loans near you: (925) 403-4477.