5 Star Car Title Loans Google Reviews:
Rules for applying for title loans are stringent. However, I got approved and cashed the check within the same day with 5 Star Car Title Loans. Fast and quick processing at its finest.
Elissa Hansen
09:01 20 Jul 21
They have the best intentions and are really looking to make your life easier with their awesome process and wonderful representatives. Absolutely THE BEST for unsecured personal loans bad credit!!
Clinton Maggie
23:41 28 Jun 21
My experience with the staff at this establishment has always been positive and accommodating. It was an easy and convenient process. Highly recommended!
leigh roberts
07:34 04 Jun 21
Sometimes in life you hit a low point where everything just doesn't seem to work out... It happened to me and I needed some cash to start resolving things... 5Star Car Title Loans were able to easily help me with that... It was so good and helped me a lot... Appreciate y'all from the bottom of my heart...
Kathryn Swanson
00:10 11 Mar 21
I am very pleased with their service. I really liked the easiness of it all. Gladly to recommend you you guys!!! 5/5⭐
Mona Pattinson
05:41 14 Feb 21
You guys are the best! I cannot thank you enough for all the assistance on my loan which helped my family get back on the right financial path! I am so excited that I found this company and I recommend everyone to come here they are AMAZING!
Peter Clark
07:58 20 Jan 21
Very prompt service, people are nice, everything is done professionally and respectfully. You won't need to answer any annoying questions or go through a bunch of hassles here. They're great👍
Lillian Davidson
05:47 24 Dec 20
I ran into an emergency because of this whole crazy situation. I needed a little bit of extra money for a week to pay some overdue bills. Appreciate 5 star loans for all the assistance I couldn't be more satisfied with them.
Mackenzie Scudder
11:08 17 Nov 20
Absolute great customer service, the rep that helped me with my emergency cash was great. keep up the good work here!
Hannah Tremblay
10:04 10 Nov 20
I always go to them after an emergency when I need some extra cash!
Gilberto A Cemiyah
08:27 13 Oct 20
Not many companies offer rv title loans so it was nice to find 5 Star. They were professional and I got to keep my rv. win-win
Cameron Peterson
13:27 16 Sep 20
I had a great experience with this company yesterday. I will definitely use them again if I get into an emergency financially. They are fast and easy to work with!
Sue Hadley
12:12 15 Sep 20
I just moved to Riverside and needed some extra cash for the transfer. I got a bad credit loan from 5 Star Car Title Loans, and it gave me a head start.
Bella Metcalfe
12:44 02 Jun 20
I always take my loan in a loan institution near my apartment in Riverside, but my colleague kept telling me about 5 Star Car Title Loans. So, I tried with them, and my only regret is not going there earlier.
Cordell Elwood
05:48 31 Mar 20
I was in such a rut. Too many bills to pay and not enough money to cover them. I got an online loan from 5 Star Car Title Loans and they helped me choose which loan to apply for.
Alexandra Black
20:17 19 Feb 20
Bke title loans are the way I get money when I need it. Then I just pay it back the next month with payments.
William Morgan
10:54 10 Feb 20
Every time I get into a tough financial situation and I need fast cash, I know that it will only take me a few minutes to apply for title loans ontime. I get the money quickly and use it for whatever I need.
Kalee I Christen
11:56 06 Feb 20
To get the money we needed to pay for our trip around California, I figured RV title loans would be the way to go. That way, I got the money we needed really fast and could still keep the RV and drive it around. The monthly payments shouldn't be a problem, and the whole loan experience is well worth it. We had such a great family time seeing the sites.
Sue Miller
07:08 14 Dec 19
Stephen West
22:12 17 Oct 18
KathLean Jonez-Roblez
01:58 04 Oct 18
Rosemary was professional, knowledgeable and very polite.
Michael Moran
23:57 21 Sep 18
Ruben Ortiz
01:17 18 Sep 18
About This Location
Quick Auto Tags provides registration services for 5 Star Car Title Loans customers. The store is located at 5586 Mission Blvd, near the intersection with Rubidoux Blvd. If you live in Riverside and in need of registration services, stop by Quick Auto Tags that works with 5 Star Car Title Loans in Riverside. Quick Auto Tags provides our clients with unmatched customer service. 5 Star Car Title Loans does not issue loans at this location.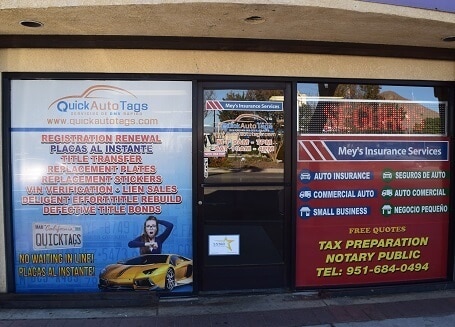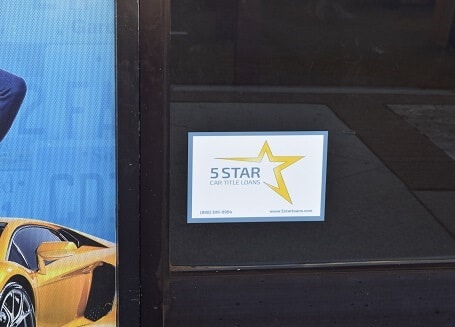 5 Star Car Title Loans in Riverside
If you're low on funds in Riverside but you own a car, you are eligible to apply for a fast loan from 5 Star Car Title Loans in Riverside. Contact us today to find out how our auto title loans service can help you.
What Are Auto Title Loans?
Auto title loans are loans that use your car as collateral for a secured loan. Unlike personal loans that you might be able to get from a bank, auto title loans use only the value of your car as security. That means that you get a quick loan, but you can still keep your car. To begin, fill in the online auto title loans application and send it to us. If you are approved, we'll need to see your car title license, which will remain with us until fulfillment of the contract. Call us to learn more about auto title loans.
What is the Minimum Amount I Can Borrow with Auto Title Loans?
There are a few factors that go into determining the amount of auto title loans, but the minimum that we begin with at 5 Star Car Title Loans in Riverside is $2,600.
Can My Spouse Co-Sign for California Title Loans?
Spouses are often able to co-sign on California Title Loans, assuming that they meet the basic credit requirements of 5 Star Car Title Loans in Riverside. Besides having a spouse co-sign for you, there might be other options available as well. Contact one of our agents to learn how you can get California Title Loans.
Can I Get Bad Credit Loans if I'm Still Financing the Car?
Send us your application for bad credit loans and we will determine if we can give you a fast loan that will not only pay off your car, but leave spending money in your pocket! Bad credit loans are based on your car's value, so even if your credit status is poor, you can still qualify for a title loan from 5 Star Car Title Loans in Riverside.
Are There Any Prepayment Penalties with Car Title Loans Online?
If you can pay off your loan early, go ahead because there are no prepayment penalties with car title loans online. We are upfront with our loans so that you'll know exactly what you're getting when you sign the contract with 5 Star Car Title Loans in Riverside.