5 Star Car Title Loans Google Reviews:
I just wanted to thank you so much for getting me the online installment loans. I was in a real bind. Thanks to you, I can now start making payments on time and my credit score should rise again.

Your employees were very friendly and helpful during the entire process.

read more
Huge thank you to 5 Star Loans for all her help! Definitely would recommend for auto title loans in San Bernardino and around the area. Great service thank you!
Eric L. Fidler
11:38 23 Jul 21
Car titles from 5 Star in San Bernardino are the best!. I'm happy that I met these people.
I got quick responses from the employees at 5 Star. All in all, it was a great experience.
Tinsley Valerie
17:33 16 Jun 21
Got approval for my application and all the credit goes to this amazing team.
Martin Matthew
01:42 13 Jun 21
They explained me the entire process in very easy and simple way. Their service is top-notch!!!
kerry mcbride
17:22 09 Jun 21
They ensured my loan process was simple and low stress. I am very excited and grateful for the experience with them. This is the place for anyone who need instant bad credit loan.
Dayana berge Berge
18:53 04 Jun 21
With the team of 5 Star I got the same day approval of my application. This is the best title loan place in San Bernardino.
Mary berry
19:26 01 Jun 21
Now I understand why everyone is talking about title loan being such a convenient option for getting money. It was super useful for our family and I'm happy to know I found a great company like this

one to work with.

read more
Drake Sydney
23:00 16 Mar 21
The way they handled my needs and troubles was very professional. I am really glad to have come to them and I recommend the same for anyone else who needs a car title loan of some sort...
wanda marta
13:45 11 Feb 21
Appreciate these guys for the help with my dmv issues during the loan approval. They went above and beyond to get me approved and to solve my title issues.
Amelia Pullman
10:42 02 Feb 21
I was in a tight spot and these guys were able to help me out quickly! Thank you so much and keep up the good service!🤗
I didn't get exactly the personal loan I was looking for but I'm still writing a review because the attentive service I received here was truly great. I was very impressed.
Lennie Jackson
08:11 05 Jan 21
I actually was looking to borrow a small amount but they were able to help me with getting a little extra which I paid back right away. They provide great service for quick car title loans.
Jacobs Robby
12:25 22 Dec 20
Huge thank you to 5 Star Loans for all her help! Definitely would recommend for auto title loans in San Bernardino and around the area. Great service thank you!
Darcie Kimi
14:57 04 Sep 20
I was able to join the Social Media Handling Workshop here in San Bernardino after 5 Star Car Title Loans approved my loan application.
Kristine Hernandez
10:47 28 Jul 20
I needed to prepare for my new job in San Bernardino. I took a loan from 5 Star Loans so that I can buy more formal clothes, leather shoes, and new makeup.
Rachel Lyman
07:23 07 Jul 20
My friends from high school are coming over here in San Bernardino. I want some extra cash just in case, so I went to 5 Star Car Title Loans.
Marion Hogan
15:40 28 Mar 20
My health isn't so good so I don't go out much. I really rely on car title loans online to help me through rough patches with money.
Donna Hunter
10:32 10 Feb 20
I don't know if everyone knows this, but it's really fast to get extra money by getting a cash for title loan. All you have to do is send in the application and after that, the agent at 5 Star Car

Title Loans lets you know what to do for each step.

read more
Walter F. Payne
11:52 06 Feb 20
Looking for a quick car title loans and found 5 star car title loans. They really helped me with their quick professional service!
Alyssa Donovan
08:26 28 Jan 18
About This Location
Audio Extreme provides registration services for 5 Star Car Title Loans customers. The store is located at 550 South E Street, near the intersection with Inland Center Dr. If you live in San Bernardino and in need of registration services, stop by Audio Extreme that works with 5 Star Car Title Loans in San Bernardino. Audio Extreme provides our clients with unmatched customer service. 5 Star Car Title Loans does not issue loans at this location.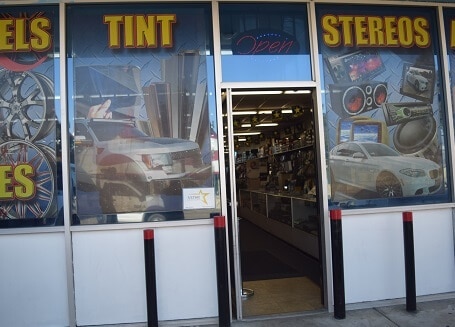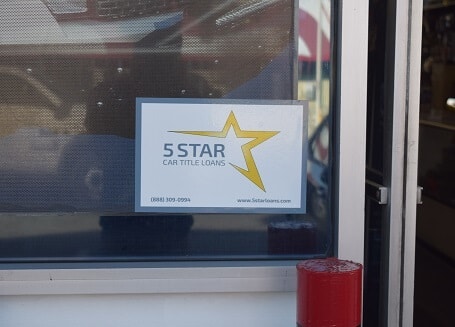 Something to Do in San Bernardino, CA
Along with the beautiful California climate, there is always something to do for the residents or tourists of San Bernardino. The first option is strictly educational, as the California State University, San Bernardino is in the northwestern section of the city. The 4,000 seat events and sporting Coussoulis Arena, the Robert V. Fullerton Art Museum and the John M. Pfau Library are both part of the university. The history of the world's first McDonald's is at the McDonald's Museum and the nation's biggest outdoor amphitheater, the San Manuel Amphitheater, is in the city. For sports fans, there is the Empire 66ers ball team, who play at the San Manuel Stadium, located downtown.
Having Fun with Cash in San Bernardino
Sure, there's a lot of venues to enjoy the latest concert, baseball game or art exhibit, but first you need to check if there's money in your pocket. If you've run out of money and don't want to wait until your next paycheck to enjoy the sites of San Bernardino, you are welcome to apply for a car title loan from 5 Star Car Title Loans in San Bernardino. A car title loan uses the value of your car as security for a fast personal loan, but it leaves your car with you! So you'll have money in your pocket and a car to drive around from one site to the next.
Getting Your Personal Loan with 5 Star Car Title Loans!
One of the problems with getting a personal loan is that if you have a bad credit history, the bank won't want to help you. That's the beauty of car title loans. Since they are based on the value of your car, even people who have lost their good credit rating can still be approved for a fast cash loan. Bad credit applicants are welcome to apply any time at 5 Star Car Title Loans in San Bernardino!
Qualifying for Fast Cash
The most important point we will check when we get your request for cash is the value of your car. It must be of a high enough value that we can use it as security. If it is, then we'll still need to confirm that you'll have the ability to make the payments and that you meet our credit criteria. We will then contact you so we can put 5 Star Car Title Loans in San Bernardino on your car title as security until the loan is paid back.