5 Star Car Title Loans Google Reviews:
I cannot imagine that it would be easier to deal with people who understand what it is like. I recommend this to anyone I know who is looking for easy payday loans.
Cristina Peterson
05:07 19 Oct 21
I went to 5 Star to apply for a loan. I'm glad it only took one 4 hours to get the money.
Deanna T. Haley
09:36 17 Jul 21
My experience was comfortable, they got me the payday loans fast, and they are referred to people who need financial support during a hard time.
Allyson Krystal
14:11 04 Jun 21
Their biggest advantage has to be their awesome employees who provide superb service. Truly impressive and great to experience!
patty rivera
13:54 26 May 21
It's worth to work with this company. They make loans accessible and easy, plus it's super convenient to get stuff done online nowadays. Totally professional and awesome!
Millard Mori
06:29 11 Mar 21
Just finished paying off the car title loan that I took. All around I had a fantastic experience with 5 star. I really did not have any complaints or negative things to say throughout the whole process. Thanks so much🎇🎇
I haven't been disappointed in any way after working with 5 Star Car Title Loans. They are professional and efficient in the way they run their business.
Dorthy Blakney
07:44 12 Jan 21
I most appreciated how they made me feel comfortable about getting the payday loan and how considerate they are of my personal situation. Great service!
Muller Jerrell
07:32 29 Dec 20
I'm happy I chose this company they were super friendly to me and were professional in their attitude I hope to never need a loan again but if I do I will come here
Owen Reita
12:07 28 Dec 20
Wonderful company that I will return to if I ever need another personal loan. They are experts at what they do and it's evident from the very first moment.
Virginia Lee
07:39 24 Dec 20
Everyone at 5 star loans in Santa Ana really cares about people; Happy to do business with them! I highly recommend them for loans around here.
Keith Newson
10:54 27 Nov 20
I appreciated them giving me different options to trying to help me save money. I took the car title loan and I plan to pay back by next week.
Janet L Irwin
07:46 13 Nov 20
I went shopping around for title loans and so far 5 star loans gave me the ebst car title loans options from all the companies I checked. I recommend using them you won't regret it.
Bernice Rayes
09:17 12 Sep 20
I had so many car title loans in my life it's hard to count. Anyway, you would be sart to call 5 star loans they are such nice people with very good customer service!
gilbert smith
07:06 26 Aug 20
Just wanted to say thank you people, for making it possible for me to get my loan approved in such a short time. I was previously denied by a number of companies but I kept searching & finally found you guys. Thanks for helping me.
Noel Rogers
12:05 08 Jul 20
Car title loans in Santa Ana is such a breeze with 5 Star Loans.
Lenora Thompson
16:01 02 Jul 20
Online title loans are very convenient for a working mom like me. I barely even have time for myself, so being able to apply for a loan online is such a lifesaver!
I got an equity loan with 5 Star Car Title Loans for my upcoming trip to Australia. I didn't encounter any problems.
Patrick Fox
03:22 17 Feb 20
When I got a new and better job, I was really excited. I didn't realize my paycheck would be delayed though. Even though it would be more, I had a gap with no salary. That's where the online title loan came in handy.
Doris Real
11:41 28 Jan 20
Todd Lumay
11:42 13 Aug 19
One time when I was working nights as a stocker, I came home and found a big stack of bills that I didn't even know existed. I guess my wife had been cleaning out some drawers and found them, so she laid them out for me to fix. I was clueless. I didn't have that kind of money and I didn't know anyone who could loan me that much. They were due now. I was already working two jobs, so it wasn't like I could get another to pay those darn bills. So I did something much easier. I sent in an application to 5 Star Car Title Loans. I found out from a guy at work that I might be able to get a loan against my car. Well, he was right! I got the money quickly and avoided late fees and penalties on those bills.
Louis Slater
11:38 13 Aug 19
About This Location
Rosalio Plata Insurance & Registration Services provides registration services for 5 Star Car Title Loans customers. The store is located at 2712 N Grand Ave, near the intersection with Fairhaven Ave. If you live in Santa Ana and in need of registration services, stop by Rosalio Plata Insurance & Registration Services that works with 5 Star Car Title Loans in Santa Ana. Rosalio Plata Insurance & Registration Services provides our clients with unmatched customer service. 5 Star Car Title Loans does not issue loans at this location.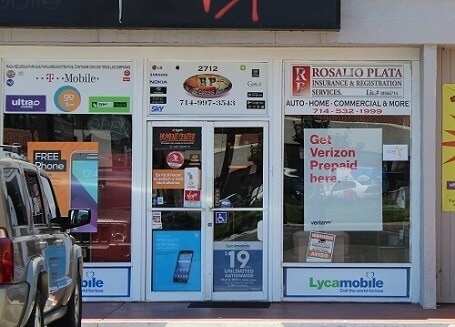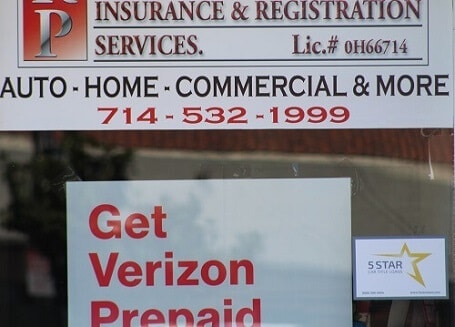 Santa Ana, Important Aviation Role Since 1912
Santa Ana has played an important aviation role since 1912, when it was home to the Glenn L. Martin Aviation company. That company later merged with the Wright Company, but Glenn L. Martin later created another company in Ohio. Eventually that company merged with the Lockheed Corporation and formed Lockheed Martin, which was the biggest defense contractor in the entire world. During WWII, the US Army Air Force used its base in Santa Ana as a training center. After the war, many war veterans made their home in Santa Ana, building its population base. The city is now so large that it has divided into four areas: Downtown, Metro East, Midtown and South Coast Metro.
Enjoying Life in Santa Ana
Santa Ana has grown into a great city to live in and a fun destination for visitors. It's not so much fun though if you don't have enough cash in your pocket to pay your bills, cover your expenses or make that purchase you've been waiting for. Whether you're between jobs and waiting for your next paycheck to come in or you just got behind on some bills, 5 Star Car Title Loans in Santa Ana might be able to assist you get back on your feet. If you own your own car and have the ability to pay back a loan, then read on!
Qualifying for Car Title Loans in Santa Ana
If you own a car with your name on the car title as the owner, we might be able to use it as security for a cash loan beginning at $2,600. If your car has sufficient value and if you can prove your ability to repay a loan, then you can be pre-approved for a car title loan according to our credit criteria. To find out if you meet our credit requirements, just fill in the request form at the bottom of this page. At 5 Star Car Title Loans in Santa Ana, we will go over your details and invite you to come into our office if your application is approved.
Apply now at 5 Star Car Title Loans in Santa Ana, CA
We are more interested in our credit criteria than we are about your past credit history. Even after you have had problems with your credit in the past, you can still apply for 5 Star Car Title Loans in Santa Ana. We're waiting to hear from you! Call us Now: (714) 880-8863.