5 Star Car Title Loans in Van Nuys
Start your loan process at this Registration Services Center – How it works
5 Star Car Title Loans Google Reviews:
Excellent customer service. It has been a pleasure working with them. Everything was handled smoothly. Thanks for getting me the same day payday loans.
M. Sanchez Larry
05:19 20 Oct 21
Their loan executives are very friendly and helpful. They guided me through the entire process of quick cash loan . The process ended in a matter of hours with my loan approval and disbursement..
Alexandria Rey
09:45 29 Jun 21
There is no better one-stop solution for anyone searching for loan with car title.. You save time and effort that would have otherwise been spent visiting different lenders.
Alicia Tabitha
12:20 04 Jun 21
This team was amazing and made the process of getting a payday title loans easy and seamless! Thanks so much! I can't recommend them or thank them enough!
Dana H. Newkirk
07:44 01 Jun 21
The team made the loan process possible and easy! They communicated clearly, responded quickly to suggestions, and were a wealth of information. I cannot recommend them enough for the loans I can get with bad credit!
Lola j. Blake
08:07 31 May 21
These guys are friendly and good at quick cash loans. They are good in communication and their work was fast and easy. I highly recommend this business to others needing their services.
lindsay roberts
17:48 26 May 21
I felt tired and angry that I kept reaching out to bad companies for my loans. I am really glad I found 5 star, They were so much better than the rest I cant stress this enough...
Valeries Reedenne
01:28 13 Feb 21
This is the second time I get a loan with 5 Star Loans. This time they offered to do the online loans. It was pretty much the same process just from home which was great and I can pay my monthly payments on the website now so it's nice.
Abbott Archie
09:45 02 Feb 21
I got what I needed and got it fast so no complaints from me! The team is really great they keep you informed every step of the way.
Jimison Beaudet
18:49 20 Jan 21
This is hands down the best title loan company I have worked with! They are amazing at customer service and get you great offers
Pollich Richard
05:14 22 Dec 20
The employees here get paid to be here but I must say it genuinely feels that they care. They were able to assist me with a loan in Van Nuys very quickly. Thank you guys so very much!
Carolyn Arnold
10:22 02 Dec 20
My loan was approved in a short time. With bad credit, I was in a big doubt, whether you would approve my request or not, but thank god, all my worries gone when I received an instant mail from you guys. I am really glad that I found the help of you guys to get a personal loan.
Patrice Landy
09:28 19 Oct 20
So happy 5 Star Car Title Loans were able to help me get an auto title loan. Couldn't thank them more! BIG thumbs up!
Suzanne Buffington
06:16 22 Sep 20
I really needed a no credit loan Van Nuys and they helped me out and explained everything I needed to know. Happy with the service they gave me.
Herrington Powell
18:24 10 Sep 20
I could not find a decent loan provider in Van Nuys until 5 Star Car Title Loans came along.
William Bryant
06:41 11 Aug 20
One of the best things about getting a trailer title loan is that I can get it online and keep the trailer with me.
Lily Pullman
07:40 21 Feb 20
I asked 5 Star Car Title Loans for a title loan quote. All the fees were included so I knew exactly how much I'd need to pay back. It was worth it to me and I'd do it again if needed.
George Joseph
12:22 10 Feb 20
Albert Garcia
02:03 11 Oct 18
About This Location
Syuzy's Registration Services provides registration services for 5 Star Car Title Loans customers. The store is located at 16917 Saticoy St., near the intersection with Balboa Blvd. If you live in Van Nuys and in need of registration services, stop by Syuzy's Registration Services that works with 5 Star Car Title Loans in Van Nuys. Syuzy's Registration Services provides our clients with unmatched customer service. 5 Star Car Title Loans does not issue loans at this location.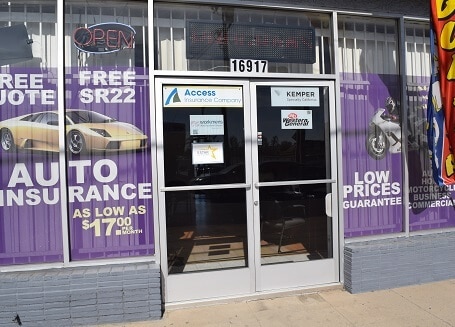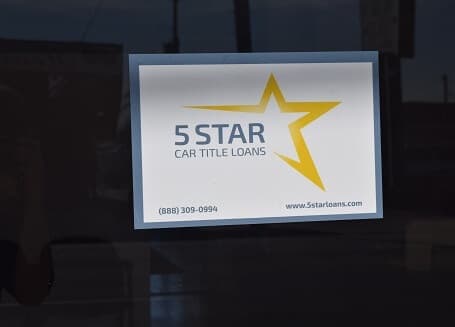 5 Star Car Title Loans in Van Nuys
If you're running low on money in your account and need a little extra for unexpected expenses or for paying bills, you can send in an online car title loan application to 5 Star Car Title Loans in Van Nuys. You'll be glad you did!
Must I Have a Good Credit History to Obtain Auto Title Loans?
You don't need a great credit report to qualify for an auto title loan. Send us your online application and you might even get approval within a day! To get approval for auto title loans, the value of your car, your ability to pay the loan and meeting our credit specifications are the most important factors. Anyone with any credit history is welcome to apply today for car title loans online. For more info, call our offices at 5 Star Car Title Loans in Van Nuys.
What Can I Do if My Car Registration Was Already Due?
We will try to get an up to date registration taken care of for your. Give us the paperwork we need to prove that you are the legal owner of the car and we will help you in every way that we can. If your auto is registered in Nevada we will try to help you with that as well. You can rely on our experience at 5 Star Car Title Loans in Van Nuys to help you every step of the way!
What is the Amount I Can Get from Online Car Title Loans?
When we process car title loans at 5 Star Car Title Loans in Van Nuys, we begin with a minimum amount of $2,600. After we see your application and get an evaluation of your automobile and a picture of your financial situation, we might be able to adjust that amount upwards. The highest auto title loan we process is $20,000.
Do You Charge a Penalty for Prepayment of California Title Loans?
No, we do not charge any fee or impose penalties on our customers who want to prepay their loan. If you have the money and you can pay off your loan early, then go right ahead! When you sign your contract for an auto title loan, you'll know exactly how much you'll be paying. There are no hidden fees for customers of 5 Star Car Title Loans in Van Nuys.