5 Star Car Title Loans Google Reviews:
They help you forget your worries by providing awesome service and a fast loan... When I say fast I mean REAL FAST.. I got it done within less than a day!! Thanks 5Star CTL you guys are the best!
Keith Randall
11:14 08 Mar 21
The loan process was very simple in my opinion. You can get started online and their loan associates help you out if you need anything. Appreciated the fact that I could get the money I needed so fast.
William Hernandez
11:36 14 Jan 21
They wonderful people, always there to make sure I'm taken care of in a time of need. In and out in no time with a title loan.
Friesen Sina
05:15 06 Jan 21
Amazing company! The women here who helped me get approved were wonderful they definitely deserve a raise!! Thank you so much from me.
Gorczany Aura
05:33 25 Dec 20
Very helpful and friendly employees. I recommend this place for car title loans in Vista
Ruth D. Letourneau
12:25 25 Nov 20
Never heard of title loans before in my life. Didn't even know something like that existed. The representatives explained the loans really well they were pleasant to speak to.
Adam James
06:03 26 Sep 20
Could not be happier with the auto loans service this company gave me. It is very simple to get started and they walked me through the whole application. 5 star review!
Eva Bustos
18:06 29 Aug 20
Online title loans in Vista are what keep me going when money gets tight.
Franklin Bowles
13:00 20 Feb 20
It's been quite a while since I needed money but that's what happened to me. I had expenses I couldn't cover. I highly recommend online title loans for anyone looking for a quick buck.
Mathew Sly
00:24 29 Sep 18
About This Location
Barron Auto Registration provides registration services for 5 Star Car Title Loans customers. The store is located at 1070 S Santa Fe Ave #6, near the intersection with Postal Way. If you live in Vista and in need of registration services, stop by Barron Auto Registration that works with 5 Star Car Title Loans in Vista. Barron Auto Registration provides our clients with unmatched customer service. 5 Star Car Title Loans does not issue loans at this location.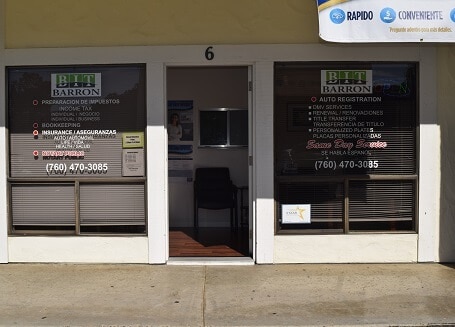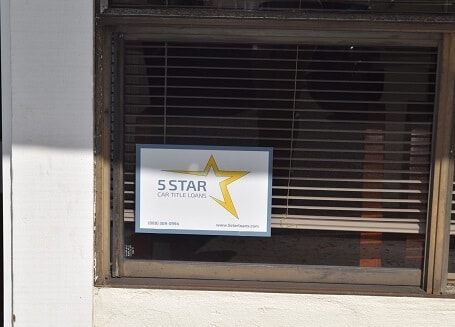 5 Star Car Title Loans in Vista
Are you in need of a little extra money to buy some things you need or to pay your bills that are coming due? A fast loan from 5 Star Car Title Loans in Vista might be a good option for you, if you are a car owner. Contact us for details.
Are There Specific Requirements for Auto Title Loans?
When you send in your application for car title loans online, there are some general guidelines that we go by when determining approval of your request. Of course you need the car title to a car that you own, but we'll always want to know who you are, so include some identification details about yourself. Send us a copy of your bills each month and how much income you get, so that we can evaluate your ability to repay the loan. We may need other paperwork from you as well, such as your car insurance policy. Be in touch with our agents at 5 Star Car Title Loans in Vista so we can let you know if we need anything else.
If I am Still Financing My Car, Can I Apply for Title Loans?
Yes, of course you can apply for title loans even while financing your auto. What we'll do in that case is loan you enough money to pay off your car loan, but still leave you with enough left over to take care of other financial needs. While you are sending in your monthly payments on title loans, the car will be with you as usual. Let us know how we can best serve you at 5 Star Car Title Loans in Vista.
Do I Have to Have a Good Credit Record to Get Online Loans for Bad Credit?
It's so easy to run into credit problems, and we understand that. But with bad credit loans from 5 Star Car Title Loans in Vista, you can actually be approved the same day we get your application! We will evaluate your auto to see that its value is high enough, confirm that you can repay the loan and that you fit our credit criteria. Then, even if your credit history is not the greatest, you can still be approved for bad credit loans beginning at $2,600. Contact one of our clerks today to see how we can help you.